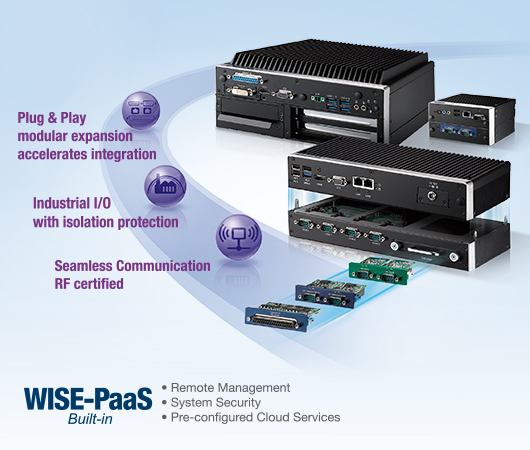 Modular System for Quick Equipment Integration
Customers who need a box computer for equipment integration may find that standard product offerings leave a lot to be desired. And if they choose to customize one of the standard offerings, they soon run into time-consuming sample processes and budget issues, not to mention hardware and software integration, re-verification, and re-certification. But with Advantech, they can bypass these problems. Advantech provides a modular ARK customization service that helps customers build their applications on best-fit box computers with a series of ready-to-order I/O modules. To provide flexible support for different function requests, Advantech offers diverse modular I/O products that provide functions such as COM, GbE, CANBus, LPT, PoE, GPIO etc. We are currently arranging for EMC/Safety certification testing, and will complete BSMI/CE/FCC/CB/UL/CCC certification reports before MP. The user can choose flexible and stable modular I/Os without concern for additional customization time, NRE, and costs. With Advantech modular I/O design, customers can rapidly implement diverse applications and maximize the resulting benefits.
MoreApplication Stories
For any application where electrical spikes or surges may cause disruption, optical isolation helps protect personnel and equipment, and helps maintain reliable communications. It is especially applicable in industrial environments where intermittent, heavy electrical loads can cause havoc with line voltage.

Automation involves connecting machines, work pieces, and systems to a network, and allowing them to communicate with each other to become an intelligent system where individual units influence each other automatically to maximize quality and throughput. A factory that practices Industry 4.0 is called an iFactory. All the devices and controllers are virtually combined into one big system. Also, wireless communications are often an important requirement. Advantech's unique iDoor modules can be used to flexibly connect with various equipment and systems. These I/O modules are flexible and make for easy hardware integration.

For applications such as kiosks, vending machines, or traffic apps that need to connect with multiple peripheral devices, some of which may still use serial data interfaces, Advantech ARK-plus modules and iDoor modules are excellent options, as they provide rich I/O connectors with excellent data handling abilities, networking connection capabilities and peripheral support.
MoreProduct News
2/9/2017

Advantech, a global leader in the embedded system market, today announced it has Network Video Recorders ready to integrate with the AxxonSoft Video Management System (VMS). Customers can now get their surveillance projects up and running efficiently with hardware and software that has been pre-tested and validated for the AxxonSoft system.

11/23/2016

In-vehicle and outdoor surveillance is growing, particularly in the transportation and governmental sectors. Key elements in surveillance projects can range from simple NVR with cameras and video management software, to more advanced systems that incorporate analytics and video back-up solutions. Projects usually require complex integration of many hardware peripherals and software, and customers find it challenging, especially when faced with compatibility issues.

11/3/2016

Taipei, Taiwan, November 3, 2016 –Advantech (2395.TW), a leading provider of embedded computing solutions, today unveils its new comprehensive range of embedded computing platforms with the latest Intel® Atom™ Processor E3900 series, Intel® Celeron® Processor N3350 and Intel® Pentium® Processor N4200 (formerly Apollo Lake). These platforms comprise of Computer On Modules SOM-3569, SOM-6869, and SOM-7569, Embedded Single Board Computers MIO-2360, MIO-5350, PCM-9366, and PCM-9563, and an Industrial Motherboard AIMB-217; as well as Intelligent Systems UTX-3117, ARK-1124, and ARK-2231R. With the latest Intel Atom™/Celeron®/Pentium® processors and Advantech's exclusive WISE-PaaS integrated IoT platform software services, these Advantech Embedded products bring efficiency, security, and connectivity to embedded computing with essential features that balance cost, performance, and power; making them ideal for IoT, retail, industrial automation, digital surveillance, medical and more.