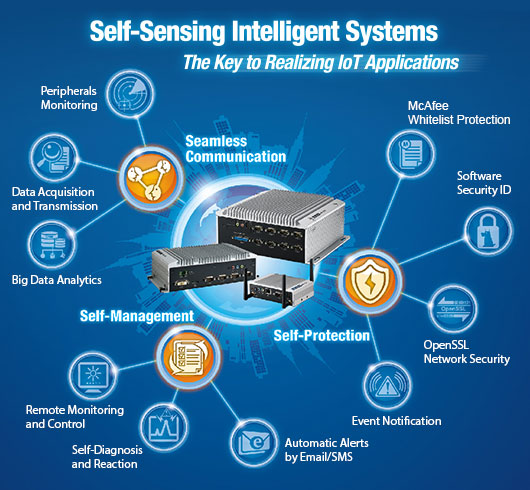 Advantech ARK Self-sensing Intelligent Systems Drive Evolution in the Internet of Things (IoT)
The Internet of Things is the basis for connecting intelligent devices with cloud computing. Advantech's new generation of ARK fanless embedded systems is capable of self-management, seamless communication, and self-protection. It is also able to implement real-time monitoring and control over connected peripherals, automatically collecting data from them and reporting abnormal situations. In various application environments, ARK is able to initiate its "self-sensing" mechanism through advanced soft-and-hardware designs that help users quickly implement IoT applications and maximize their benefits.
MoreApplication Stories
In the past, it was complicated to manage all the devices which were set up for real-time transportation monitoring; most devices came from different vendors and each had its own specific protocol. Once a problem occurred, the system integrator had to take a lot of time to indentify where problems were coming from, then solve them step by step. ARK-2151S NVR system is integrated total solutions that simplify application implementation.

Public Bike Systems provide convenient rental bicycles intended for short urban trips. Offering fast, easy access, the bicycles may be rented at one station and returned to another. The Public Bike System provides convenient mobility, healthy exercise, and a reduction in pollution emissions. ARK-2121S system that offers an integrated solution for public rentals.

A city in Latin America is rolling out a new bus fare collection system to better serve its residents and the many tourists that visit annually. The new system serves multiple purposes: protecting passengers and drivers on the road, enforcing driver and rider regulations, and helping fix responsibility after an event. Advantech provided a mobile NVR solution, ARK-2121V.
MoreProduct News
5/16/2016

May 13, 2016, Eindhoven– Advantech, a global leader in the embedded system market, announced it has ARK-V&S series (In-Vehicle & Ruggedized NVR and mobile computing) certified for TechnoAware video analysis and ambient intelligence solutions.

3/16/2016

Advantech, a global leader in the embedded system market, is glad to announce IoT Gateway Starter Kit. This kit will jumpstart your IoT innovation with a reliable platform and open gateway technologies. The whole package includes a ready-to-run system (Intel® Celeron® J1900 platform & Windows 7 Embedded), IoT software platform service (WISE-PaaS), software development kit and technical support service. Additionally, Advantech's hardware is verified to work with the Microsoft Azure cloud platform. With it, you can take your IoT innovation to market faster and create new business value.