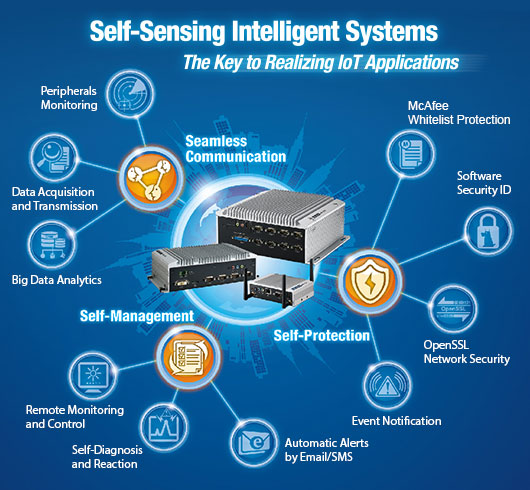 Advantech ARK Self-sensing Intelligent Systems Drive Evolution in the Internet of Things (IoT)
The Internet of Things is the basis for connecting intelligent devices with cloud computing. Advantech's new generation of ARK fanless embedded systems is capable of self-management, seamless communication, and self-protection. It is also able to implement real-time monitoring and control over connected peripherals, automatically collecting data from them and reporting abnormal situations. In various application environments, ARK is able to initiate its "self-sensing" mechanism through advanced soft-and-hardware designs that help users quickly implement IoT applications and maximize their benefits.
MoreApplication Stories
For any application where electrical spikes or surges may cause disruption, optical isolation helps protect personnel and equipment, and helps maintain reliable communications. It is especially applicable in industrial environments where intermittent, heavy electrical loads can cause havoc with line voltage.

Automation involves connecting machines, work pieces, and systems to a network, and allowing them to communicate with each other to become an intelligent system where individual units influence each other automatically to maximize quality and throughput. A factory that practices Industry 4.0 is called an iFactory. All the devices and controllers are virtually combined into one big system. Also, wireless communications are often an important requirement. Advantech's unique iDoor modules can be used to flexibly connect with various equipment and systems. These I/O modules are flexible and make for easy hardware integration.

For applications such as kiosks, vending machines, or traffic apps that need to connect with multiple peripheral devices, some of which may still use serial data interfaces, Advantech ARK-plus modules and iDoor modules are excellent options, as they provide rich I/O connectors with excellent data handling abilities, networking connection capabilities and peripheral support.
MoreProduct News
6/29/2016

WISE-PaaS/RMM 3.1 is an open standardized IoT software platform for users by applying MQTT, a standard and popular IoT M2M protocol for device and server communication.

6/29/2016

Advantech, a global leader in the embedded system market, is pleased to announce the ARK-2230, a ruggedized, compact, fanless, embedded modular system with Intel® Celeron® Quad Core J1900 SoC processor. The ARK-2230 supports Advantech's unique iDoor modules and ARK-Plus modules which is suitable for customers who require customized systems for equipment integration.

6/8/2016

Advantech, specialist in the surveillance and security market, announced it has ARK-V&S series (In-Vehicle&Ruggedized NVR) for Mirasys Video Management System (VMS). Customers can now get surveillance solutions up and running swiftly with hardware and software that has been pre-tested with Mirasys VMS. Advantech ARK-V&S for Mirasys allows businesses to implement systems more efficiently.