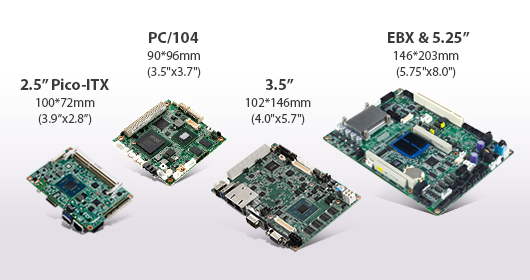 Advantech Embedded Single Board Computer (SBC) series range from 3.5", PC/104, EPIC, EBX, to 5.25" SBC boards. These standard form factors in compact sizes come with rich I/O, high flexibility and easy expansion capabilities. Moreover, Advantech Embedded SBC offer scalable performance from low power to high-end platforms, fanless designs, compact and low profile architectures, extended temperature options and longevity. Above all, reliability is built into all Advantech Embedded SBC to fulfill multiple applications that demand reliable operation, and industrial grade design and quality.
9/02/2016

Advantech, a global intelligent systems leader providing solutions across multiple vertical markets, announces the launch of MIO-6300, a 3.5" (146 x 120 mm) System-on-Chip (SoC) sl...

8/16/2016

With the rise of Internet of Things (IoT) and intelligent systems, today's applications are generating increasing volumes of data, and thus escalating the demand for greater ...