The digital healthcare system –Providing users with the information they need right at the point-of-care.
Hospitals have changed dramatically over the last several decades. They have been transformed into sophisticated medical facilities. Today computer-based medical equipment is becoming pervasive, and a myriad of medical equipment such as diagnostic gear, analytical & laboratory equipment, drug dispensing carts, computerized physiotherapy, patient infotainment terminals, multi-parameter patient monitoring, and endoscopy are all leveraging PC-based architectures.
This new medical landscape is evolving and the drive towards a connected smart hospital vision (Figure 1) steadily gains momentum with everything from patient administration, monitoring and care, imaging and analysis, and records and health maintenance utilizing Intel architecture based platforms.
Platforms based on Intel architecture provide the performance and high efficiencies needed to make medical devices more intelligent, more portable and more connected, making it easier for patients to receive treatment and more effective for doctors, nurses and administrators to provide and manage care. Intel®, architecture is at the heart of many of these systems and as a consequence is helping to enable the connected smart hospital vision.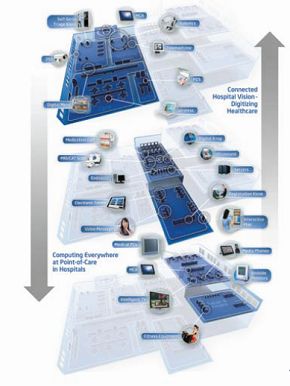 Healthcare providers are relying more and more on computers to access medical data such as electronic patient records. A good example of this is where healthcare practitioners are utilizing mobile pointof-care (MPoC) solutions to improve nurse/doctor workflows throughout the hospital. By permitting nurses and doctors to access clinical information systems at the patient bedside in real-time, MPoC solutions can facilitate better nurse/doctor workflows. This in turn has positive impact on patient care and potentially can reduce the length of hospital stays. Medical Clinical
Assistants (MCA) and other tablet devices are also being added to the healthcare practitioner toolbox, leading to the widespread computerization of the hospital and helping to improve patient treatment.
Medical PCs which are today being deployed and widely used throughout the hospital from intensive care units and radiology departments to operating rooms are another good example of a smart hospital environment. They are used in a diverse range of medical applications from data acquisition, vital signs monitoring devices, Patient Data Management Systems (PDMS) and visualization (x-ray, endoscopy). Medical PCs play a critical role in the provision of care by helping to display, collect and disperse images, and other patient data.
These systems are usually mounted on walls or ceiling, or on equipment carriers or medication drug dispensing carts, and they are ideal in helping to
bring EMR, PACS and CPOE to the point-of-care. There are special regulations governing safety and emissions for medical computing systems deployed in a hospital or clinic. Therefore medical platforms must conform to prevailing medical technology standards such as UL60601-1 and EN60601-1 in order to ensure safety and reliability. These systems also typically will have a touchscreen interface and tend to be fully sealed in order to ensure that they meet IP65/NEMA 4, and IPX1 specifications for dust-resistance and water spills.
Medical computing systems are deployed in sterile areas making it essential that a germ-free environment be maintained. Therefore, all computing platforms must be capable of undergoing repeated cleaning with isopropyl alcohol and other germ-killing agents. Medical computing systems need to be robust and reliable and typically have passive cooling systems in order to remove vents and fans.
For successful integration into a hospital, Medical PCs must be able to connect to legacy interfaces (like galvanic-isolated RS-232) which allow connectivity to more than one medical device. They also need to support options like Wireless LAN, 10/100/1000BaseT Ethernet, USB 2.0 and PCI-Card.
Embedded platforms based on Intel processors provide a scalable computer architecture that meets the power, performance and graphics requirements of
the medical market. Intel's Embedded and Communication Group provides an embedded roadmap which ensures the long-term availability of Intel-based platforms for a period of 7 years, which is of fundamental importance for the medical market segment. The total computing power required to run many medical applications today has increased many times over and the latest processors based on second generation Intel Core microarchitecture offer enhanced graphics capabilities and performance (while reducing overall platform power requirements) needed to meet or exceed the requirements for most medical applications.