Advantech WebAccess/Cloud - Cloud-based Application Platform
Advantech dedicated to offer the comprehensive solutions to meet our customers' needs. In addition to the sustainable development of project based monitoring and control application software, WebAccess is also committed to develop the service based cloud application platform. WebAccess provides various types of services such as data communication, data synchronization, data visualization, IoT administration, and multi project maintenance in the cloud architecture
---
WebAccess/Cloud Architecture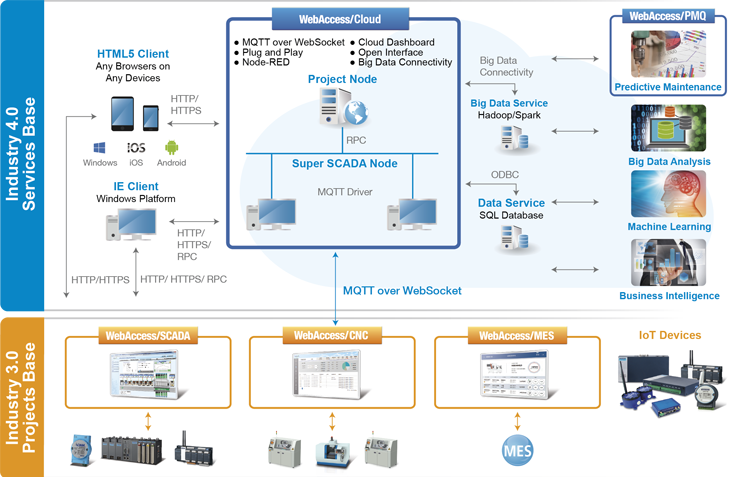 Key Advantages
• Cross-Platform/ Browsers Monitoring
In WebAccess/Cloud, large amounts device data are uploaded to the cloud via the MQTT web socket protocol. The MQTT web socket protocol also supports the local and cloud devices to communicate back and forth.


• Data synchronization
To advance our goal of being customer-centered, WebAccess/Cloud provides a data synchronization service called "Plug and play". "Plug and play" are designed to synchronize the data configuration between local and cloud devices.
• Data visualization
Using the WebAccess Dashboard, the cloud projects' tag values can be displayed to users in real-time with dynamically updated graphics.


• IoT administration
WebAccess Node-RED provides the visual tool for managing the Internet of Things. It is convenient for user to maintain or process the WebAccess cloud project by wiring the function node together.


• Multi-project maintenance
To speed up customers' project maintenance time and reduce managerial resources Multiple projects can execute the maintenance concurrently in WebAccess.
WebAccess/Cloud Features Highlight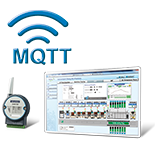 MOTT over WebSocket
Easy connect with Intelligent Device to Cloud Platform via MQTT, a lightweight publish/subscribe messaging protocol.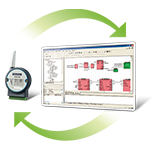 Plug and Play
Automatically backup and restore the configure files from local device, user can online replace device and no need to download.
Node-RED
Integration with Node-RED as a visual tool for IoT to write together devices, APIs and online services together.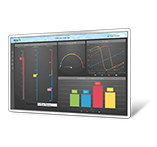 Cloud Dashboard
Predefined nodes for data to be displayed on Cloud Dashboard and Microsoft PowerBI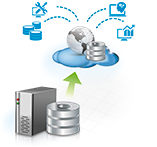 Open Interface
Combining with cloud service, such as Big Data Analysis, Business Intelligence, Madhine Learning. Predictive Maintenance.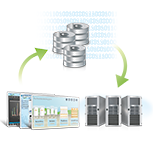 Big Data Connectivity
Supports big database and provides big data to cloud service to do data analysis that develop vertical applications.