Advantech WebAccess/SCADA - IoT Application Software Framework
Advantech WebAccess is a browser-based software package for human-machine interfaces HMI, and supervisory control and data acquisition SCADA. It is used to automate complex industrial processes for situations where remote operations are needed. All the features found in conventional HMI and SCADA software packages are available in an ordinary browser including Animated Graphics Displays, Real-time Data Control, Trends, Alarms and Logs.
---
Advantech WebAccess 8.0 Features Highlight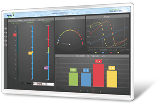 Business Intelligence Dashboard
WebAccess provides Business intelligence analytic services by a HTML5-based Dashboard. User can create the customized information page by using analysis charts and diagrams which are called widgets. User can view the data in different browsers, like Explorer, Safari, Chrome, and Firefox for a seamless viewing experience across PCs, Macs, tablets and smartphones.
Dashboard Editor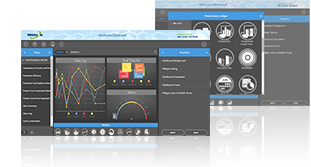 Widget Library
Provides abundant charts in the Widget Library, including trends, bars, alarm summary, maps and a lot more.
Drag and Drop
Drag & Drop and build customized dashboard pages. No Programming.
Languages Switch
Directly switch languages in Dashboard Preferences and display in Client side.
Menu List Setting
Set customized Menu list by defined sequence and icons for different users in one project.
Preview
Preview the layout on different platform sizes to ensure your dashboard looks perfect on every device
Dashboard Viewer
Cross-Platform/ Browsers Monitoring
Supports PC/Mobile/Pad layout and provides cross-platform/browser data access and user interface.
Mobile layout
Provide APP style appearance and special widgets arrangement for smart phone
QR Code
Users can create a QR code and connect directly to the dashboard via Smartphone or pad.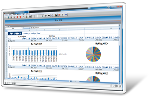 Excel Report
WebAccess provides Excel Reports for fulfilling the requirements of self-defined report functionality. Users can build self-defined Excel templates and generate daily/weekly/monthly/yearly or on demand reports automatically in Microsoft EXCEL format. The Excel Report function is also web-based and can be generated and viewed in a Web browser from wherever is needed.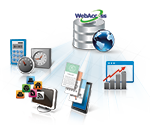 Open Interfaces
WebAccess opens lots of interfaces to enrich its extensionality. With Web Service interface, users can integrate WebAccess data into APPs or application system. And, The pluggable widget interface has been opened for programmers to develop their own widget and run on WebAccess Dashboard. Besides, WebAccess API, a DLL interface for accessing WebAccess platform and develop Windows applications. These interfaces enable WebAccess to act as an IoT platform for users to develop IoT applications in various vertical markets.
---

WebAccess Cloud
Architecture
WebAccess is a 100% web-based HMI and SCADA software with private cloud software architecture. To catch up the IoT wave, we keep evolving the WebAccess architecture to a public cloud design, target on providing centralized big data for large equipment vendors, SIs, and Enterprises, to configure, change/update, or monitor their equipment, projects, and systems all over the world through IoT. The user behavior on SCADA software will be evolved from data acquisition/manipulation to business intelligence and big data analysis.

Ample Driver Support
WebAccess supports the following open real-time data connectivity: OPC, Modbus, BACnet, DDE Server and the following open offline data connectivity: SQL Server, Oracle, MySQL, and Microsoft Access Database. WebAccess supports over 200 device drivers. In addition to Advantech I/Os and controllers, WebAccess also supports all major PLCs, controllers and I/Os, like Allen Bradley, Siemens, Lon Works, Mitsubishi, Beck off, Yokogawa etc.

Multi-touch Support
WebAccess supports multi-touch functionality with various pre-set gestures, such as flick to change pages, zooming in and out of the display and 2-handed operation maximizing operating safety, increasing usability and decreasing training time due to the more intuitive handling.

Scheduler
WebAccess Scheduler provides on/off control and setpoint changes based on the time-of-day, day of week and the calendar. Users can control lights, temperature and equipment for saving energy during specific days and times. It also allows the definition of up to 17 periods per day and preserved function for setpoint.

Web-enabled Video, Audio, Animation
WebAccess allows operators and users to monitor equipment and facilities directly using web-enabled full-motion video cameras, audio, and web cams. The video image appears in the same display area as graphics, animation, alarms and trends displays. With vector-based graphics, WebAccess graphics can be built at any resolution and displayed at any resolution.

Trend Analysis
WebAccess provides Historical and Real-Time Trending, Data Logging and Centralized Logs. 12 Tags can be added to a Trend display without losing the history of the other tags. Real-time data, alarms, and operator actions from all SCADA nodes can be logged to a central ODBC database.

Google Maps and GPS
Location Tracking
WebAccess integrates real-time data on each geographical site with Google Maps. Users can easily associate their real-time site data with a marker and label by right-clicking on their Google Maps or entering the coordinates of the target. This function also integrates with GPS modules to track the location of the marker in Google Maps and allows it to be used in vehicle systems.

Real-Time Database
WebAccess Real-Time Database (RTDB) is designed to meet industrial high speed and large quantity data access requirements. Just by enabling the usage of RTDB in WebAccess configuration page, WebAccess SCADA node can serve data processing at a rate of millions of records per second. Also, the RTDB maintenance feature can automatically archive and delete obsolete data.

Support Multiple Operating System
Scalable system architecture allows users to run the same database and graphics on Multiple Windows operating systems, such as MicrosoftR WindowsR XP, XP Embedded, Windows 7, Windows 7 Embedded, Windows 8 Desktop Mode, or Windows CE. WebAccess also supports Mobile app remote monitoring on iPhone or Android operating systems.

Advanced Alarm Management
The Advantech WebAccess Alarms function provides different alarm groups and level settings to inform operators of the status of processes and equipment by sending e-mails, SMS, and audio announcements. Users can define alarm groups, working schedules, and priority settings to deliver alarm messages via SMS, email or audio announcements to multiple receivers.

SCADA Redundancy
WebAccess assures continuous, reliable communication to automation equipment by SCADA Redundancy. The primary and backup SCADA communicate with each other when the kernel is started, but only one will communicate to automation equipment. Backup SCADA node activates when the primary SCADA node is down. WebAccess clients will be redirected to the backup if the primary node fails. Data Logging and Trending files are updated on both primary and secondary, and resynchronized when the Primary returns.

Auto-Configuration - WebAccess Express
WebAccess Express is an automated graphical remote control application program which can enable users to bring device information online with one-click. It can scan ADAM and EKI modules automatically, generate a database and bring real-time data online with prebuilt monitoring graphics. WebAccess Express also provides platform monitoring functions that allows users to communicate and exchange data with SNMP, DiagAnywhere Server or SUSI 4.0 APIs for checking the health of the CPU, memory, temperature, and voltage of the target machine platform.