Coal Mine Automation System of Weight Checking and Fraud Prevention in China
6/21/2011

Coal has always been an important energy source, and the demand on coal continues to grow with the economic developments. Having been mined, coal is transported from the mine to a warehouse, and as with most items, it has value on the black market, therefore to ensure that the correct weight and products arrive at the warehouse, a method of checking is required. Thus, an efficient electronic surveillance system with real time data vision transmission and alarm notice is necessary to control and close watch the delivery of coal.
System Requirements:
Our customer is a Chinese company who designs and develops the aforementioned weight checking and fraud prevention systems for coal mines and other industrial sites. They need robust and reliable industrial computers with a large number of digital I/O ports to connect and command a number of subsystems including: in-ground truck scale, RFID, remote control, barrier gate control, video, sound and light alarm, infrared, LED display systems and much more.
Because they are to be installed in the harshest of environments, the computers have to be robust and reliably capable of operating within a wide range of temperatures. Photo-isolated COM ports and digital I/O ports are particularly important, since they minimize interference of communications and protect the main system board. The fanless design is crucial since it prevents dust from entering the unit, therefore ensuring that it is not affected by a build-up of grime.
System Diagram: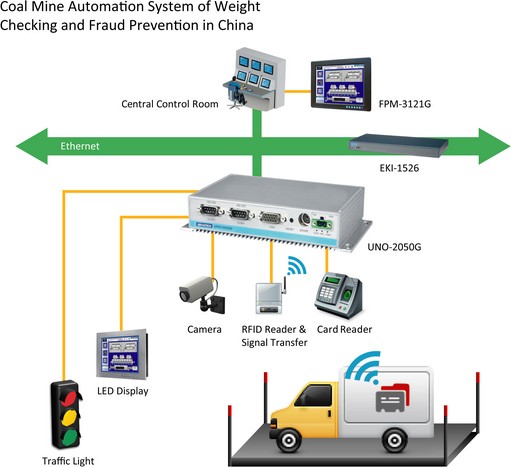 System Description:
To build the platform for this application, Advantech's embedded automation computer, UNO-2050G, is paired with an EKI-1526 serial to Ethernet device server, and is controlled using Advantech's industrial touch panel, monitor, FPM-3121G, which features wide-temperature and sunlight readability, making it especially suitable for outdoor applications.
The UNO-2050G, is a robust and compact industrial computer which integrates control, communication and other computing functionalities in a small form factor, with 8-ch isolated digital input and 8-ch isolated digital output ports that allow for connecting a number of devices according to the desired application. Its isolated COM ports and isolated digital I/O preventing the environmental intervention make it the ideal choice for operating in the harsh environments. Dual LAN provides teaming function to ensure the reliability of data transmission as well.
In this case, the computer system is connected with an IC reader, which can read the RFID tags of the trucks and the items to be warehoused; it is also connected with an in-ground vehicle scale, so it can read the weight of the vehicles at the check point. All the information is collected and transmitted via the EKI-1526 to the UNO-2050G. EKI-1526 with 16 serial RS-232/422/485 ports, 2 independent Ethernet ports and MAC addresses provides redundant networking mechanism to ensure the consistency of Ethernet networking and data transmissions. The data is then sent to the central control room, and is shown not only on the FPM-3121G monitor, but also on an LED display next to the person checking the vehicle's weight.
If the goods are consistent with their claimed weight, the UNO-2050G would command the road barrier to rise, and if the weight is inconsistent, an alarm will sound. The whole process is recorded by a video system and the images are to be stored for management purposes.
The system also included the DiagAnywhere remote monitoring software. With both a client and server utility, DiagAnywhere can remotely control and configure up to 24 windows based devices from any remote office, over the Internet. This software has many features such as a UDP broadcast search across the LAN, remotely check the status of the devices, and for any devices that have ATX power they can be remotely shutdown and woken up . It was with the inclusion of this software that the client felt confident that they could manage their devices from wherever they were.
Conclusion:
Thefanless design of Advantech's products allows for stable and reliable operation in ultra-harsh outdoor environments such as coal mines. The UNO-2050G integrates all the needed computation, communications and control functionalities with a small form factor, which makes it easy to install and ideal to apply for the coal mine applications. The large number ofports on the UNO-2050G and EKI-1526 provides great flexibility for the system integrator to develop versatile applications according to actual needs, and to help shorten the time-to-market of their products. With all these great features, the Advantech's products described here are the excellent choices for coal mine monitoring applications.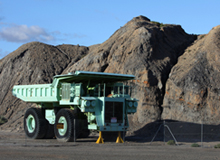 Project Introduction:
Designed specifically for harsh, dusty environments Advantech's UNO-2050G and EKI-1526 are best placed when constructing electronic surveillance systems for such purposes at coal mines or other industrial sites. With their fanless design, large number of COM ports and isolated digital I/O ports, they are reliable and particularly suitable for operating in harsh environments.