Enabling Remote Monitoring & Control Solutions in Machine Automation through Communication Gateways
9/2/2011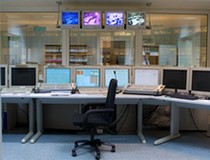 Project Introduction:
A food & beverage OEM needed the ability to remotely connect to the Programmable Logic Controller (PLC) and drives in the control cabinets at their customer's facilities without having the customer IT department open ports into their network. The client wanted to choose an architecture that would have the lowest maintenance costs and the quickest deployment time while still meeting their customers' security requirements.
System Requirements:
The client has customers in 230 remote locations and in order to facilitate the remote connection of the customers, so they could be securely managed from the centralized operations center, thereby saving service operating costs, while in parallel, increasing customer satisfaction as a result of the ability to address issues as they arise and save travelling times. To facilitate the remote connection the client required a gateway computer that could be pre-installed with the remote management software.
System Diagram: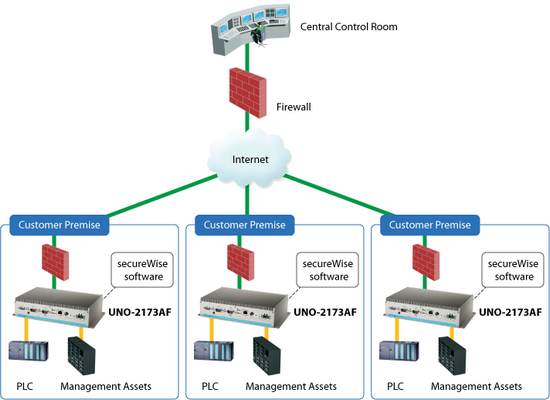 System Description:
To connect the Network Operations Center to the 230 customer premises, a UNO-2173AF with Microsoft® Windows CE and ILS Technology (ILST) secureWise application is installed. The UNO-2173AF has an Intel® Atom™ N270 1.6 GHz processor, 2 GB DDR2 SD RAM and a small footprint making it an ideal gateway computer.
The UNO-2173AF is installed into a cabinet with the PLC to interact with the system or externally as a network access gateway. Once installed, the OEM is able to access and configure the connection from their headquarters requiring no on-site administration on either the gateway or the PLC. Upon completion of the installation and configuration, authorized users can initiate secure and auditable remote connections to the allowed devices to perform any actions required on the PLC, while in parallel, proactively monitor the units for health and alarm/alert collection. The combined gateway and ILST cloud services act like a wire making the remote device appear as if it is on the same physical LAN of the operations center without the need to perform any changes to firewalls, install VPNs, or management of IP addresses.
The system also included the DiagAnywhere remote monitoring software. With both a client and server utility, DiagAnywhere can remotely control and configure up to 24 windows based devices from any remote office, over the Internet. This software has many features such as a UDP broadcast search across the LAN, remotely check the status of the devices, and for any devices that have ATX power they can be remotely shutdown and woken up . It was with the inclusion of this software that the client felt confident that they could manage their devices from wherever they were.
Conclusion:
The UNO-2173AF was the ideal solution for a gateway computer to securely connect network operations center to 230 external customers. Once it was configured with the necessary operating system and secureWise application, its robust slim design with fast processor proved to be the computer for the job at hand.