Monitoring and Controlling Automatic Mixing and Dispensing Machines for Printing and Dyeing
10/25/2011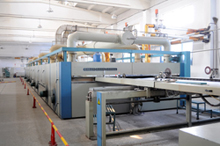 Project Introduction:

As technology advances, textile manufacturing has been transformed from a labor-intensive to a partially or fully automated industry. Automation is significant in all segments of textile production - from spinning to printing, and textile machinery manufacturers are constantly searching for new technologies and automation processes will increase the productivity of their machines.

The color paste mixing and dispensing machine is an essential part of the printing and dyeing process. With the advantage of automatically computerized controls and database management, the system can significantly improve its dispensing precision, working efficiency and production quality as well as reducing material consumption.
System Requirements:
Our customer's automatic mixing and dispensing machine comprises of a mixing head, an electronic weighing scale, dosing station, color paste mixer, mother liquor storage tank and delivery pipeline, and automatic conveyor. They used to use a tablet PC as their system control device, but the high operating temperatures (over 50℃) usually cause system failure and computer crashes. As a result, production was delayed and raw materials were wasted.

Therefore, they decided to purchase a new fanless device which has to be operated over a long period of time, especially in higher temperature areas. At the same time, its CPU and memory specifications needed to meet the requirements of the bespoke software.
Project Implementation:
| | |
| --- | --- |
| UNO-2173A | Intel® Atom® N270 Processor Automation Computers with 2 x LAN, 3 x COM, Mini PCIe |
| ADAM-4520 | Isolated RS-232 to RS-422/485 Converter |
| ADAM-4117 | Robust 8-ch Analog Input Module with Modbus |
| ADAM-4018 | 8-ch Thermocouple Input Module |
| ADAM-4015 | 6-ch RTD Module with Modbus |
| ADAM-4024 | 4-ch Analog Output Module with Modbus |
System Diagram:
System Description:
Due to a trade-off between hardware specifications and cost control, and after our professional assessment, our customer changed their original requirements to accept Advantech's economic program. Our total solution with a UNO-2173A fanless computer, ADAM-4520 isolated converter and ADAM I/O modules not only completely integrates the data acquisition and control functions, but also supports a wide operating temperature range (-20 ~ 70℃) with high performance.

The UNO-2173A can fully master the on-site operation through the ADAM-4520 to convert RS-232 signals into isolated RS-485 signals; even when the operating temperature exceeds 50 degrees, the CPU can run smoothly. In addition, the ADAM-4520 allows users to easily build an industrial grade and long distance communication system.

As for the ADAM modules (ADAM-4117, ADAM-4018, ADAM-4015, and ADAM-4024), they are connected to the peripheral facilities to acquire the on-site signals and data. The robust ADAM-4117 analog input module is capable of measuring the voltage and current. The ADAM-4018 thermocouple input module and ADAM-4015 thermal resistance module - are in charge of the temperature measurement. In addition, the ADAM-4024 module provides the analog output to control the heater. All of them are designed for reliable operation in harsh environments.
Conclusion:
Compared to the previous system, Advantech's cost-effective and reliable solution not only meets our customer's needs but also significantly reduces system malfunctions (almost zero failure rate) as well as cutting their purchasing cost by 50%. With Advantech's integrated solution, the system lets customer's equipment can operate in the production process and also reduce the waste of raw materials.