Building a Robust and Reliable Highway ETC System via Advantech's Solution
8/16/2011
Intelligent Transportation
China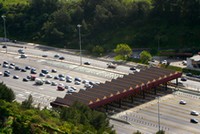 Project Introduction:
In recent years, highway toll systems have become more complex. Toll collection systems need to be able to collect monies from a range of sources i.e. cash and credit cards. But these require toll booths and therefore slow the flow of traffic. To alleviate these issues and keep the traffic moving a recent addition to the collection system is to build a highway with no toll booths. Electronic Toll Collection (ETC) systems use gantries over the highway, with monitoring equipment, in the form of transponders, to gather information from cars and lorries passing beneath them.
System Requirements:
Based on the requirements of the Nanjing Airport Expressway in China i.e. assorted payment options, continuous operation and outside installation, the toll system needs an industrial computer with a number of serial communication cards to connect and control the systems. The automation system not only needs to send the related data to the control center but it must also has to control many objects such as the barriers and display boards, as well as being able to recognize vehicle license plates, control trigger settings and capture a photo of the vehicles.
Project Implementation:
| | |
| --- | --- |
| IPC-610 | 14-slot Rackmount IPC Chassis |
| PAC-6108P4 | 8-slot 3 ISA, 3 PCI, 1 PICMG/PCI |
| PCL-849A | 4-port RS-232 Communication Card |
System Diagram:
System Description:
Advantech's IPC-610 solution provides a multi-function toll system with robust and reliable features. The monitor, with a microprocessor, voice prompting device, and an automatic card reader connects to the IPC-610 platform via a 4-port RS-232 serial PCL-849A communication card which provides reliable, high-speed serial communication. With the addition of Advantech's network interface and video capture cards (to help our client to design and implement the toll system), the system can smoothly control the devices in each lane and automatically detect the device's operational status.
Conclusion:
In order to meet the fast, accurate, reliable and efficient requirements, the highway toll system needs to integrate the computer, internet, and application software to prevent the traffic congestion and reduce the errors caused by manual processes. Advantech's industrial-grade computer, serial communication cards, and digital I/O cards offer a total solution with the best performance and stability to complete highway toll system as well as significantly improve the flow of the traffic and build a stable payment system.