Surveillance and Monitoring System over Power Substations in Beijing Subway
7/1/2011
Project Introduction
Over the last 10 years, the rapid expansion of Beijing's underground system has helped to modernize the city. However, the sprouting metro lines would be paralyzed if the supply of electrical power was not stable.
In each subway station, near one end of the platform, and sometimes in the basement, is an enclosed structure where equipment for electric power transformation is located. The purpose of these substations is to transform the voltage from the city grid into one that is used by trains.
In each of the substations, there are meters and other terminal devices monitoring the status of the transformer, the use of power, and environmental factors such as temperature and pressure. This is where Advantech comes in: all this information needs to be collected and carefully monitored using a reliable computer system which can automatically control the system.
System Requirements
Our products are used in the power substations of one of the Beijing Subway lines. Since the operating environment is full of electromagnetic interference, the computers used for monitoring the equipment must have strong anti-disturbance capabilities: they must meet the Chinese government's electrical standards.
Due to their location and the long operating time of the subway, the maintenance of the computers is not an easy job. Thus, the computers deployed here have to be peculiarly reliable and robust. The client also required redundant fiber-optics and a rack mountable computer for the communication network.
Project Implementation
| | |
| --- | --- |
| UNO-4672 | Intel® Pentium® M/ Celeron® M Automation Computer with 6 x LAN, 10 x isolated COM, 8 x isolated DI, 8 x isolated DO, PC/104+ |
| EKI-7656C | 16+2G Combo Port Gigabit Managed Redundant Industrial Ethernet Switch |
| IPPC-6172A | 17" SXGA TFT LCD Intel® Core™2 Quad / Core™2 Duo Industrial Panel PC with 2 x PCI Slots |
System Diagram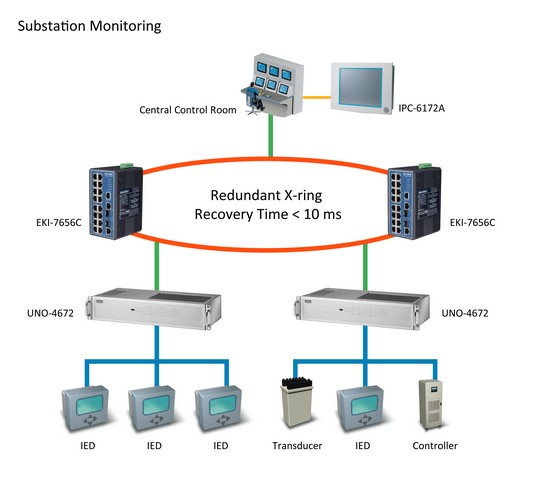 System Description
For this solution, Advantech provided UNO-4672 automation computers, which have 6 LAN ports and 10 isolated COM ports (2 x isolated RS-232 and 8 x isolated RS-232/422/485) that are used to connect to metering equipment and other devices in the substations to collect data, and then transmit the data via Advantech's EKI-7656C Ethernet switches up to the control center. To monitor the substations' activity from a control room, the Advantech IPPC-6172A 17" TFT LCD industrial panel computer featuring the Intel Core 2 Quad/Core 2 Duo processors, high speed DDR3 memory,2 expansion PCI slots, and SATA hard drive interfaces with RAID 0.1 support was proposed, offering remote out-of-band manageability, improved data transmission and security, and energy efficient performance.
The isolation designs of the UNO-4672, both in terms of power supply and communication interfaces, are especially important for the system to withstand the electromagnetic conditions of substations and maintain stable and reliable operations. The UNO-4672 is not only compliant with IEC 61850-3 and IEEE 1613, the international standards specific to substation automation applications, but also meets the highest level of China's corresponding standards set by China Electric Power Research Institute (Level IV).
In order to maintain control of the substations, even during a network failure, EKI-7656C, a redundant fiber-optical managed industrial Ethernet switch with 2 gigabit combo ports and 16 fast Ethernet ports, was installed. It also comes equipped with a proprietary redundant network protocol, the Advantech developed X-ring, which provides users with an easy way to establish a redundant Ethernet network with an ultra high-speed recovery time of less than 10 ms.
Conclusion
Advantech's UNO-4672, certified with Chinese and international standards for system communications in power substations, is suitable for ultra harsh environmental applications. Its large number of communication ports and LAN ports allows it to connect with many devices to maximize its economic effectiveness. Its fanless design, isolated power supply andisolated COM ports guarantee reliable operation and ease maintenance issues. Together with EKI-7656C and IPPC06172A, UNO-4672 is the excellent choice for subway substation monitoring and surveillance systems.