Display Panel for Subway Trains
8/5/2011
Project Introduction: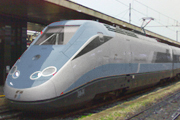 China CNR Corporation Limited is not only a major provider of railway vehicles in China's domestic market but also a main exporter in the world, selling rolling stock and equipment to over 50 countries.

Computers used for the control system in a moving train need to meet the most rigorous requirements for safety and reliability, and up to now there are only few players in this field.

In a recent corporative move with CNR's R&D center, Advantech became Asia's first industrial computer manufacturer to initiate its first step into the rolling stock industry by providing a touch panel PC which serves to be an info display on the train's control mainboard.

This custom-tailored TPC-710D touch panel computer shows control data such as speed, temperature, door and window and other surveillance information to the train's conductor or operators.

The TPC-710D has been applied to several Subway lines in China, and proved to be fully compatible with system and excellent in performance at a more effective price than its competitors.
System Requirements:
Constant vibration and shock are a fact of life in railway systems; therefore, anti-vibration and anti-shock capabilities are a must for any rolling stock applications.

Waterproofing and more robust & reliable connectors are crucial for rolling stock computers to resist vibration and shock and guaranteeing safety and reliability, therefore M12 or M16 connectorsare necessary for on-board use.

The variable temperatures that rolling stock operates under mean that all computers must have a wide range of temperature acceptance. Sudden surges in voltage from the starting and stopping of the train provide unusual challenges; therefore all equipment must have a wider power input tolerance range.

Fanless design is also important for an industrial computer used in the rugged environment of rolling stock, as it reduces dust that may cause the system to fail.
Project Implementation:
| | |
| --- | --- |
| TPC-710D | Industrial panel PC designed for rolling stock applications with a 10.4" high resolution color display. Panel-mount installation with screw locking and bracket protection. Uses M16 or M12 connectors for power, 110Vdc power input and all I/O ports. CF card instead of HD drives for memory storage. Fanless system. |
System Diagram: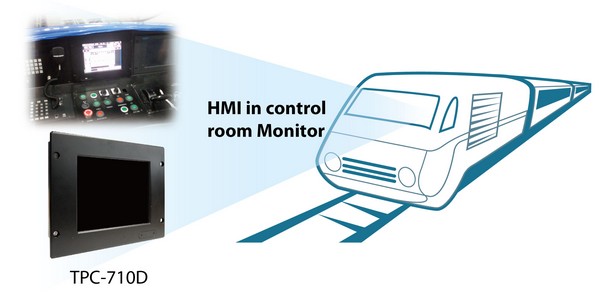 System Description:
The Advantech TPC-710D is a custom-made touch panel computer designed to meet all the demands of rolling stock applications. With a 10.4" high-resolution color display, it is an embedded part of the control mainboard and shows vehicle control information to the train's conductor or operators.

Toensure stability and reliability, the displaycomputer is panel-mounted with locking screws, and uses a stainless steel chassis and supportive brackets to increase its robustness.

The computer is connected to other devices in the system with a variety of interfaces, including: serial and LAN ports and a port for connecting power. All these ports are located in the back of the computer. This not only saves space but also aides with water-proofing and connection of the lockable M12 or M16 connectors.

Despite having larger storage capacity, traditional platter based hard disk drives are more vulnerable to vibration and shock. To overcome this issue, the TPC-710D uses a solid state CompactFlash card to store information, including the operating system, thereby reducing the impact of vibration and shock.

Its fanless design ensures a dustless environment and reduces the chance of failure during the long operating time.
Conclusion:
For any monitoring display to be used in metro subway trains, the screen has to be continually on for as long as 18 hours a day. It has to be particularly robust, standing up to the rigors of rail operations.

Advantech's TPC-710D meets all the demanding requirements of rolling stock applications. Its fanless design, anti-vibration and anti-shock capabilities create safe, reliable and high performance operations in a space-saving form factor. It benefits our customers with a higher performance-to-price ratio than its competitors.