Advantech Vandal-Proof LCD Display Kit Enhances Impact Strength for Spectrum Analyzer in Defense Application
7/12/2017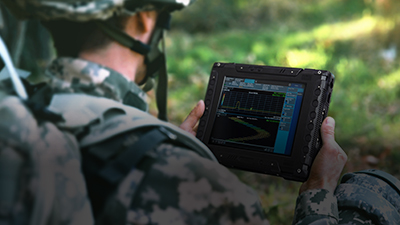 Introduction
The growing market for wireless technology drives the growth in demand for spectrum analyzers with multi-tasking capabilities. Spectrum analyzers are increasingly used in the field especially in defense applications. The primary use is to measure the power of the spectrum of known and unknown signals to detect electronic warfare threats.
Application Requirements
Usually, the spectrum analyzer needs to be taken outside to make measurements or simply carried while in use, so the screen needs to be clearly viewable in bright sunlight, darkness or dusty condition. Also, the screen needs to be vandal resistant to protect screen from breaking while in use and be lightweight. Last but not least, the spectrum analyzer should provide intuitive operation with a multi-touch interface.
System Solutions
To meet such rugged requirements, Advantech selected IDK-1110WP with optical bonding enhancement for the customer's application. The 10.1" LCD kit features a 1280 x 800 high resolution industrial grade LCD panel with LED backlight built in saving 20% power. The 10.1" LCD kit is integrated with an LVDS interface for easy integration. To increase durability and ruggedness, the IDK-1110WP uses an optical bonding enhancement for touchscreen and cover glass integration. A projected capacitive (PCAP) touchscreen and a 3mm thickness cover glass are laminated to the surface of IDK-1110WP with special clear optical adhesive. The optically bonded glass acts as a protective layer to boost vandal resistance, while the PCAP touch screen provides a user friendly multi-touch operation. The 3mm thickness cover glass and two layers of optical bonding adhesive also enhance product safety due to the bond holding the glass in place, should it break from abuse. Meanwhile, reflections and glare are also reduced between the LCD and the cover glass and touchscreen. As a result, the display contrast and viewability are significantly improved. The signal diagram and data can be seen clearly with a great deal of accuracy.