Global Car Manufacturer Empowers factory Workers
10/18/2015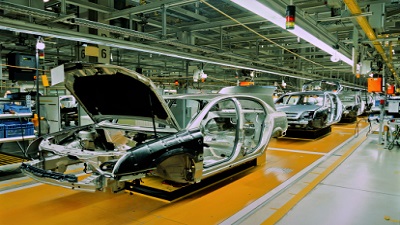 Project Introduction
Car manufacturing plants are large labor intensive buildings and typically use one line to produce a single model of a car. This is not only labor intensive, but also expensive and limiting. Our client wanted to create the next generation of car manufacturing plant and allow greater flexibility on its production lines. By providing car manufacturers with the latest touch panel computers, which can be modified to meet their requirements, Advantech can help car manufacturers reduce the amount of space needed for production lines whilst expanding their manufacturing capabilities and also improve employee work satisfaction by allowing them to make decisions based on the materials available.
System Requirements
With five production lines at their manufacturing plant, a global car manufacturer was keen to be able to speed up their productivity whilst increasing their quality and reducing their error rate. To reduce the error rate of the production line they wanted to be able to give their workers the flexibility to choose from a range of components should one not be available. To do this they required workers to have access to multi-touch touch-panel computers which would be installed with dedicated HMI software and improve the tracking of each part of the assembly line. If there was a failure during any part of the process the client required that assembly workers could fix it quickly through the use of the panel so that the line wouldn't be held up.

Project Implementation
TPC-1840WP and TPC-2140WP

With brand-new ID design, the TPC-1840WP and TPC-2140 provides a high resolution 18.5" and 21" displayed and PCT multi-touch in 16:9 wide format. By embedding an AMD T56E 1.65GHz processor with independent GPU, the TPC-1840WP and TPC-2140WP can support advanced graphical performance in more complex applications. Built-in function and home key button for greater user usability and operating safety. The TPC-1840WP also supports a mini-PCIe slot for communication function expansion. The opening side cover is designed for easy maintenance of Cfast/ HDD/Mini-PCIe components.

System Description
The client required two models of touch screen computer. With an outstanding price performance ratio, the If Award winning TPC-1840WP and TPC-2140WP are exemplified by not only their appearance but also by their intuitive user interface. With their two pale blue soft-keys that, when lightly touched, give users quick and easy access to the information they need, the TPC-1840WP and 2140WP allow the convenient viewing of information. To further aid this, both models feature widescreens with a ratio of 16:9, providing 40% more screen area than 4:3 displays. Furthermore, with the addition of multi-touch capabilities they provide even greater control and viewing of the information shown in Advantech's SUSIAccess and WebAccess management software.

All of this is made possible with the inclusion of an AMD dual-core processor with independent graphical processing unit which provides support for Windows 8 and DirectX11 so it can handle more complicated and detailed graphics.
In addition to this Advantech adapted the rear panel of the TPC's to include VESA arm mounting to allow operatives to position the devices in the location best suited to them.

Conclusions
Our client tested several other manufacturers during the consultation process and it was decided that Advantech offered the best overall solution with the most up-to-date panel PCs, the ability of these systems to be installed anywhere in the world and be guaranteed of the same quality of service they are receiving in their Italian plant; Advantech's post-sales technical support gives the customer assurances that any difficulties will be handled quickly and efficiently to ensure that there is no loss of services; and finally the all-in-one solution which not only included the hardware but also the installation and configuration of the clients bespoke software.