Energy Consumption Control
9/14/2017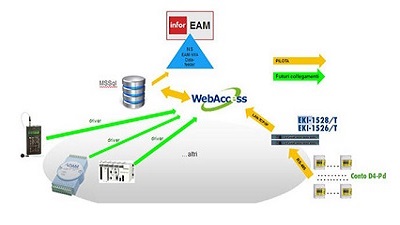 Market: Factory Automation
Technology Partner: Net Surfing Srl
Country: Italy
Project Introduction
A producer of conveyor, process, and transmission belts and rubber aprons, this global company needed to optimize its energy consumption control system in order to save costs while improving operational efficiency. Until last year, the energy consumption data and operating parameters of the plants and machinery in the company's main factory were mostly surveyed by operators through periodic inspection. With the assistance of Net Surfing Srl, the company was able to implement an automatic remote control and monitoring system to perform related tasks.
System Requirements
The main system requirements were as follows: 1) acquire detailed power consumption information for periodic energy diagnosis and analysis; 2) obtain data consumption and machinery parameters for an analysis of the machine functions and operations so as to evaluate what action is needed to improve performance; and 3) automatically connect all the acquired data to the company's Infor EAM maintenance management system in order to implement programmable maintenance and predictive maintenance systems.
System Description
Energy data acquisition was implemented by using 20 counters with RS-485 cable connected with EKI-1526 serial device server linked to the central server via TCP/IP. Data collection, control, and monitoring were realized using WebAccess/SCADA 8.1 with 300 tags.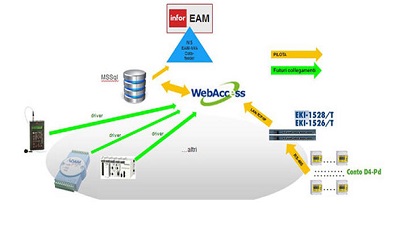 Conclusion
Because of the system's simple architecture, it required little investment from the customer. With the open design and flexibility of WebAccess, the customer was able to implement an automatic remote control and monitoring system for energy consumption in a very short time, achieving precise, real-time data acquisition throughout the factory. This allowed the customer to eventually reduce the number of operator errors while freeing resources for other valuable operations. Furthermore, the analysis of the energy data will allow the customer to take the necessary actions to continue improving the factory's energy efficiency while also reducing operational costs. But furthermore and most important, the Webaccess's choice was also made because, unlike other solutions that make energy efficiency only (that was also customer priority), thanks to our WebAccess, customer can now start with energy efficiency , but they can also implement later further data collecting from all equipments to monitor and improve also the production machinery in the factory. This will be the next and future step ahead.