Smart Meeting Room Booking System Enabled by OPS Signage Solutions
7/16/2015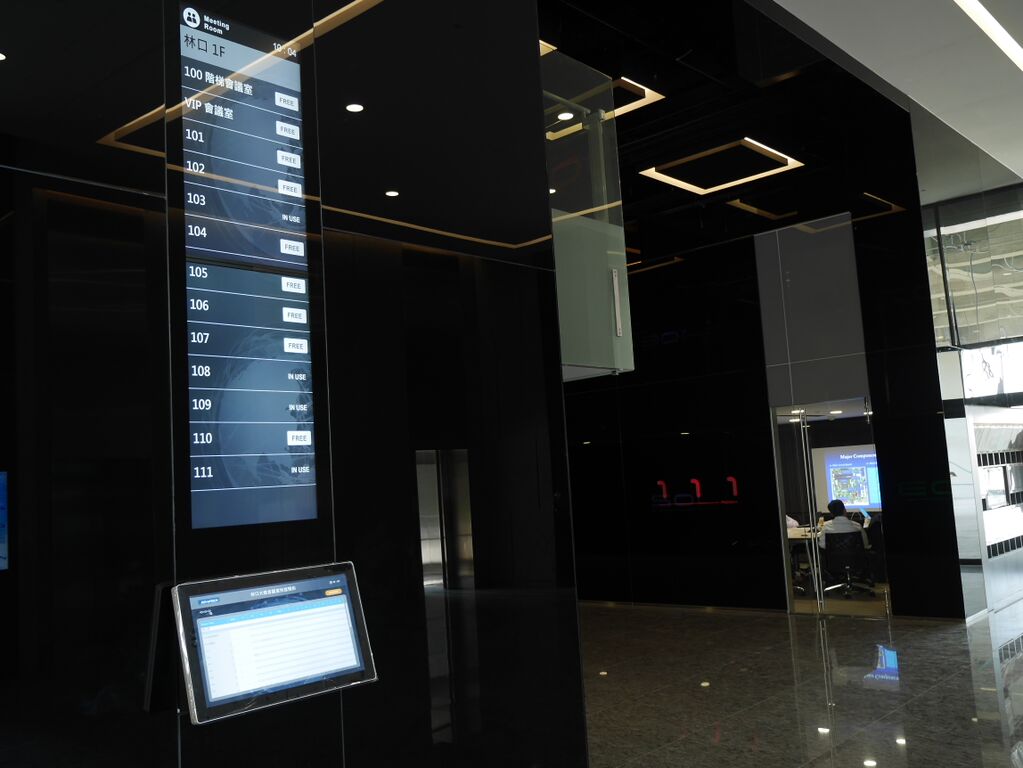 Background
Companies are constantly looking for ways to increase working efficiency and productivity and meeting rooms play an important part in facilitating communication,
but many of them struggle to effectively utilize them properly due to system inefficiencies and user behavior. Employees and their clients can sometimes jump around between meeting rooms trying to figure out if they are double booked, or when rooms will become free again. To help solve this problem, Advantech utilized an interactivesignage solution with Open Pluggable Specification (OPS) specification to simplify real-time meeting room reservation and resource management, whilst at the same time enhancing their overall brand image. Users who go into the system get an instant macro view of all the rooms and their status, and can book rooms directly from the interactive signage.
Requirements
Advantech needed a signage interface with a touch directory user interface that manages the booking system. And to reduce the impact of wiring and maintenance, the signage system should utilize two 42" displays in vertical positions close to the player. The interactive signage with room-booking facility needed to be wirelessly linked to sensors in each of the rooms so that it could instantly tell you if anyone is actually in them.
Solution
Advantech's Linkou campus building was designed with an intelligent meeting room booking system which includes: interactive touch control signage, motion sensors, player and software, and real-time data exchange. The interactive
signage embedded in an end wall
combines with the DS-270 player displaying the status of any room. Advantech DS-270 is designed with Intel's OPS and is powered by an Intel Celeron J1900 processor integrated with NVIDIA GeForce GT730M graphic chip which provides premium computing performance and allows dual Ultra HD and Full HD playback. This compact signage player is
easily integrated into the OPS slot on Advantech's 42" OPS compliant signage display, and connected to another 42" display via HDMI port for multimedia playback, making an all-in-one solution. All connectors inside the display, including video & audio signals, and power and serial control, offer easy installation, operation and maintenance. Each meeting room is equipped with a "Human Sensing Control System" using motion sensors. When a room is occupied, the indicator on the door emits a red light. If the room is reserved but not occupied, the light is green; and if the room is available, thelight is white. DS-270 supports one internal Mini PCle interface for add-on functions such as wireless. The real-time meeting room status detected by the sensor is also sent to DS-270 via Wi-Fi module. Therefore, employees or guests can see the occupancy status at a glance and make instant reservations. Bundled with free content and remote management software, DS-270 allows users to integrate a signage system easily and quickly, and design a UI they want.
Requirements
Easy maintenance and management

Dual display full HD quality content

Windows® 7 Embedded

Great reliability, stability and connectivity

Wireless connection with the database, real-time information displays
Requirements