PCIe SSD in Enterprise for Scientific Analysis Applications
1/8/2016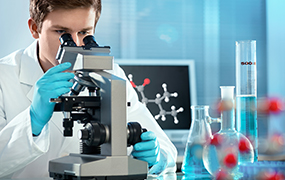 Introduction
Scientific analysis often includes huge amounts of data. For example, the human genome contains more than 3,000 million base-pairs. To map all the DNA sequences and create the genome simulation requires not only massive computing power, but also high data throughput and storage. In particle physics, a microscopic description of a system typically contains particles in the order of 1023 which requires massive resources to analyze. Scientific research has become more and more sophisticated and requires corresponding computing power with data throughput to match in order to make the breakthroughs we need in our quest for knowledge.
Application Requirements
Scientific workstations are constructed for handling high computation tasks that can process complicated data calculations and graphical simulations. A bio lab in Taiwan recently chose Advantech's SOM-5991 to build an upgradable workstation with a 4 port SATA SSD RAID setup for genome simulation. However, researchers found the workstation was only running at 30% capacity, so after several rounds of tests, they concluded that storage throughput was the biggest bottleneck that constrained overall performance and they started to think about improving the speed of the storage.
Project Implementation
SOM-5991 uses an Intel Xeon D-1500 processor and supports 16 lanes of PCIe Gen. 3. The customer decided to leverage this high speed interface to accommodate four units of SQFlash 910C PCIe SSD. A single PCIe Gen.3 x4 SSD supports NVMe 1.1 interface, with more than 2.5GB/s sequential read speed and 350,000 4K read IOPS. This is 4.5 times more powerful than normal SATA SSD, and at this performance level the overall efficiency of the newly designed workstation was at least three times greater than before.


Because workstations are exposed to malware and virus attacks from time to time, SQFlash 910C PCIe SSD comes with complimentary McAfee Anti-virus Software (specially made for SQFlash) that provides another level of data protection and enhanced the data security.
Benefits
Standard NVMe 1.1 specification natively supported by most OS and platforms.
Extremely high performance with flexibility provides even more multi-tasking simulation options.
SQFlash Utility for comprehensive security support with enhanced data security and reliability.