Advantech High Brightness Display Solutions Shine on Digital Drive-thru Menu Boards
7/12/2017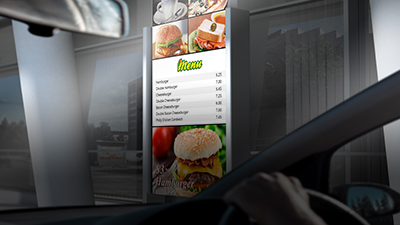 Introduction
Digital drive-thru menu boards are one of the most proven ways to consistently increase quick service restaurant (QSR) sales. The eye-catching dynamic menus without the limitations of static posters and panels boosts sales by preselling and upselling brand new items and meal deal promotions. As the focus switches from reaching customers indoors to reaching them outdoors, nearly 70 percent of QSR sales occur at drive thru's nowadays.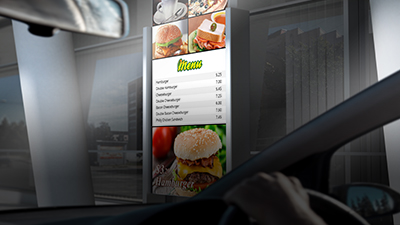 Application Requirements
The digital drive-thru menu board of this customer was a 1x3 portrait mounted 21.5" three screen menu board. The digital drive-thru menu board was installed at the drive thru lane in a semi-outdoor environment so good visibility under strong sunlight was the most important requirement. Moreover, the digital drive-thru menu board must work 24/7, so an excellent thermal and energy efficient design able to operate in semi-outdoor environments was also crucial. To meet these demands, Advantech introduced IDS-3121W ultra-high brightness display solution.
System Solutions
Advantech's IDS-3121W is a 21.5" FHD (1920 x 1080) industrial open frame monitor with a brightness enhancement of 1200nits. Our in-house backlight module was designed with a high efficiency and low power consumption LED light bar coupled with an optical film effectively increasing the original panel brightness from 300nits to 1200nits. To prevent over heating issues, the LED backlight module adopted a thermal plate solution to keep the temperature of the display surface under 40 °C. Moreover, Advantech added an auto-brightness light sensor to the IDS-3121W so it can automatically adjust its brightness according to ambient light conditions with 5 levels: 0%, 25%, 50%, 75%, and 100%. As a result, our high-brightness display solution keeps the LCD cool and energy efficient so the digital drive-thru menu board is always operating and presenting up-to-date information to the hungry customers.
Benefits
1200 nit high brightness solution provides better visibility experience under direct ambient sunlight
Thermal solution to keep display surface temperature under 40°C
Lower power consumption by specific backlight design even increasing brightness from 300 nits to 1200 nits
Supports auto-brightness function with 5 dimming levels: 5%, 25%, 50%, 75%, 100%