Setting Hospital Standards with Tech Innovation
5/10/2017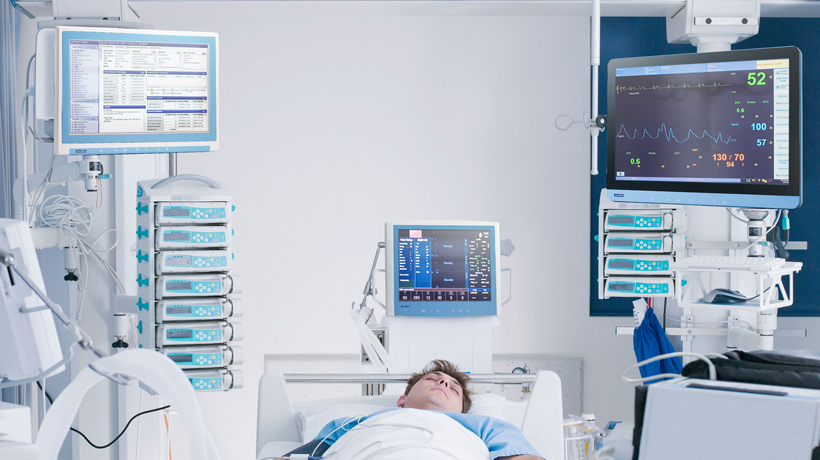 Innovation and quality are paying off
Central monitoring stations can be seen as some sort of medical software that are typically installed on a desktop PC showing a patients vital signs in real time. The data comes from all connected patient vital signs monitors that are organized in a specific way. Often rectangular sectors are used which represent each particular bed as the specific patient data. This approach is rather omnipresent in hospitals for years – it is nothing new or unusual for a hospital environment, especially in intensive care units. This might be the reason that in terms of devices running this kind of software, no one really demands or expects any changes – despite clear and obvious drawbacks. The setup of a complete end user desktop station requires significant space on a nurse's desk: a standard LCD display, some space for keyboard and mouse and finally some space below the desk for the actual PC unit, not to mention any other required peripheral. This is only one of the many smaller, daily exasperation of a hospital nurse and some doctors.
New and more for the same
If we look closer to this problem, things not always (or rather very rarely) look simple. What about the power supply? We are obligated to provide uninterrupted power supply (UPS) for at least the PC unit underneath the desk, requiring even more space to install the station. What about user authorization? Logging data with RFID cards is becoming more popular every year so that we have to reserve some additional space on the desk for a card reader to support the smart card authorization model. We observe all this trends since years and agreed that only we as medical system solution provider can improve this situation of overloading the station. Furthermore, every addition to the model means extra money that healthcare systems have to provide. In the end it is us who have to be creative enough to offer new and better products and embrace the fact that hospitals will not necessarily spend more money. Thanks to Advantech's innovations and refreshing product lines we can positively surprise our customers.
Central monitoring station software is a computer application which is utilized by most users to read and analyze information. Surveillance systems are systems in which the operator (mainly nurses) monitor current medical signals of patients. From time to time switches between screens occur or the content shown on screen changes, containing a number of forms and trends graphs and in rare cases requests input where classic keyboards could be essential. Having that in mind we evaluated the situation based on a usage model we discovered: a touch screen could be natural way to deal with such kind of application. By giving up the keyboard (not always possible) and mouse (almost in all cases possible) we save space on desktops or even completely free a desk by hanging the unit above it - thanks to the VESA mounting system. There are not many occasions and possibilities to increase nurse satisfaction but this improvement of their workflow and working area is a rare example of such.

Simplified, it could be said that typical medical devices are either required by healthcare regulatory systems so hospitals must have them (second group), or there are other devices (that are not mandatory) with which medical procedures are performed and which could give extra funds. IT devices for healthcare sectors do not have direct support from healthcare regulatory systems. Being involved in promoting and distributing that kind of devices, we have to show our partners (we do not like to call them "customers' as it does not reflect the nature of our relation) real advantages in a plain and clear way – promises don't work, only facts do.

According to our observations, the farther from a patient bed a device is located, the less motivation there is for it to be medical certified. The computers that run central station software are units that are not in direct contact with patients. Therefore, medical features lose significance when considering the price factor towards standard consumer products.
Thanks to Advantech's new "C" models, like POC-W212C and POC-W242C, that are equipped with modern, robust Intel®Celeron™ processors, we could achieve our goal. We managed to remain at a comparable cost level while at the same time giving our partners the benefits of Advantech medical all-in-one products. The "C" members of the POC family with similar looking PDC displays have opened new horizons – at least for us and our partners.
System architecture
For our monitoring solution we use the POC's as a main computer unit. Depending on the number of beds (patients) we sometimes have to add extra screens for the vital signs monitoring and surveillance. Extra PDC's contain information from beds that do not fit on one PDC screen; the number of data dedicated to each patient shown on one screen should not exceed recommended limits. Typically no more than 8 sectors on one 21-22' screen or 16 sectors on one 24' screen are recommended to be visible. This means that with a POC-W242C together with a PDC-240 can show 32 patients in comfortable conditions (IPS). It is important that the housing of a device should be the same in construction. With the previous approach, it was easily achieved by applying two LCD displays of the same model to the desktop PC tower. Thanks to the new PDC line we can offer the same uniform solution without the PC, as it is built in. We do not know any other company that could offer this kind of adequate integration in the area.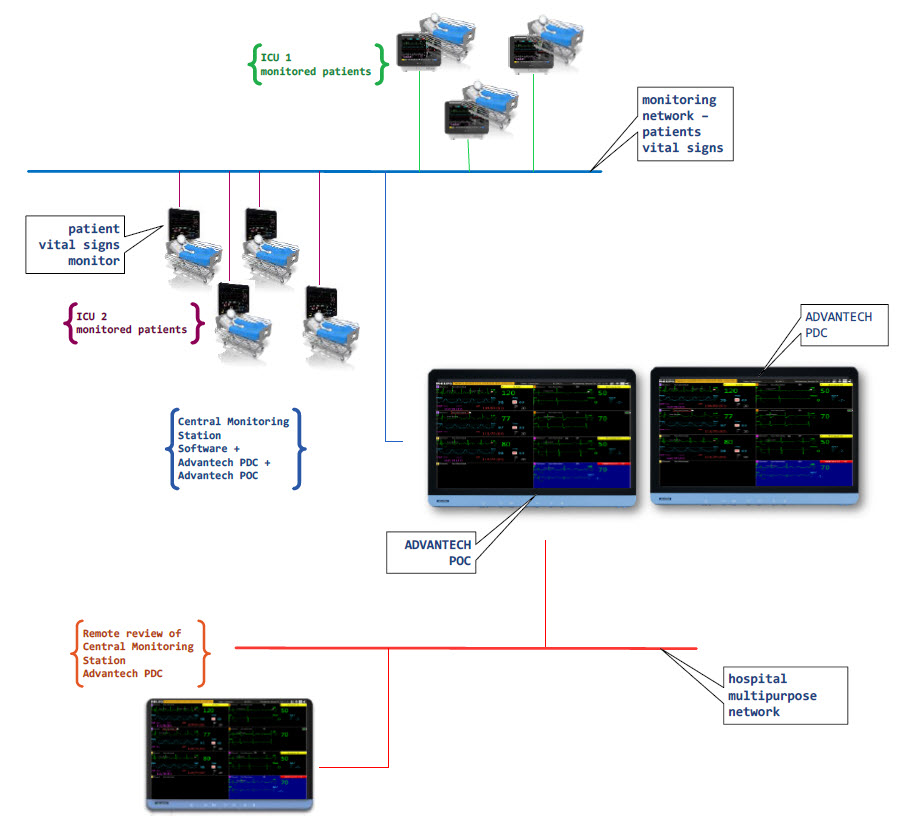 Benefits
Through many years of experience and by including knowledge from modern technology like intuitive touch screens, uninterrupted power supplies that no longer takes extra space (and money) due to the internal batteries, system central monitoring in intensive care is changing rapidly. Thanks to an integrated, all-in-one architecture we made important savings in the area of cable connections of nurse workplaces. Medical environments and especially intensive care areas are places where a lot of devices generate a lot of sounds – most of them are reasonably important, being alarms based on the patient's condition. Due to the fan-less design of Advantech computers we don't increase the noise in those areas. Having double gigabit Ethernet as standard we can afford extra preview screens in remote places by utilizing IP technology. In separated networks we do not interfere between monitoring networks that permit to monitor devices where patient's vital signs are transmitted, or other general purposes network. With this we insure the highest transmission standard. Prosaic features like the VESA mounting system should also not be underestimated – we have observed that after introducing POC more than half of our central stations are now mounted on walls or columns – and less located on or near desks. Somehow we broke established "standards" and set new ones.