Disaster Prevention and Safety Monitoring System for High-Speed Railway
7/29/2015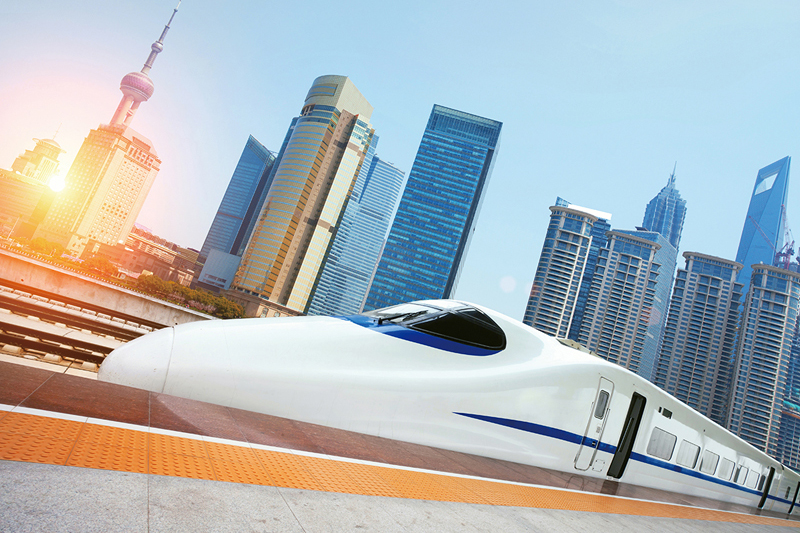 Introduction
The Chinese high-speed railway system is a real success story. In a country where distances and population are massive, having a solid infrastructure that connects the main economic centers is essential to accelerate the development of the economy. The project is ambitious and colossal. Since it was first introduced in April 18, 2007, the system has moved over 600 million passengers and it is said to be the fastest, largest and most popular in the world.
As with all modern day installations, safety is the major concern around which high-speed railway are built. Any small anomaly in the regular operation of the system can result in fatal accidents. This applies not only to factors that can be controlled but also to external factors that are out of the control of the system operators. Natural disasters or sabotage need to be taken into special consideration when building a safe network.
To meet these requirements, disaster prevention and safety monitoring systems collect and analyze meteorological, seismic and intrusion data to anticipate natural events and other unwanted circumstances and take appropriate decisions to prevent major tragedies and ensure a safe service.
Typical System Architecture
A typical disaster prevention system integrates a number of monitoring and processing units that are located both in trackside cabinets and in train stations. Data acquisition cards in these units collect the on-site data from the sensors. These meteorological, seismic, ambient and intrusion sensors are placed next to the railway lines to collect data such as rainfall, wind speed,snowfall, fog density, flooding, earthquake activity, movement and tracks or critical rooms temperature.
Data is processed and sent for display in the control center. From this centralized position of situation awareness, unexpected circumstances can be anticipated and their impact minimized by taking preventive action in advance.

Selection Criteria
High availability and enhanced reliability are the key requirements when deploying mission critical equipment. To plan for 24/7 operation, not only single points of failure need to be eliminated but also the mean time to repair system elements needs to be minimized in order to shorten downgraded operation during fail-over periods when primary elements fail.
Needless to say,harsh railway environments require the deployment of robust equipment. The particularities of a disaster prevention system add to these already demanding requirements as the system needs to support the extreme conditions even when operation is at its most critical. Some of these requirements include extended operating temperature range, advanced vibration/shock resistance and improved EMC performance.
The isolation of the sites where the equipment is going to be installed make maintainability and autonomy important factors to consider in the decision making process. Serviceability features like modularity, remote operation or self-monitoring add immense value to units that will be located in hard-to-access trackside cabinets.
Finally, OEMs offering mission-critical systems demand both greater flexibility, to integrate different configurations and adapt to customer requirements, as well as better upgradability in order to maintain systems in which blades can be replaced with next-generation ones or in order to meet future I/O needs.
Enter CompactPCI
Based on the need for "five nines" availability, Advantech's CompactPCI platforms used in disaster prevention systems leverage advanced protection in order to minimize system downtime. Two fully redundant systems in active-passive configuration are integrated in one CPCI chassis. Both systems can work independently and have exactly the same specifications: CPU, power supply, communication cards, and data acquisition cards. When the primary system fails the stand-by system is automatically brought online to take over operation.
High-availability is built in to every aspect of Advantech's CompactPCI designs. With over 145,000 hours of MTBF for the backplane, the fanless chassis design supports systems with an MTTR of 5 minutes or less. Front hot-swappable boards and power supplies can be replaced in 10 seconds without shutting down the system. Quad-port communication cards allow for different redundant topologies.
With an anti-static metal chassis, Advantech's CompactPCI platforms offer best electrostatic protection. Advantech's thermal technology and low power consuming components enable the system to work in extended temperature ranges (-20~70°C/ -4~158°F) without a fan.
Advantech has been developing long-life CompactPCI products for over 10 years. First deployed in 2011, the monitoring and processing units for railway safety applications have been recently upgraded to integrate ultra-low-power Intel® AtomTM CPU blades. By leveraging Intel processors selected from a long-term roadmap and Advantech's board level integration expertise, customers can benefit from increased product longevity as well as timely new technology upgrades.

MIC-3325 3U CompactPCI® Intel® Atom™ Dual Core D525/N455 Processor Blade
Advantech's MIC-3325 is a 3U CompactPCI dual/single core processor blade based on the Intel® Atom™ processor D525/N455+ICH8M two-chip platform. It provides the high performance of 2 cores and 4 threads of processing power at lower cost, and with easier validation. The MIC-3325 fully utilizes the I/O features of the Intel® chipsets, including an integrated memory controller (IMC), integrated graphics processing unit (GPU) and integrated I/O (IIO) such as DMI. The low power requirements of the Intel® Atom™ processor makes operation in elevated temperature ranges possible. Breakthrough memory design puts 2GB SDRAM on board, while keeping the speed at DDR3 800MT/s. The on-board CPU and memory provide less weight and higher shock/vibration resistance than socket devices. With such benefits, the MIC-3325 can be used in mission-critical applications such as military defense, transportation, traffic control, test and measurement (T&M) as well as critical data acquisition & control applications. MIC-3325 uses the Intel® ICH8M as the PCH, which provides extensive I/O support. The Integrated Gigabit Ethernet Controller can operate at multiple speeds (10/100/1000 Mb/s) in either full duplex or half duplex mode. A flexible 8HP extension module design provides the MIC-3325 with great flexibility and additional I/O connectivity to the customer. For more connectivity details, please contact an Advantech representative.

MIC-3955 3U CompactPCI® 4-port RS-232/422/485 Communication Card
The MIC-3955 is a 3U CompactPCI communication card that provides 4 standard RS-232/422/485 ports with 1KV isolation and 2KV surge protection. The MIC-3955 works with 32-bit 33/66 MHz CompactPCI backplanes and supports speeds up to 115,200 bps.
MIC-3756 3U CompactPCI® 64-ch Isolated Digital I/O Card
The MIC-3756 card offers 32 isolated digital input channels and 32 isolated digital output channels with isolation protection up to 2,500 VDC. In addition, all output channels are able to keep their last values after a hot system reset.
MIC-3023 3U CompactPCI® Enclosurefor 3U Cards
The MIC-3023 is a space and cost optimized 3U CompactPCI enclosure which is designed to host up to two 6slot CompactPCI 3U backplanes. Each backplane supports 32bit 33MHz or 66MHz PCI add in cards. The chassis can be powered by two PICMG2.11 CPCI power supplies for two individual systems. MIC-3023 provides for a wide range of applications in the industrial market requiring a robust, compact and reliable platform. With fanless design and the support of front swappable power supplies, systems based on the MIC-3023 can support a Mean Time To Repair (MTTR) of 5 minutes or less.
Conclusion
In modern societies, high-speed rail brings huge benefits to a country's economy. Planning for traffic safety is the most major concern. By integrating enhanced protection and the latest computing technology, Advantech's CompactPCI platforms for mission-critical applications provide continuous operation in extreme environments with solid performance levels. The built-in redundancy and modularity of Advantech's CompactPCI offering along with our coherent roadmap allow customers to build long-life reliable products minimizing design and upgrade costs. Furthermore, Advantech's CompactPCI engineering and support teams provide best-in-class services working closely with customers to customize application specific features. All these advantages have made our CompactPCI platforms a reliable choice for railway safety applications