【New Partner】DCS Automation Joins Advantech WebAccess+ IoT Solution Alliance
7/27/2015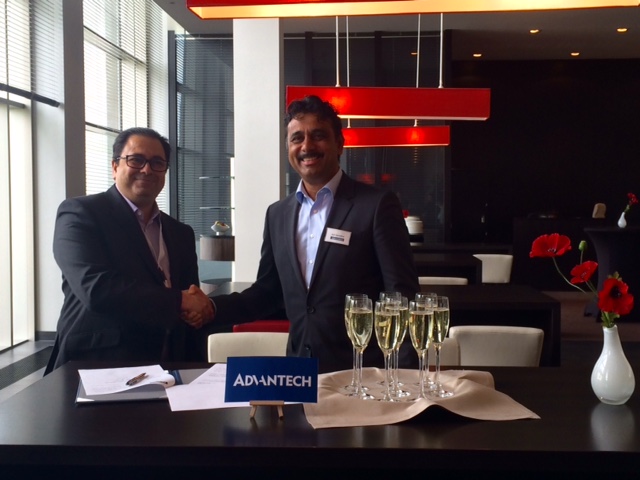 DCS Automation and Advantech are proud to announce their collaboration in the IoT sector with Advantech WebAccess+ Alliance. The Industrial Automation Group of Advantech, as one of the world's top market players in the field of computers (Advantech Co., Ltd Head Office: Taipei, Taiwan / Advantech Europe: Eindhoven, NL, iAutomation Sector Head: Jash Bansidhar) and, DCS Automation (Headquarters: Trappes, France, Owner: Joaquim Pereira) have announced that they will collaborate in the sales of solutions in the IoT field.
DCS Automation is a company specialized in the building of technical equipment. Guided by specialized engineers with extensive experience in the sale of HVAC systems, a sector in which they have been working for more than 26 years. DCS Automation offers the integration of global systems of the HVAC equipment GTB equipped and tested in their premises in Trappes (Yvelines). By joining the Advantech WebAccess+ IoT Solution Alliance and becoming an alliance partner DCS Automation will seize more opportunities and fulfill a diverse range of customer needs in the IoT era. This partnership is effective from May 2015 and is valid for five year. (http://waplus.advantech.com/partners.aspx )
"We welcome DCS Automation as an Alliance Partner of WebAccess+ IoT Solution Alliance," said Jash Bansidhar, iAutomation Sector Head of Advantech Europe. "This membership means that customers can take full advantage of a streamlined cooperation with the Advantech WebAccess+ Alliance".
With 40 WebAccess+ alliance partners worldwide, Advantech WebAccess+ IoT Solution Alliance aims for close cooperation with Advantech's partners to bring the best expertise, co-marketing opportunities and provide complete solutions for a wide array of applications across a diverse range of industries and achieve a win-win partnership for the whole industry.