Advantech Unveils 2nd Generation Ultra High-End Appliance
10/7/2015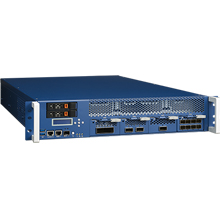 The FWA-6522C efficiently balances load between its 400 Gbps network I/O and four Intel® Xeon® Processors E5-4600 v3 to support demanding applications migrating to 100GbE
Taipei, Taiwan, October 7, 2015 – Advantech (TWSE: 2395.TW) today announced the FWA-6522C, its next-generation ultra high-end network appliance tailored for network and security platform manufacturers looking to scale application throughput to hundreds of gigabits per second. The innovative architecture of the FWA-6522C optimizes packet delivery from high-speed network interfaces into CPU sockets and into the virtual machines by adding an extra layer of intelligence in front of the Intel® Xeon® processors. Demanding packet processing applications such as network/cybersecurity and network analytics can easily offload compute intensive functions like packet classification, load balancing, flow state tracking and virtual switching to cost-effectively meet 100GbE networking needs.
The FWA-6522C upgrades Advantech's previous generation ultra high-end appliance with the Intel® Xeon® Processor E5-4600 v3 product family which provides 50% more cores, threads and cache than previous generation for faster application response. The quad socket FWA-6522C also increases memory density supporting up to 1TB of RAM which is essential in highly complex applications. The FWA-6522C provides up to 400 Gbps of flexible network I/O through four PHY Mezzanine Moduleswith various network interface choices up to 100GbE and optional advanced LAN bypass. Its unique system design improves PCIe connectivity and thermal performance in a compact 2U rackmount footprint. Carrier-grade IPMI and BIOS features include hardware-redundant BIOS and fail safe HPM.1 firmware updates of all components for advanced reliability.
FWA-6522C innovation resides in its efficient integration of compute and I/O that increases throughput and reduces latency by integrating a Netronome FlowNIC able to route high-speed traffic to the destination Intel® Xeon® physical or virtualized cores. The FlowNIC is connected to the Intel® Xeon® processors using four PCIe x8 Gen3 interfaces. To eliminate architectural bottlenecks, stateful packet processing and application-aware load balancing can be easily offloaded to the FlowNIC via user space APIs, or using industry standard SDN interfaces such as OVSDB and Openflow. The FWA-6522C also provides acceleration for the Open vSwitch datapath which is a competitive advantage for providers looking to virtualize their network infrastructure. These benefits in performance can be achieved at minimum development costs: presenting a NIC to each socket, the FlowNIC does not break the existing programming model and is compatible with industry standard software frameworks such as Linux, Intel® DPDK, OpenFlow and Open vSwitch.
"With the arrival of 100GbE interfaces, whitebox server platforms struggle to run data plane intensive applications dealing with over 100 million flows. Complex packet classification and flow load balancing tasks cannot be handled efficiently by commodity hardware. To efficiently scale network applications while avoiding complexity of bladed system architectures a new breed of system is required", said Peter Marek, Senior Director x86 Solutions, Advantech. "The FWA-6522C's innovative design overcomes limitations of whitebox architectures in high-end networking. The integrated workload-specific processor offloads flow and packet processing tasks so that customers can fully exploit the increased CPU horsepower of the FWA-6522C to boost performance of next-generation high-end network applications."
"Advantech's FWA-6522C ultra high-end appliance sets a new benchmark for application performance for those looking to scale x86-based systems for throughput and port density, including 100 gigabit Ethernet," said Jarrod Siket, senior vice president of marketing and general manager of the networking and communications business unit at Netronome. "Netronome's smart flow processing platforms offload and secure virtualized servers and appliances at cloud scale, and are purpose-built for SDN and NFV designs."Advantech will be showcasing the new generation FWA-6522C Ultra High-End Network Appliance at the SDN and OpenFlow World Congress October 13-16 2015 in Dusseldorf, Germany.
For more information please contact ncg@advantech.com or visit www.advantech.com/nc.
The Ultra-High End Network Appliance: A New Breed of System for 100G Traffic Handling
Although white box server models bring economies of scale, a one-size-fits-all approach reaches its limits with multiple 40GbE and 100GbE ports caused by fundamental compute and I/O bandwidth constraints. Advantech demonstrates how its new platforms offer the flexibility and performance needed for 100Gbps packet processing in next generation networks.