Advantech Industrial SSD Solution - SQFlash with Intel Security Solution for Enhanced Security
1/20/2016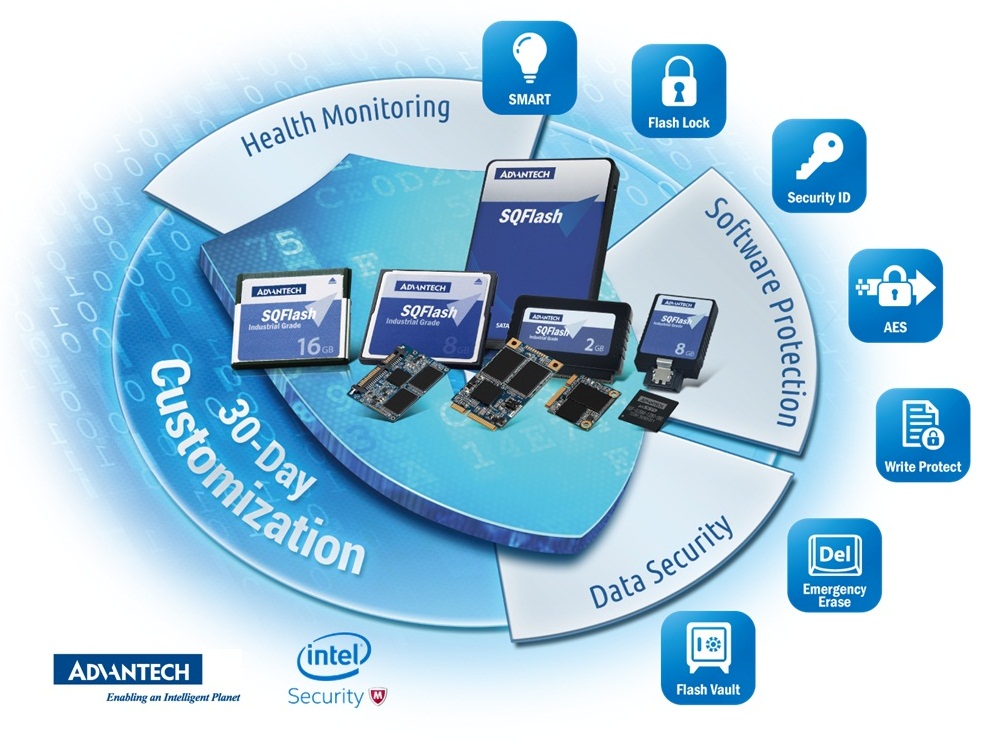 Advantech, a leading embedded computing solution provider, is pleased to announce collaboration with Intel Security to integrate McAfee antivirus into Advantech's Industrial Storage—SQFlash Security Package. Advantech
SQFlash
includes industrial SSD, CF cards, and multiple form factor storage; all empowered by comprehensive security features s
uch as Flash Lock, Security ID, and Emergency Erase. It represents a total solution for data and storage security in many different vertical markets like automation, gaming, medical, and defense industries. SQFlash Security Package helps protect not only confidential data, but also software intellectual property. For applications such as KIOSK and POS systems that use external ports for connecting thumb drives / SD cards, McAfee antivirus offers an additional layer of system protection from malware attack.
Advantech
SQFlash
is a dedicated industrial storage product line which provides highly reliable NAND Flash storage products, combined with advanced solution services for various industrial verticals. Besides the superior hardware,
SQFlash
provides a complete security solution package for protecting user data and software from the system level all the way up to the SSD NAND Flash chip level. All these SQFlash features have successfully helped system integrators build more secure systems with minimum effort, making SQFlash very welcome in the machine automation, transportation, gaming, medical, and defense industries.
The advanced scanning technology of Intel Security's product has been battled-tested over many years, and it is the foundationof responses to the threats of yesterday, today, and tomorrow. It is designed to detect threats found in the field but also those that might become widespread at some point in the future. With Intel Security's McAfee antivirus built into
SQFlash
, data and all the storage drives in the system with SQFlash are constantly scanned for threats.
In addition, Advantech as an authorized distributor of Intel Security products, also provides Intel Security's McAfee Embedded Control (MEC) for embedded devices that takes system security to an even higher level. Advantech is committed to providing total solutions to fit different customers' needs. SQFlash is a total solution for security requirements in all kinds of applications.

About Advantech SQFlash

Based on embedded market insights accumulated over decades, Advantech developed SQFlash as the perfect industrial storage solution with a full range of product support and value-added services. Advantech SQFlash was designed with industrial operation in mind and provides highly reliable flash memory solutions with excellent compatibility, performance and security. Designing your application with SQFlash will decrease integration effort significantly and increase overall system stability. Advantech SQFlash provides a full range of storage products including: CF, DOM, CFast, mSATA, Half-slim and 2.5" SSD. Besides traditional flash storage products, Advantech extents the depth of its product portfolio with the launch of its Micro SSD line for small form factor systems, and a brand new PCIe line offers ultimate performance for server applications.
www.advantech.com/SQFlash