Advantech IoT Devices Certified by Microsoft Azure Cloud Services
12/28/2015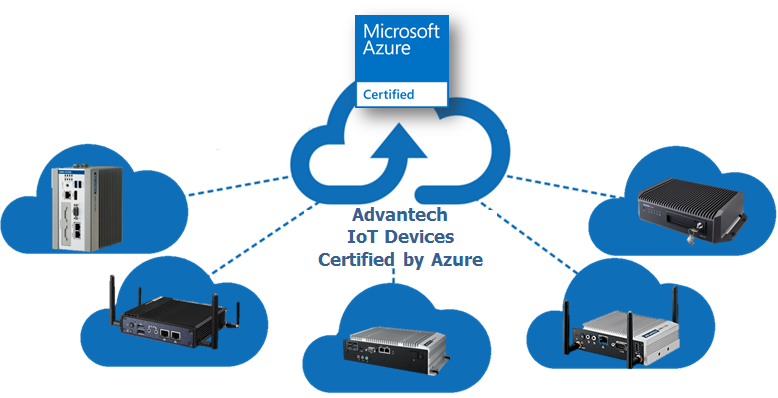 Advantech IoT Devices Certified by Microsoft Azure Cloud Services
Dec. 29, 2015, Taipei – Advantech, global top market-share holder in the field of industrial computing, announced it has joined Microsoft Azure Certified for Internet of Things (IoT), ensuring that customers can get IoT solutions up and running quickly with hardware and software that has been pre-tested and verified to work with Microsoft Azure IoT services. Advantech IoT devices certified by Azure allow businesses to reach customers where they are, working with an ecosystem of devices and platforms, which allows for faster time-to-production.
There are already five Advantech IoT devices certified by Microsoft Azure which turn IoT solution into a new era. These devices focus on vertical markets in industrial automation, transportation, and the IoT field, which will be expanding rapidly in the near future. To speed up the implementation of POC and product prototyping, Advantech offers a further IoT starter software development kit to help realize customers' IoT applications as efficiently as possible.
"To promote IoT industry development, Advantech works with Microsoft to build our WISE-PaaS software service, which integrates Advantech's IoT software solutions and Microsoft's Azure cloud services," said Allan Yang, CTO of Advantech. "To accelerate clients' IoT deployment, we've joined the Microsoft Azure IoT Certified program to ensure our IoT gateway UTX-3115, ARK-1123C, ARK-2121L, in-vehicle computer TREK-674, and automation controller UNO-1372G are pre-integrated with Azure cloud services. By doing so, we can provide clients with more comprehensive, end-to-cloud IoT integrated solutions."
"We are able to jumpstart customers' IoT projects with pre-tested device and operating system combinations that are validated through Microsoft Azure cloud services," said Vice President Miller Chang. "Decreasing the usual customization and work required for compatibility ensures Advantech helps customers get started quickly on their IoT solutions."
"Microsoft Azure Certified for IoT extends our promise to bring IoT to business scale, starting with interoperable solutions from leading technology companies around the world," said Barb Edson, general manager for Data Platform and Internet of Things, Microsoft. "With trusted offerings and verified partners, Microsoft Azure Certified for IoT accelerates the deployment of IoT even further."
IoT projects are complex and take a long time to implement. Customers find that choosing and connecting the right set of devices, assets or sensors to the cloud can be time-consuming. To jumpstart their IoT projects with confidence, customers are looking for the right IoT devices and platforms that are tested for readiness, compatibility, and usability. By choosing from Advantech's certified by Microsoft Azure IoT program, customers can save time and effort on project specs and RFP processes, knowing in advance that devices and offerings will work with the Azure IoT Suite.

For more information, please contact your local Advantech sales office.
To learn more about Azure IoT Suite, click here.
About Advantech
Founded in 1983, Advantech is a leader in providing trusted, innovative products, services, and solutions. Advantech offers comprehensive system integration, hardware, software, customer-centric design services, embedded systems, automation products, and global logistics support. We cooperate closely with our partners to help provide complete solutions for a wide array of applications across a diverse range of industries. Our mission is to enable an intelligent planet with Automation and Embedded Computing products and solutions that empower the development of smarter working and living. With Advantech, there is no limit to the applications and innovations our products make possible. (Corporate Website: www.advantech.com).
About Microsoft
Founded in 1975, Microsoft (NASDAQ: MSFT) is the worldwide leader in software, services, devices and solutions that help people and businesses realize their full potential. Since it entered Taiwan in 1989, it has become a trustworthy partner to government agencies, schools and businesses, working together to strengthen Taiwan's position, and has been committed to increasing the island's innovation, competitiveness and prosperity.