Advantech Smart Signage Solutions –The Key to Accelerating Signage Applications
10/13/2015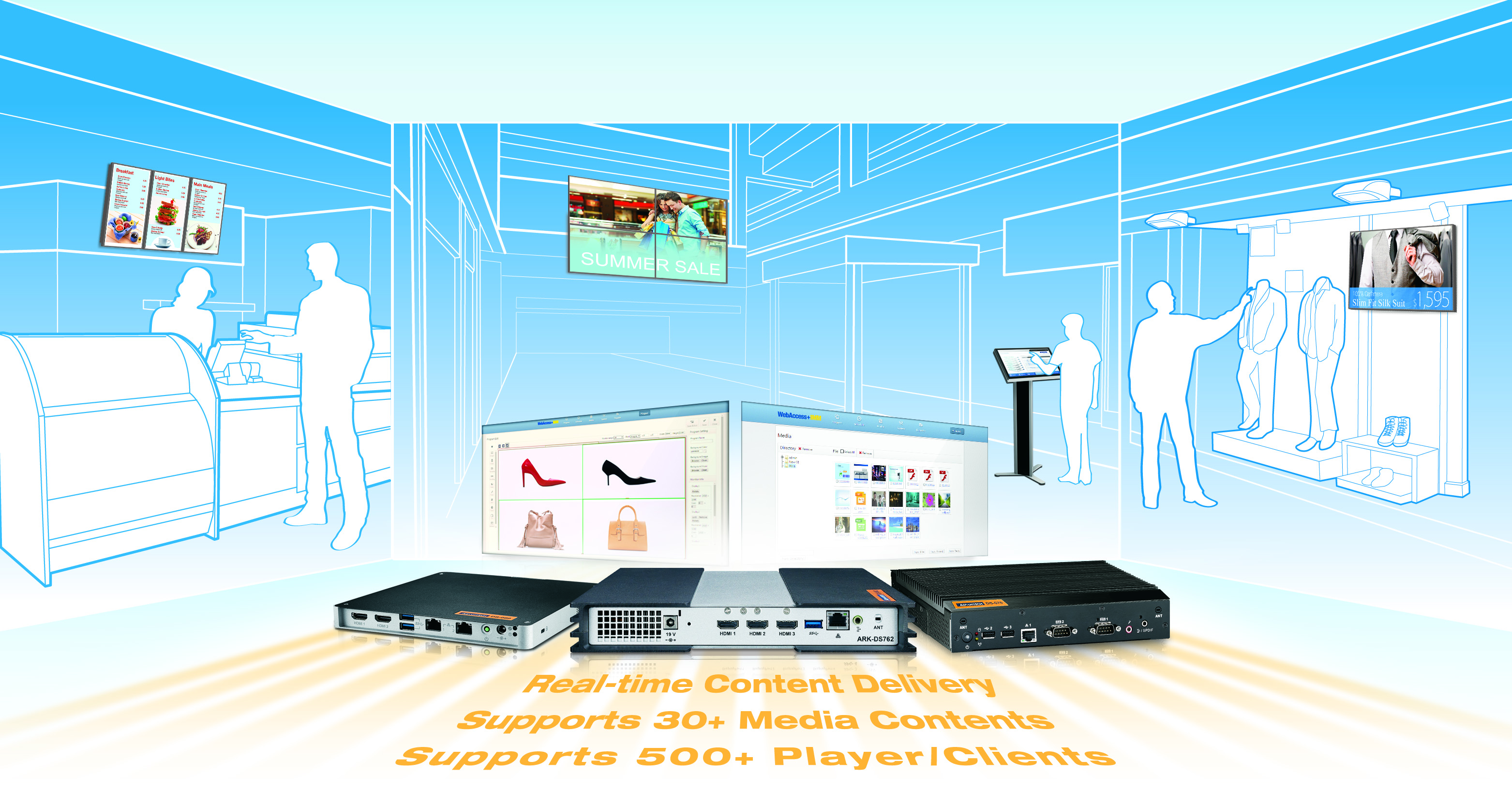 Oct
, 201
5
, Taipei
–
Advantech (2395.TW), a global embedded computing leader providing embedded platform solutions across multiple vertical markets, is glad to announce the offer of a variety of smart signage solutions to accelerate signage applications, yet make them more interactive. Advantech's smart signage solutions combine highly reliable platforms with application-ready software. All digital signage players come

with interactivemultimedia software, WebAccess/IMM for editing and dispatching digital signage programs and remote device management software, WISE-PaaS/RMM for hardware monitoring and control, both at no extra cost. Our web-based signage solution enables up to 500 remote players without worrying about reliability, security or manageability. Our reliable, stable, and highly scalable signage solutions ensure 24x7 operation and are delivered at a lower "total cost of ownership".

Right Message, Right Audience, Right Time
Advantech Smart Signage Solutions adopta server-client architecture that supports a multiple media format with a user-friendly interface and system backup and restore. A web-based architecture allows users to lay out,
schedule, and dispatch signage content over the Internet to up to 500 remote players.
Advantech Smart Signage Solutions support multiple media files such as image, video, web page, Flash, PPT
in multiple formats, and system backup and recoveryfunctions. Users can create attractive and engaging digital signage by following three simple steps: (1) uploading assets, (2) editing the layout, and (3) scheduling and dispatching
signage content. With Advantech Smart Signage solutions, system integrators are able to focus more on their own applications and save important development time and resources. For retailers, restaurant owners, and hoteliers, Advantech provides an effective tool for distributing engaging and creative digital communications aimed at generating new market oppurtunities.

Key Features
Comprehensive, Reliable, Stable, and Highly Scalable Platform Selections

With over 30 years' experience,Advantech has powered thousands of digital signage applications across retail, healthcare, hospitality and food service industries, making it one of the leading platform providers in the market. Advantech provides comprehensive platforms with wide product selections of varied computing power and cost from RISC-based to X86 platforms, from economic designs to high performance multi-display, andfrom 1080P high definition to 4K ultra HD graphics. Customers can easily choose the best fit for their application. Our small foot-print and low-profile compact case design makethem easy to install and integrate behind display devices and provide higher reliability in harsh environments with cabeless design.



For more information, please contact yourlocal Advantech sales representative, or visit us at our website.
Dual 1080PFHD Playback

4K UHD Playback

Multi-DisplaySolutions

UBC-DS31
DS-370
DS-080
DS-570
ARK-DS762
DS-862

Freescale ARM® based platform with low power design

Intel® Celeron® Quad-Core platform with dual 1080P displays & fanless design

Intel®5th Gen Core™ i5 /Celeron® platform with 19mm height & fanless design

Intel Celeron Quad-Core with discrete Nvidia GPU & Ultra HD up to 4 display outputs

Intel® 3rd Gen Core™ i7/i5/i3 platform with 3 x HDMI independent displays

Intel® 3rd Gen Core™ i7/i3/Celeron® platform with discrete AMD Radeon GPU for 4 independent

1080P displays
Founded in 1983, Advantech is a leader in providing trusted, innovative products, services, and solutions. Advantech offers comprehensive system integration, hardware, software, customer-centric design services, embedded systems, automation products, and global logistics support. We cooperate closely with our partners to help provide complete solutions for a wide array of applications across a diverse range of industries. Our mission is to enable an intelligent planet with Automation and Embedded Computing products and solutions that empower the development of smarter working and living. With Advantech, there is no limit to theapplications and innovations our products make possible. (Corporate Website: www.advantech.com).