Advantech Adds Dual Processor Blade for Telecom to ATCA Line-up
7/30/2015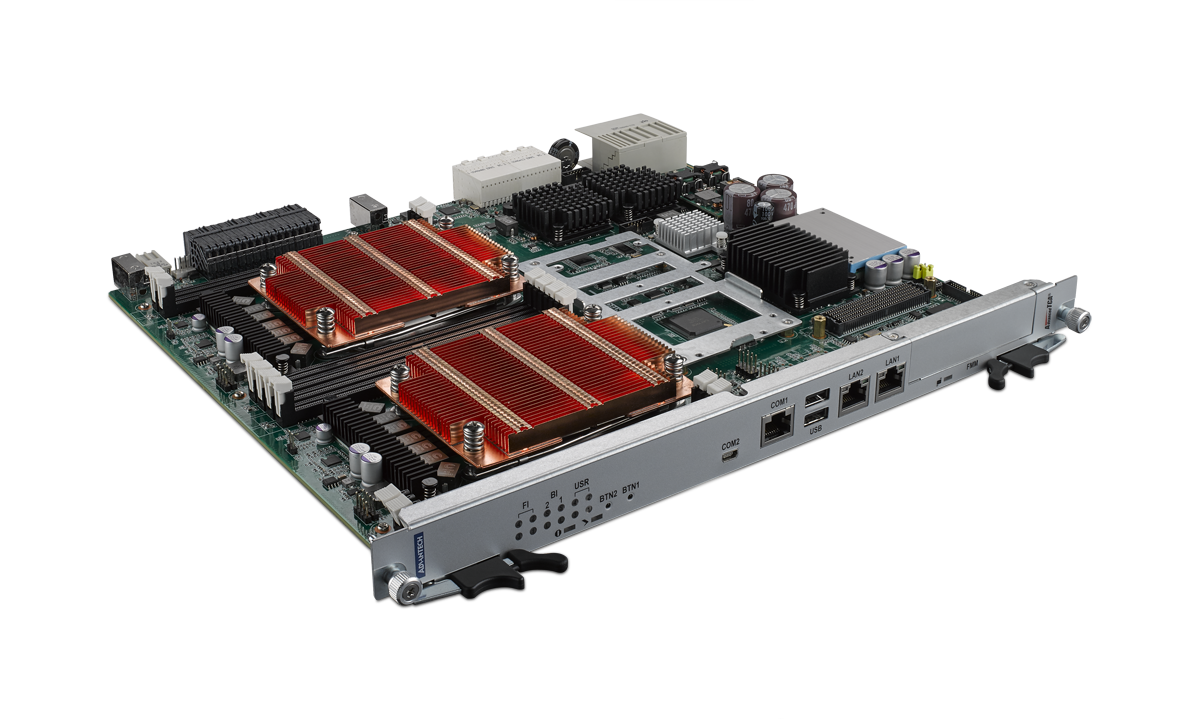 New AdvancedTCA node blade taps Intel® Xeon® Processor E5-2600 v3 Series performance and 10/40GbE connectivity for Telecom Equipment Upgrades
Taipei, Taiwan, July 30, 2015 – Advantech (TWSE: 2395.TW) today introduced the MIC-5342, a dual processor ATCA blade based on the Intel® platform formerly codenamed "River Forest". It enables the highest Intel® Architecture performance available in the ATCA form factor with up to 28 cores and 56 threads of processing power, fast PCI Express gen. 3 lanes, and best-in-class virtualization support. The blade mainly targets Telecom Equipment Manufacturers (TEMs) faced with performance and throughput limitations on their current generation platforms and is designed to ease upgrades to higher speed processors and network interfaces.
Advantech sees a strong demand to upgrade legacy network elements based on ATCA in carrier-grade installations will continue in parallel to future modernization efforts in Telecom Data Centers. "The strain on currently deployed equipment is not going to go away as bandwidths increase by factors of ten and network traffic intensifies" said Ching Ko, Director Product Marketing, Advantech Blade Computing Dvision, "The telecom industry deploys ATCA equipment today in a broad spectrum of products including wireless access, wireless core networks, and IP Multimedia Subsystem (IMS) network elements which they are not going to turn off overnight. The introduction of the MIC-5342 demonstrates that Advantech is well-positioned with its extensively field-tested ATCA product portfolioto accompany TEMs and customers from other markets in their upgrade process. Integration of advanced features such as high performance IPSec and crypto offload will help our customers to even achieve even higher efficiencies".
"The key advantages which Advantech brings to the installed base are optimized product capacity/cost ratio in terms of processing, offload and I/O support and best-in-class telecommunications values such as increased life cycle, high availability, and environmental standards compliance", said John Muller, Vice President of Sales and Marketing, Advantech Networks and Communications Group. "In addition, our standard product and Customized COTS (C2OTS) framework brings OPEX savings through our global, unified supply chain where spares inventory can be condensed and time to market reduced due to standardized COTS components".
MIC-5342 Product Overview
Advantech's MIC-5342 is a dual processor ATCA blade based on the Intel® Xeon® Processor E5-2600 v3 product family. With up to 28 cores and 56 threads of processing power, Intel QuickAssist hardware offload, fastPCI Express gen. 3 lanes running at up to 8Gbps, and best in class virtualization support it offers a significant increase in performance for product upgrades and new equipment designs. The optimization of features and unmatched flexibility based on Advantech's leading FMM technology make the MIC-5342 equally well suited for both control plane and application workloads in telecom networks.
Two QPI interfaces connect the CPUs together to improve memory and I/O access throughput and latencies when one processor needs to access resources hosted by the other socket. With four DDR4 DIMMs per socket in a quad channel design running up to 2133MT/s, the MIC-5342 not only offers superior memory bandwidth over 3-channel designs, but can also support RAM density up to 256GB. It outperforms previous generation dual socket designs while keeping similar thermal characteristics with balanced airflow resistance.
Fabric connectivity is implemented by two Intel® Ethernet controllersXL710-AM2 devices on-board, connecting up to four backplane fabric channels. This allows the MIC-5342 to scale from legacy 10GbE to high speed 40GbE network interfaces with optional dual-dual star support for the most demanding applications utilizing 4 hub blades per system.
A Fabric Mezzanine Module type II socket with PCIe x16 connectivity provides on-board expansion capability for additional front panel I/O, additional offload and acceleration controllers such as the Intel® Communications Chipset 8900 Series, IPSec offload engines, or customer specific logic.
The onboard IPMI firmware based on Advantech's advanced IPMI core enhances modularity and flexibility for customization of system management features, and provides a framework for value-added features that enhance the Reliability, Availability, Serviceability, Usability and Manageability (RASUM) of the product. HPM.1 based updates, including rollback support, are available for all programmable components such as the BIOS, BIOS settings, IPMC firmware, and FPGA. Advantech's IPMI solution, combined with an optimized UEFI BIOS, continues to offer advanced features used on previous generation Advantech MIC-533x blades, such as HPM.2 support, Dynamic Power Budgeting, BIOS redundancy, Real Time Clock Synchronization and MAC mirroring. Advantech's IPMI firmware has been tested for CP-TA compliance using the Polaris Networks ATCA Test Suite and against a variety of AdvancedTCA shelf management solutions.
I/O Flexibility
The MIC-5342 connects 8 PCIe gen.3 lanes to the Zone 3 interface for hot-swappable RTMs such as the RTM-5107, which supports two SAS HDDs.
Customized COTS (C2OTS)
The MIC-5342 can also be easily customized based on Advantech's unique Customized COTS framework with custom RTMs, FMMs, or modifications of the on-board system FPGA, IPMI and/or BIOS firmware.
The MIC-5342 is shipping now and will be available in August, 2015 for customers to evaluate using Advantech's Remote Evaluation Service in addition to Advantech's MIC-5345 ATCA Blade for Server and NFV Applications. Advantech will be showcasing the MIC-5342 and MIC-5345 at the Intel® Developers Forum, August 18-20, 2015 in San Francisco, CA, USA.