Advantech Introduces Broadest Range of Intel® Xeon® Processor D-1500 Series Platforms for Network Computing
11/10/2015
Brings a boost of price/performance/power ratios to any place in the network
TAIPEI, Taiwan, November 9, 2015 – Advantech (TWSE: 2395.TW) today announced a series of platforms based on the Intel® Xeon® processor D-1500 product family for Network, Storage, Microservers and IoT. The new platforms scale from Advanced Mezzanine Cards (AMC) and Versatile Server Modules (VSM) to Carrier Grade servers and Network Security appliances, all the way to high density, highly available blade server platforms for NFV and Edge Computing. Use of the new server-class System-on-Chip (SoC) offerings from Intel enables Advantech to offer products withcompelling price/performance per watt ratio in their respective classes.
The Intel Xeon processor D-1500 product family offers a range of cores for performance scalability, 128MB of memory and dual Intel® Ethernet 10GbE ports,and enables services to be delivered with high reliability, availability, and serviceability. Leveraging built-in multicore and virtualization technology, the new processors can be used in designs that optimize data center and network infrastructure workloads in a dense, high-performance, low-power design and bring big-core performance to embedded form factors.
"The Intel Xeon processor D-1500 product family enables robust levels of performance and integration for enterprise, data center and telecom networking equipment alike," said Peter Marek, senior director x86 solutions, Advantech Networks & Communications Group."The processors offer a foundation for platforms that can be used in various deployment scenarios and that scale from access, edge to core, from small to corporate offices and data centers. Our full range of products announced today will not only bring significant CAPEX and OPEX savings to equipment providers and carriers, but will allow them to capitalize on innovative technologies using an NFVI-on-a-module approach, using stand-alone appliances and servers for legacy and virtualized premise equipment, and leverage carrier-grade blade servers optimized for best-in-class compute density at rack level. With support for Intel® QuickAssist technology across the product range, even greater efficiencies can be achieved for use cases requiring support for security protocols like IPsec or support for compression/decompression."
"The new offerings in the Intel Xeon processor D-1500 product family offer a strong foundationfor the evolution of next generation network infrastructure solutions," said Dan Rodriguez, general manager of Intel's Communications Infrastructure Division. "To more quickly bring these solutions to market, the networking industry can work with members of the Intel® Network Builders program, such as Advantech, to get them on the fastest possible track to deployment."
Versatile Server Module
Among the multiple products introduced today, the MIC-8304 VSM is the first member of a family of Server-on-a-Module platforms. VSMs allow for simplified integration of the latest, high performance Intel® processors into equipment such as small cells, base stations, carrier Ethernet and demarcation boxes to add service capabilities. By running the same VNFs that run in the core network, VSM is a key element of what Advantech terms as NFV elasticity. The tailored, rich feature set also makes VSMs an ideal choice for control plane applications in telecom as well as enterprise networking. Advantech has demonstrated the use of the VSM in a wide range of equipment such as a cloud control node inside its new Packetarium™ XLc system, as a server node inside an SDN-enabled Top-of-Rack Switch and adapted for use by Equipment Providers to add service capabilities based on NFV technologies to existing legacy platforms amongst others.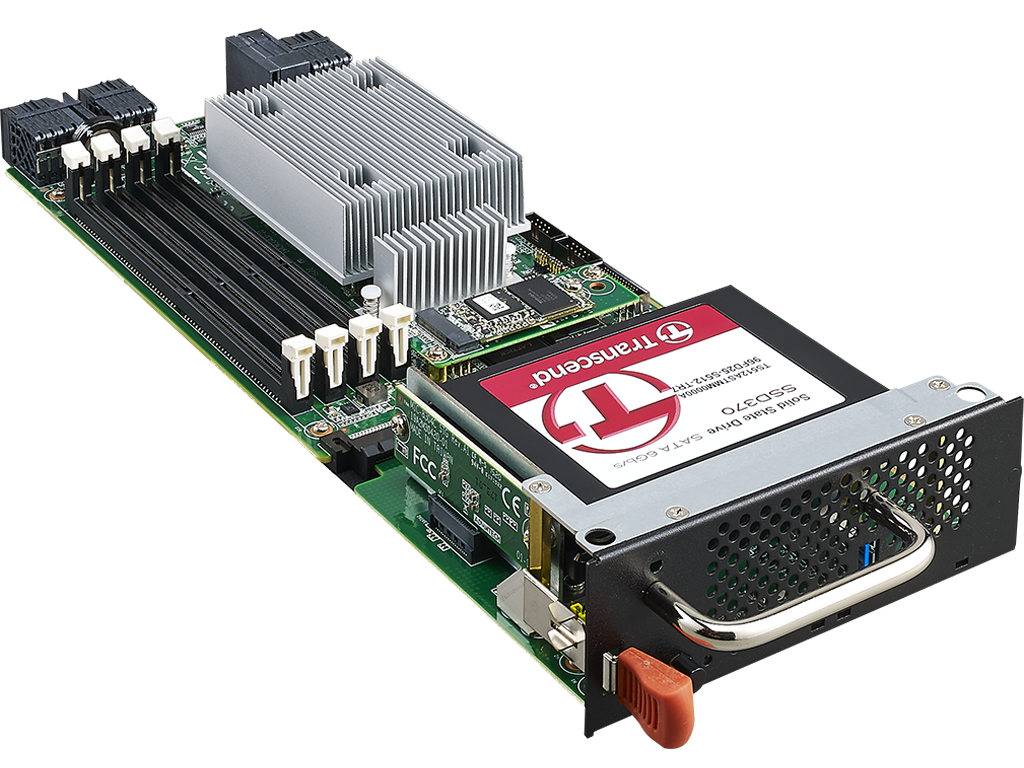 1U mid-range network appliance
Designed as a server-class appliance, the FWA-3260 brings robust performance into a cost and feature optimized 1U platform with excellent price/performance ratio in network security and otherenterprise networking applications. With the scalability of the new Intel Xeon processor D-1500 product family it also enables cost efficient solutions in new applications such as software defined WAN (SD-WAN) and virtualized Enterprise CPE (vE-CPE). A vCPE variant of the appliance is under preparation as a vCPE demonstrator platform with pre-integrated Intel® Open Network Platform (Intel ONP) Server-compliant NFV middleware and 3rd party VNFs from select members of the Intel Network Builders ecosystem.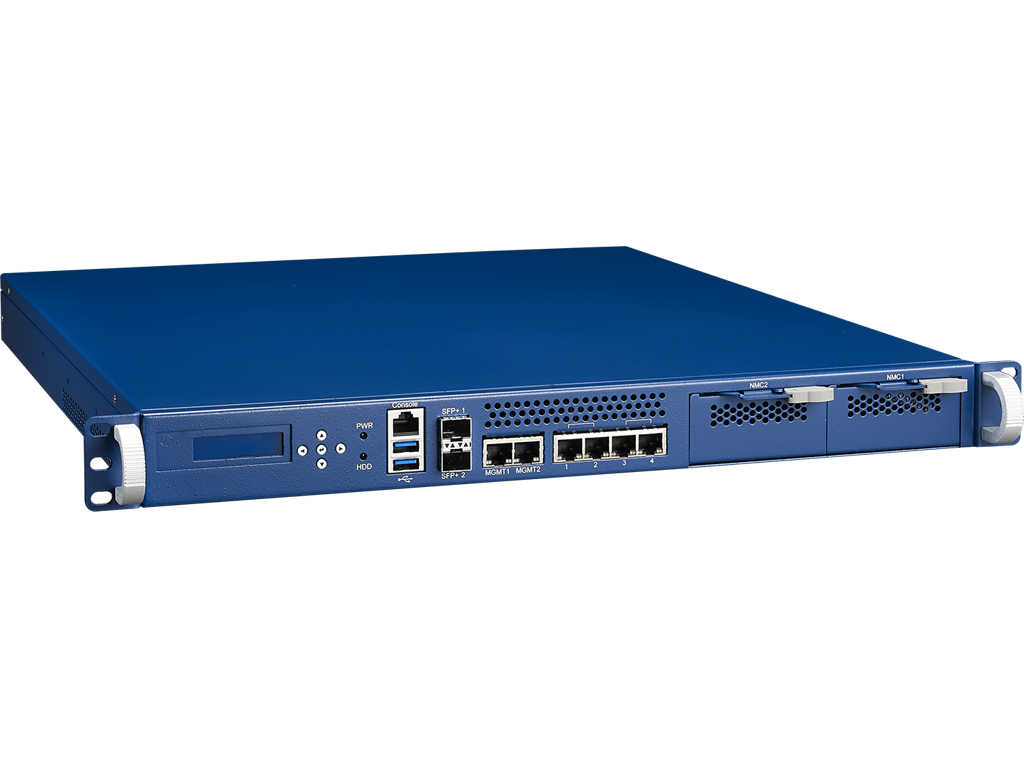 1U Carrier Grade Server
The CGS-3010 based on the Intel Xeon processor D-1500 product family offers a single processor option for customers looking for the best price/performanceratiowith balanced compute and I/O expandability. The server has been designed to support two full-height, full-length PCIe cards at high TDP fitting applications that need both server-class performance and a sophisticated PCIe subsystem.

Packetarium™ XLc PAC-6009 Carrier Grade Blade Server and NFVI
The Packetarium™ XLc system is designed to accommodate the maximum density of compute available in a 400mm deep 6U carrier-grade chassis. It is a highly scalable platform for deploying Intel® Atom™ processor, Intel® Xeon® E5 processor and Intel Xeon Processor D-1500-based blades designed for the most demanding NFV workloads. For media processing and content handling needs, it offers aflexible infrastructure for the addition of video acceleration hardware providing unprecedented video encoding capabilities. The system's 400W per RU power footprint enables deployment in industry standard 19" racks. The PAC-6009 chassis incorporates a highly versatile and modular design with 9 front slots to host 9 single or dual node Intel® Xeon® processor-based blades. Generic compute blades run application workloads (VNFs) while dedicated cloud control nodes provide orchestration and virtual infrastructure management functions. Cloud storage nodes for content caching and nodes optimized for media and image processing are in preparation. Built-in high availability features and the high compute density achievable at rack-level make the PAC-6009 a perfect fit for scale-out data plane workloads as well as mission critical control plane gear.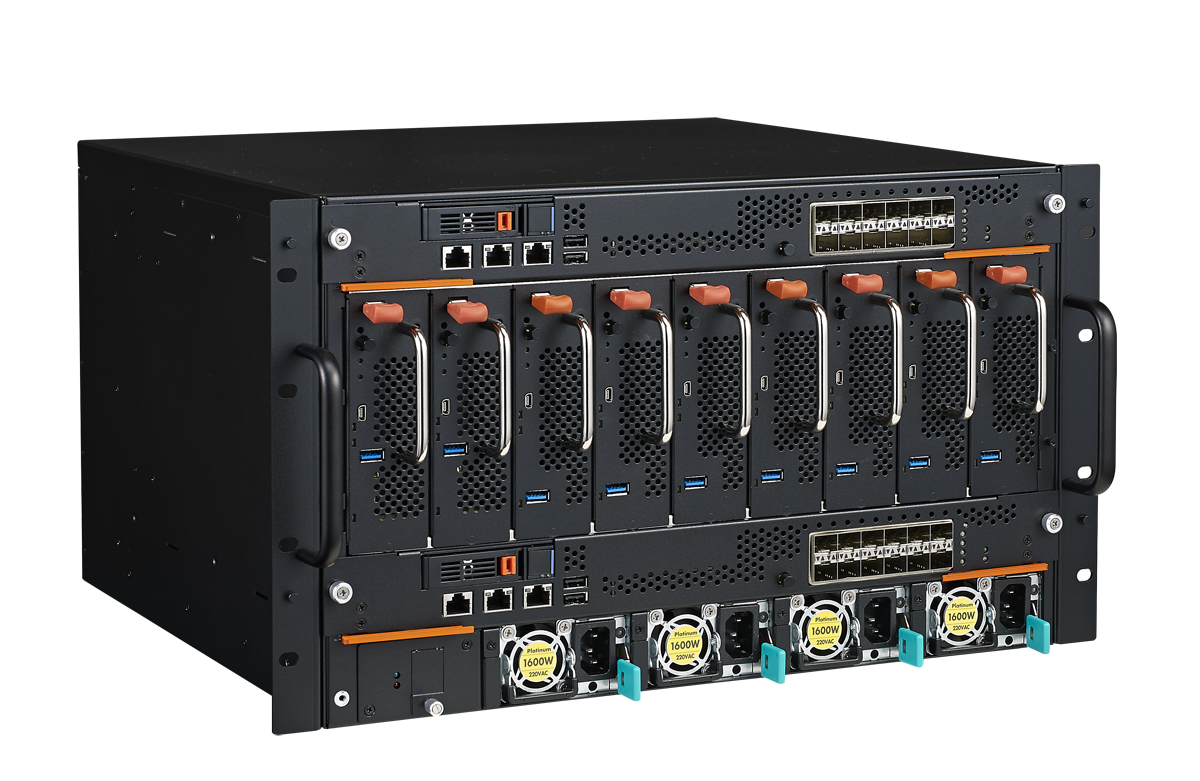 Intel Xeon Processor D-1500-based compute blades are available for the Packetarium™ XLc in single or dual node SKUs. The MIC-8304C node blade is based on a single 8- or 16-core Intel Xeon Processor D-1500 with additional on-board SSD storage while the MIC-8303C is a dual node blade equipped with two 8- or 16-core Intel Xeon Processor D-1500 series CPUs. The MIC-8304C and MIC-8303C extend the range of available blades and complement the MIC-8302C node blade based on a single Intel Xeon Processor E5-2600 v3 with up to 14 cores.
Processor AMC
Advantech's MIC-5604C is designed to upgrade legacy equipment to the Intel Xeon processor D-1500 product family, enabling higher performance compute and LAN speeds. Processor AMC's are broadly used as control planeandservice processors in ATCA switches and many bespoke network equipment designs.
Landing Page
for further information