Advantech Embedded IoT Gateway with Intel Quark SoC x 1000
7/24/2015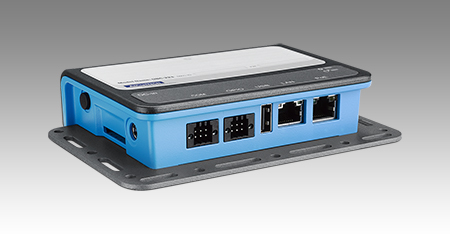 Advantech, a global leader in embedded computing and IoT technology, is glad to announce the launch of
UBC-221
IoT Gateway.
UBC-221
IoT gateway solution is powered by the Intel Quark SoC x1000 processor and designed as a compact size, high capability, multi-connectivity gateway.
UBC-221
is suitable for IoT or automation control applications such as smart city parking, security and surveillance as well as industrial control.
Small and Multi-Connectivity for IoT Requirements
Powered by the Intel Quark SoC x1000 processor,
UBC-221
is optimized specifically for IoT development. Features include: 1 x UART, 2 x GPI, 2 x GPO, 2 x 10/100 Ethernet (one supports Power Over Ethernet (PoE)), 1 x USB, 1 x MiniPCIe, 1 x SD and 1 x 12V DC input. UBC-221 also supports wireless connection such as Wi-Fi, 3G/4G, Bluetooth, and ZigBee through onboard MiniPCIe expansion. Designed with abundant I/O,
UBC-221
acts as a communication bridge connecting sensors and passing raw data through the network to the cloud server for further processing.
UBC-221
is fanless and low power with a maximum power consumption of under 2.8 W.For mounting flexibility, UBC-221 supports VESA, DIN rail and wall mounting, making it easy to deploy multiple IoT gateway devices.
Yocto Linux OS and WISE-Cloud IoT Software Support
Advantech provides a standard Yocto Linux board support package (BSP) and pre-packaged image to help software developers create custom software for
UBC-221
, or to evaluate and test their application before release. In addition, Intel Quark supports a web server package that developers can use to build a web server so users can remotely access
UBC-221
through a web browser. For user who wants to have advanced remote access features,
UBC-221
comes bundled with Advantech's
WISE-Cloud
service software. With WISE-Cloud's intuitive interface, users can monitor and manage large numbers of devices anytime and anywhere.
2.5" SBC with Intel Quark SoC x1000 is Also Available
For customers with existing system designs, Advantech also offers
RSB-3850
—an Intel Quark SoC x1000 2.5" SBC with identical I/O functions. Following the standard Pico-ITX form factor,
RSB-3850
can easily integrate additional system peripherals and fit it into any type of chassis design. Please contact your local sales person or visit the Advantech website for more details (RISC.advantech.com).
Features: 
Intel Quark SoC x1000 400MHz processor
Onboard DDR3 512MB memory and 4MB SPI flash
Supports 1 x USB 2.0, 1 x PCIe, 2 x 10/100 LAN (one LAN supports PoE class 3)
Supports 2 x GPI, 2 x GPO, 1 x 4-wire UART
Low-power and fanless design
Yocto Linux BSP support (kernel v3.8.7)
Advantech WISE-Cloud service