Advantech Boosts Network Appliance Performance, Density and Reliability
8/19/2015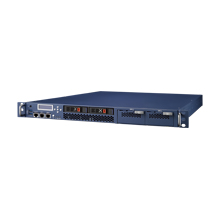 New 1U platform reduces dual-socket footprint using Intel® Xeon® Processor E5-2600 v3
San Francisco, Intel® Developer Forum, August 18, 2015 – Advantech (TWSE: 2395.TW) today announced the FWA-5020, its new high-end 1U network appliance architected around the latest-generation Intel® Xeon® E5-2600 v3 processors. The FWA-5020 offers greater performance in a significantly reduced footprint that extends scalability and brings greater cost-efficiency to next-generation network platforms supporting demanding workloads such as network/cybersecurity, policy enforcement, quality-of-service, and network analytics.
The FWA-5020 integrates one or two Intel® Xeon® E5-2600 v3 processors that provide larger on chip cache memories, increased memory speeds and differentiating virtualization features. Supporting four DDR4 channels per socket, the FWA-5020 can be configured with up to 512GB of ECC memory using the latest RDIMM technology.
The highly modular I/O expandability on the FWA-5020 is implemented through two Network Mezzanine Card slots that can be populated with a broad choice of GbE, 10 GbE and 40 GbE modules with or without advanced LAN bypass for different deployment scenarios. In addition, the platform integrates four GbE ports with advanced LAN bypass and two 10 GbE ports for a maximum total platform throughput of over 100 Gbps. Advantech Platform Management based on IMPI 2.0 provides advanced carrier-grade features such as remote, failsafe firmware updates and hardware-based BIOS redundancy which upgrades reliability and serviceability of mission-critical network platforms.
"The improved density and reduced power consumption of next-generation Intel® Xeon® family processors allow us to address the strong market demand for more efficient, higher performance network platforms with a 1U high-end network appliance designed for maximum scalability and functionality", said Peter Marek, Senior Director x86 Solutions, Advantech. "The platform has been designed for upgradeability to the future Intel® Xeon® processor product family and brings several value-added features to help customers offer higher levels of reliability and serviceability. Our close relationship with Intel enables customers' early access to latest generation silicon in a ready-to-integrate network platform which is sampling now".
Advantech willbe showcasing the FWA-5020 at the Intel® Developers Forum, August September 18-20 in San Francisco, CA, USA.

For more information please contact ncg@advantech.com or visit www.advantech.com/nc