New R2.1 Type 6 COM Express Compact Module with 6th Gen. Intel® Core™ Processors (U-Processor Line)
10/8/2015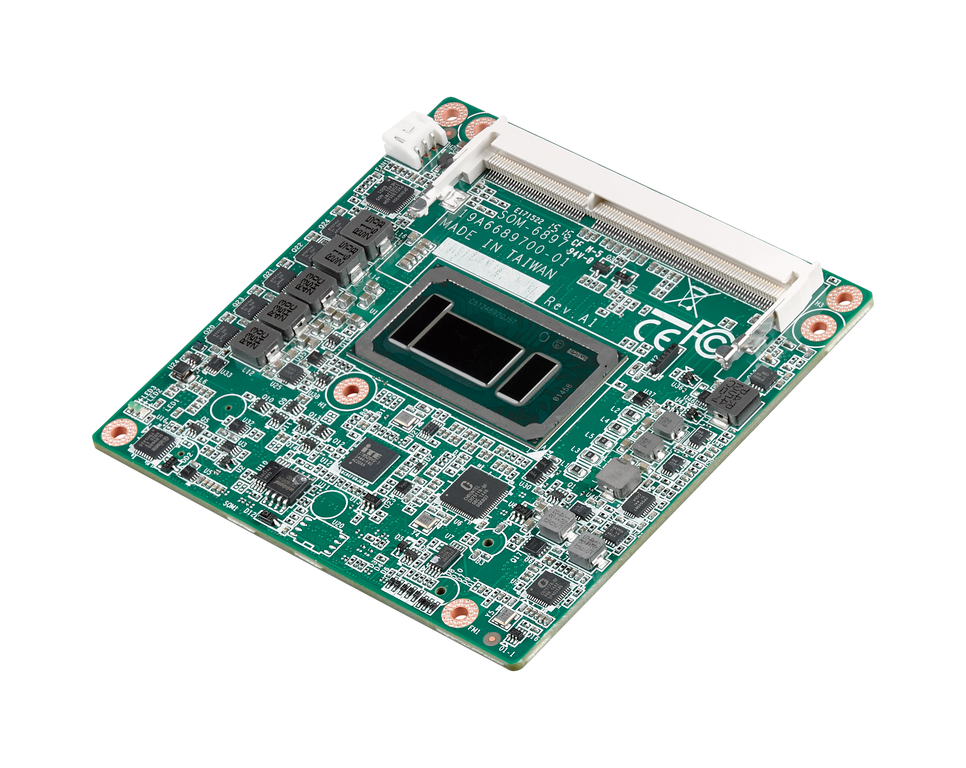 TAIPEI, October 8, 2015 - Advantech, a leading embedded computing solution provider, announced the release of its new COM Express 2.1 Compact Module in a Type 6 pin-out module board—the SOM-6897. This module is designed with the new, 6th generation Intel® Core™ processors, which feature 15-watt TDP and are equipped with the power-saving ULV-SoC on new 14nm microarchitecture. This results in reduced power consumption, but improved processing and graphic performance. When compared to the previous, 5th generation processors, there is a 15% growth in processing performance, and a 20% improvement in 3D graphics performance. The integrated Intel® Gen 9 graphics, which are premiering with this new microarchitecture, supply up to three independently operated 60 Hz 4K displays via DisplayPort 1.2. This is also the first time that HEVC, VP8, VP9 and VDENC are supported not only for decoding, but also for encoding with hardware accelerators.
Featuring 95 x 95 mm dimensions, SOM-6897 offers higher performance with the flexibility of a rich, high-speed I/O design. Up to 8 PCIe Gen3 (8.0 GT/s) lanes and bifurcatable to 2 x4 or 4 x1 plus 1 x4, allow for variable application requirements in connecting to specific functional FPGA. Also, this product is designed to support wide-range voltage input, from 4.5V to 20V, providing options across various power usage scenarios.
Due tothe extremely powerful processor, and flexible, rich I/O interfaces, SOM-6897 is ideal for graphics-intense applications such as infotainment, medical, and industrial imaging, as well as mobile, but high-computing applications such as mobile instruments, or in-vehicle systems.
Please contact your local Advantech sales rep or visit the website (http://www.advantech.com.tw/embcore/) for more details.
SOM-6897 Features
PICMG COM R2.1 Type 6 pin-out compatible Compact module for Intel® 6th generation U-processors - Intel® Core™ i7-6600U vPro, i5-6300U vPro, i3-6100U processors,

Intel® Gen 9 LP GT2 support for Direct 3D 2015/11.2/11.1, OpenGL 5.0, and OpenCL 2.1/2.0/1.2

Supports HW Decode/Encode H.265/H.264

Supports triple independent displays- VGA, 18/24-bit LVDS, HDMI/DVI/DisplayPort

Supports up to 16 GB DDR3 1600 non-ECC memory

Supports 5 PCIe x1 or 4 PCIe x1 + 1 PCIe x4 , 2 SATAIII (optional 3rd SATAIII while supporting PCIe downgrade), 4 USB 3.0, 8 USB 2.0, GbE, LPC, SMBus, and I2C Bus

Supports TPM2.0

Advantech iManager 2.0 and software APIs
---
About Embedded Core Service
Advantech Embedded Core Services offers design-in oriented services. These streamlined solutions broadly integrate embedded boards, peripheral modules and software. This dedicated focus on Embedded Design-in services fulfills electronic engineering demands at their design-in phase, and brings benefits thatshorten the design and integration cycles, minimizing uncertainty and risk. www.advantech.com/EmbCore
About Advantech
Founded in 1983, Advantech is a leader in providing trusted, innovative products, services, and solutions. Advantech offers comprehensive system integration, hardware, software, customer-centric design services, embedded systems, automation products, and global logistics support. We cooperate closely with our partners to help provide complete solutions for a wide array of applications across a diverse range of industries. Our mission is to enable an intelligent planet with Automation and Embedded Computing products and solutions that empower the development of smarter working and living. With Advantech, there is no limit to the applications and innovations our products make possible. (Corporate Website: www.advantech.com).
Intel®, Intel® Core™, Intel® Pentium®, and Intel® Celeron® are trademarks of Intel Corporation inthe U.S. and/or other countries.