Advantech's Progressive IoT Computing Based on RISC Technology
6/24/2015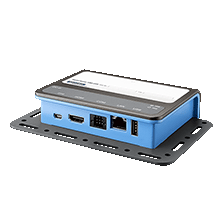 June, 2015, Taipei –
Advantech, a global leader of the RISC embedded market, is pleased to announce the launch of
UBC-220
, an ARM-based compact box computer powered by a Freescale ARM® Cortex™-A9 i.MX6 Dual Lite high-performance processor. Designed with compact size, high capability, and superior connectivity,
UBC-220
is an ideal indoor computing gateway suitable for smart buildings, parking lots, and public spaces.
Optimized I/O Specifications and Outstanding Connectivity
UBC-220
is equipped with a Freescale ARM® Cortex™-A9 i.MX6 Dual Lite 1GHz processor, 1 GB of onboard memory, and 4 GB of eMMC flash memory storage. Featuring dual display support for Full HD 1080P HDMI and single-channel LVDS,
UBC-220
is an ideal solution for HMI and instant signage. In addition, with USB 2.0 and OTG expansion compatibility, as well as Gigabyte Ethernet and dual mini-PCIe slots for optional Wi-Fi and 3G modules,
UBC-220
has the connectivity to bridge multiple devices in the same network and efficiently acquireraw data for the next generation of cloud-based services. Furthermore, the palm-sized
UBC-220
supports various mounting methods including VESA, DIN rail, and flexible wall mounting. With the specially designed VESA bracket, UBC-220 can be integrated with Advantech openframe monitors to provide a fanless standalone system with rich I/O capabilities that supports device managment for complex IoT infrastructures.
Multiple OSSupport
UBC-220
is equipped with embedded Linux as the default operating system. For experienced Yocto Linux developers, Advantech also provides a Yocto Linux board support package as an optional design-in service. Because this license-free package is aimed at application development in a Linux-based environment, both embedded Linux and Yocto Linux are supported. Advantech also provides a complete software toolchain, Linux source code package, and software support service for SW developers intending to develop a new-generation IoT gateway based on
UBC-220
. Advantech's
UBC-220
offers not only a stable H/Wplatform, but also the software package and service enable customers to more easily and quickly develop their own apps. In addition to Linux support, Advantech offersan AndroidOS image and BSP source code for application development. Android apps can be integrated with
UBC-220
to provide additional competitive advantages for various solutions.
Single-Board Computer Also Available
For users with existing system IDs, Advantech offers the cost-effective
RSB-3410
SBC with identical I/O functions. Following the mini-ITX form factor standard,
RSB-3410
can fit any type of chassis designed for 2.5" SBCs. Furthermore, users can easily integrate additional system peripherals using RSB-3410.
Both the
UBC-220
and
RSB-3410
equipped with built-in embedded Linux OS images are available for order now. Please contact your local sales person or visit the Advantech website for more details (
RISC.advantech.com
).
Features:
Freescale ARM® Cortex™-A9 i.MX6 Dual Lite 1GHz high-performance processor
Equipped with 1 GB of onboard DDR3 memory and 4 GB of flash memory
Supports dual display with Full HD 1080p HDMI and single-channel LVDS
Supports USB 2.0, USB OTG, and 1 GbE LAN
Dual mini-PCIe slot for Wi-Fi and 3G support
Embedded Linux/Yocto Linux/Android
VESA/DIN rail/wall mount/openframe support