Advantech Named Microsoft® Global IoT Valued Partner and Extended Authorized Embedded Distributor in EMEA
11/19/2015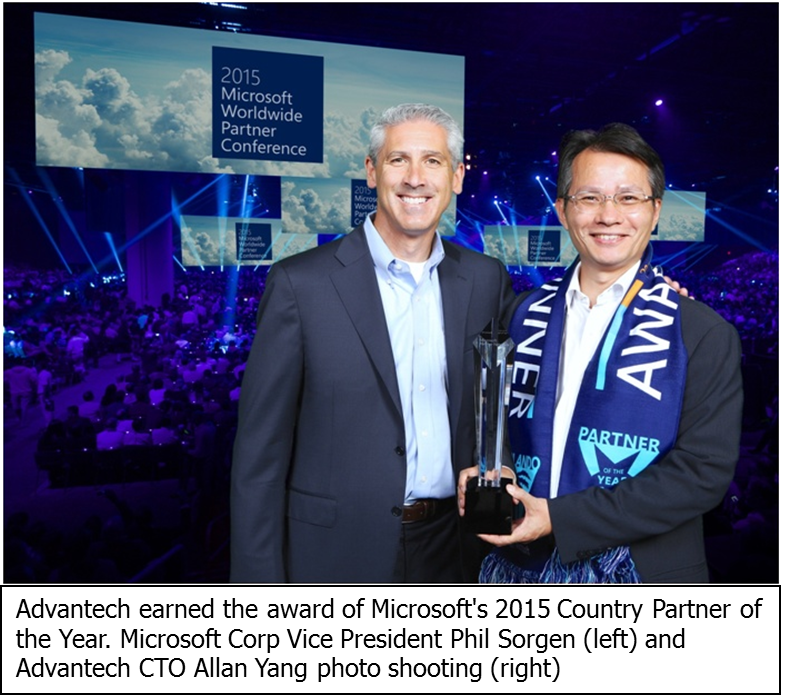 Advantech Named Microsoft® Global IoT Valued Partner and
Extended Authorized Embedded Distributor in EMEA
Nov 10, 2015, Taipei – Advantech, a global leader in embedded computing and IoT technology, is pleased to announce that in October its recognition as a Microsoft Global IoT Valued Partner and Authorized Embedded Distributor has been extended to include EMEA. Previously recognized for the APAC region, this expanded acknowledgment lays a strong foundation for Advantech's position as a key embedded computing and IoT service provider in Europe, the Middle East, and Africa. Furthermore, in order to accelerate the development of the IoT industry, Advantech has developed the WISE-PaaS IoT software platform servicein cooperation with Microsoft. This combines Advantech's IoT platform services with Microsoft's Azure Cloud Service, providing all-in-one SRP (Solution Ready Package) services to help customers rapidly build their IoT applications.
Strengthening the Collaboration for IoT
"Advantech and Microsoft have a long-term partnership, from Microsoft Windows Embedded and Microsoft Azure to the recent WISE-PaaS IoT software platform service." said Advantech's Chief Technology Officer Allan Yang. Over the past year, WISE-PaaS has successfully helped dozens of major customers develop their IoT industry applications, create mutually beneficial business models, and has earned Advantech Microsoft's 2015 Country Partner of the Year award.
"
Advantech is an important partner to Microsoft with their development of innovative customer solutions on the Azure and IoT platforms that provides real-time access to data from anywhere," said Rodney Clark, General Manager of IoT Devices Experience, Microsoft. "Partnering with Advantech to expand our distribution in EMEA will enable us to reach even more customers and partners in this important region." For the end of 2015, Advantech is aiming to extend Microsoft Embedded distribution in North America and Japan. As a result, Advantech will be able to support these areas with integrated IoT services that provide Operation System, and integrated Microsoft Azure Cloud services.
Comprehensive Suite of Operating Systems and Tools
Advantech offers more than just a distributing license; it offers a series of value-added services, including hosting embedded solution seminars, hands-on training, and software APIs and utilities. Customers can leverage Advantech's professional embedded solution development capability to streamline theirbusinesses. The Windows Embedded products Advantech offers include:
· Windows 10 IoT: Connecting to Azure Cloud Services and Seamless Sensor/Gateway Communications
· Windows Embedded Compact: Powering small footprint devices for industry and enterprise use
· Windows Embedded Standard: Delivering the familiarity and reliability of Windows in a componentized form
· Windows Embedded Server: Delivering embedded server solutions for purpose-built hardware and application software
·
Windows Embedded Industry/Pro:
Delivering platforms in the Windows Embedded Industry/Pro portfolio for OEMs seeking the full power and application compatibility of Windows
For more information, please contact your local Advantech sales office or visit http://www2.advantech.com/embcore/embeddedsoftware.aspx
About Embedded Core Service
Advantech Embedded Core Services offers design-in oriented services. These streamlined solutions broadly integrate embedded boards, peripheral modules and software. This dedicated focus on Embedded Design-in services fulfills electronic engineering demands at their design-in phase, and brings benefits that shorten the design and integration cycle, minimizing uncertainty and risk. www.advantech.com/EmbCore
About Advantech
Founded in 1983, Advantech is a leader in providing trusted, innovative products, services, and solutions. Advantech offers comprehensive system integration, hardware, software, customer-centric design services, embedded systems, automation products, and global logistics support. We cooperate closely with our partners to help provide complete solutions for a wide array of applications across a diverse range of industries. Our mission is to enable an intelligent planet with Automation and Embedded Computing products and solutions that empower the development of smarter working and living. With Advantech, there is no limit to the applications and innovations our products make possible. (Corporate Website: www.advantech.com).