Executive Team
Allan Tsay
Vice President of Industrial Automation Group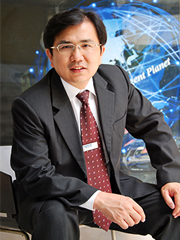 Joined Advantech in 1995
Joined Advantech China in 2004, headed the sales group of industrial automation and achieved huge progress in market exploration
Allan Tsay joined Advantech in 1995, he has held previous positions as a sales engineer, sales manager, and sales director at Advantech Taiwan. In 2009, Allan was promoted as the president of the Advantech Industrial Automation Group in the China Region, where he led the sales teams of the Industrial Automation Group in actively developing new business opportunities and expanding into the local markets. In 2015, to further integrate the strategic deployments throughout the Greater China region, Allan was promoted as the general manager of the Industrial Automation Group for the Greater China region, where he pushed for the construction of certification systems and the Advantech Automation Training Center. Allan's work has a profound impact on Advantech's brand promotion as well as its development in the automation and IoT markets.
Allan took over the position of vice president of the Industrial IoT Group in 2016, where he was actively involved with the promotion of integrated automation application solutions based on software and strategy development related to vertical industries. Allan offers professional and premium quality services, as well as high-performance integrated solutions targeted at various industries, including smart manufacturing, smart equipment, electricity and energy, and Industrial Internet of Things (IIoT). Furthermore, Allan is also heavily involved with the promotion of an alliance ecosystem made up of system integration partners. Under the wave of IIoT, Allan believes that the strategic formation of "alliance partners" is the trend. Through new business models and the integration with various professional partners from different vertical domains, Advantech is able to develop optimized solutions to meet the demands of various vertical markets.
As advancements in the IoT industry continue to progress, with his passion for the IoT industry and many years of professional experience, Allan is leading his teams to face all types of challenges head-on. By actively promoting the transformation of business models and creating new business opportunities with partners, an important foundation has been laid for the future growth of Advantech.