Executive Team
Eric Chen
President of General Management, Chief Information Officer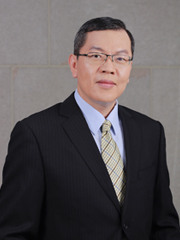 Joined Advantech in 1994
Built up the first e-mail system and implemented Advantech's global IP-VPN/VOIP systems
Integrated the SAP ERP system as a centralized operating infrastructure to streamline business processes and operational efficiency
Eric Chen joined Advantech as a senior IT engineer in 1994. Prior to that, he worked as an IT specialist for EliteGroup as a programmer/systems analyst. He graduated from Tamkang University, Taiwan, with a degree in computer science. Eric has 20+ years experience in global IT management, providing professional IT solutions in cooperation with executive management in line with overall corporate strategy.
In 1996, Eric built up the first internet e-mail system in Advantech. In 2000, he implemented Advantech's global IP-VPN/VOIP systems. In 2003, he phased-in the Oracle PLM system to improve engineering lifecycle times and product data accuracy. And in 2005, Eric integrated the SAP ERP system as a centralized operating infrastructure to streamline business processes and operational efficiency. Furthermore, Eric established three IT regional centers: one in Kunshan, China; one in Eindhoven, the Netherlands; and one in Milpitas, in the USA. Eric is currently Vice President of the Finance and IT, and has been acting head of the Customer Fulfillment Center since 2008.
Eric has plans to: empower Advantech's AOnline business through IT integration; optimize on-demand business intelligence through eManager, which supports SBU sales growth and decision making; transform IT teams, such as SRP IT, to develop best business practices with solution partners; and sustain the company's high profit margin and growth rates as well as first-rate corporate governance.