Executive Team
Ween Niu
General Manager of Advantech North America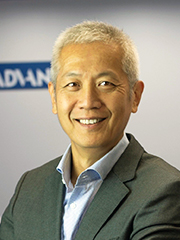 Joined Advantech for more than 20 years
Worked for Acer and Twinhead
Ween Niu is General Manager for Advantech North America, accountable for regional sales and marketing revenue as well as oversees strategic business planning. His career path has taken him from Acer and Twinhead where his reputation for excellence and commitment was displayed in full. Under his 20 year tenure at Advantech, his leadership and integrity has guided the business to incredible growth and expansion reaching key milestones year after year. His experience and contributions to Advantech, both locally and globally, has had a significant impact on business development and for allowing mindshare for keys to success.
The advance of the American market share, which accounted for 28% of Advantech's total revenue in 2014, continues to capture current and emerging vertical segments.
Ween has always stressed the importance of teamwork and following in the footsteps of our corporate commitment to an altruistic enterprise, he has given back to charities and stressed social contribution. His role as a leader and often times mentor has been instrumental in shaping Advantech's progression.