Advantech's Smart Bus Fleet Management System Enhanced Road Safety
11/11/2020
Bangkok, the capital city of Thailand, is the country's economic and transportation hub, as well as home to the headquarters of all of Thailand's major companies. As a result of the city's rapid growth in the 1980s, the number of motor vehicles and the population of the metropolitan region have increased dramatically since then. For businesses located in the Bangkok metropolitan region, how to manage commercial fleets efficiently and to avoid unexpected incidents caused by notorious traffic congestion have always been challenging tasks. With help from Advantech, the end customer improved road safety of company shuttle buses and kept the bus fleet costs in check by deploying the AI- driven smart bus fleet management system.
Our customer is one of the largest companies in Thailand with more than 4,000 employees. Every year its employees clock up around 8,000 trips among offices, plants and service centers in the company's in-house fleet of cars and vans. The company's fleet supervisor, who devoted a lot of time and effort, still struggled to manage hundreds of company vehicles and drivers. They needed a system that combined AI facial recognition with video and data analytics to maximize usage rates of shuttle buses, produce analysis reports, and monitor the real-time status of both buses and drivers. The company had been searching for the best solution to proceed. However, neither the device nor the supplier could handle the harsh field application issues in Thailand, such as power management, remote system diagnosis, system vandalism from drivers, software customization, future system expansion and more.
Finally, the company turned to Advantech for help. ARK-2250V in-vehicle fanless system was proposed due to its high computational power, ruggedized, wide operating temperature, and stackable extension designs. To tackle the power management and IP camera installation issues, ARK-2250V offers PoE injector functionality to eliminate unnecessary wiring. ARK-2250V also features power on/off delay timing for protecting the system from sudden voltage drops caused by ignition and power surges. Moreover, its stackable design allows the addition of extra modules such as WiFi hotspots and CAN Bus for collecting data that allows fleet supervisors to schedule vehicle maintenance services, but which also can be used for fuel theft detection and more.
In terms of driver behavior and fatigue detection, ARK-2250V is equipped with parallel processing capability to handle AI workload such as driver authentication, distraction detection, etc. With 6th Gen. Intel® Core™ i7 CPU and HD Graphics GPU's powerful features, it can process live video streaming from IP cameras in real-time. To avoid system overload in the control center and to save data communication costs, ARK-2250V identifies abnormal behaviors such as phone use, distraction, fatigue, and speeding, and then sends notifications to the control center for immediate corrective actions. Advantech also provided industry knowledge, system integration consultancy, as well as software solutions to help the customer develop the control center software, so that they could skip the trial and error process and delivered the entire system within a very short time. Equipped with Advantech's unique DeviceOn software solution, ARK-2250V allowed the customer to create a management software tool for monitoring device health, and conducting diagnostics, repairs, and even system restarts remotely. In the near future, Advantech will upgrade the system by integrating VEGA-300 AI acceleration modules powered by the latest Intel® Vision Processing Unit (VPU), which will allow the system to consume less power, accelerate the edge AI processing speed of the driver safety more efficiently, and release CPU processing resources for other edge applications.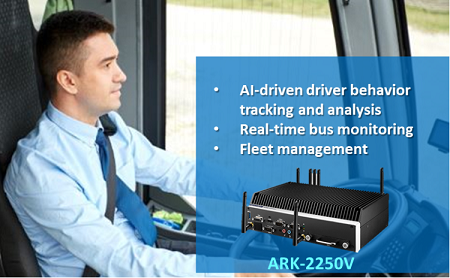 ARK-2250V
Intel i7-6822EQ QC/ Intel i5-6442EQ QC SoC

Stackable extension design, option extension kit for applications

Support 12/24VDC vehicle power input with E-Mark certification

Built-in Vehicle Power Ignition Management

Built-in Advantech remote management software WISE-DeviceOn