Advantech provides complete IoT solutions to customers who integrate Advantech hardware products or software for distribution. We support the most popular open source projects and leading technologies to provide the best software solutions, all the way from sensor, gateway, and device, to cloud. We also provide APIs, Operating Systems, applications, and cloud services to help developers easily implement their IoT solutions in the field. These help decrease design effort and project complexity, and accelerate application development.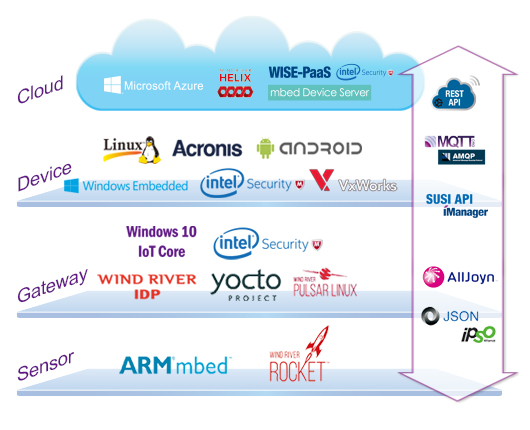 IoT Cloud Services
Advantech's IoT Cloud Services focus more on the PaaS, providing necessary and useful building blocks to support customer solutions and leveraging IaaS to provide computing, storage, and networking services. Advantech is partnering with Microsoft® Azure as the IaaS and also PaaS solution provider through the Microsoft CSP (Cloud Solution Provider) Program, in order to offer more diverse functions for IoT applications.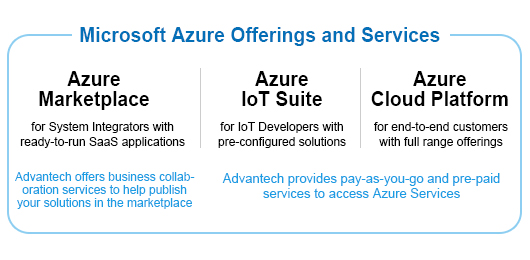 IoT Gateway Software Solutions
Advantech IoT gateway software solutions provide a modular middleware development environment that provides security, connectivity, rich networking options, and device management. It simplifies the development, integration, and deployment of gateways for the Internet of Things.
Operating Systems:

Specific for gateway solutions, such as Windows 10 IoT Core, Wind River Intelligent Device Platform, Wind River Pulsar, Open source Yocto, Unbuntu Snappy Core, and Red Hat Jboss.

Connectivity:

Covers cloud uplink via the Internet through MQTT, AMQP, and downlink with wired/wireless PAN with Legacy I/O, BLE, ZigBee, SubG, IBM LoRa, or Sigfox

Security:

Includes open SSL, TLS, and also Intel® Security for each device

Manageability:

WISE-PaaS/RMM allows the gateway to be controlled and monitored with pre-configured actions and/or alerts to the administrator
Real-time Operating Systems for the Sensor Node
IoT devices in sensor nodes are usually resource-limited and typically have no operating systems, or run embedded Linux platforms such as OpenWRT, or dedicated real-time embedded operating systems such as mbed OS, Wind River Rocket, or FreeRTOS. All IoT devices in sensor nodes need to be compatible with the IETF and IPSO alliances, and with CoAP for certified interoperability and inter-device communication. Advantech provides two kinds of RTOS for seamless communication in sensor nodes.
A rocket application combines application-specific code with a custom configured kernel to create a single binary that is loaded and executed on a system's hardware. Both the application code and kernel code execute in a single shared address space. The Rocket kernel provides an extensive suite of services, including Multi-threading, Interrupt, Power Management, Inter-thread Data Passing, Memory Allocation, Inter-Thread Synchronization.




mbed OS accelerates the process of moving from initial idea to deployed product by providing a core operating system, robust security foundations, standards-based communication capabilities, and drivers for sensors, I/O devices and connectivity. mbed OS is built as a modular, configurable software stack; you can readily customize it to the device you're developing for, and reduce memory requirements by excluding unnecessary software components.



More
Product Highlights
With the coming Internet of Thing (IoT) era, more and more devices are connected together and it makes security become a significant issue. Now, the tailored security solutions can meet the specific design requirements for data and devices protection in embedded applications, and we will launch more security solution in the near future.




Advantech provides a series of real-time OS services for Advantech platforms, including Wind River VxWorks, Linux and Android Solutions.




Windows Embedded is a group of Microsoft operating systems that are designed to be run and used on embedded computer systems. The embedded computer systems that run these operating systems include small-footprint, real-time devices and Point-of-Sales systems like those in kiosks, small-footprint, headless systems, automotive computers, automation devices, hand held mobile devices, digital signage, and more.