Advantech Releases High Speed M.2 LTE Cat 6 Wireless Module Solutions
1/31/2018
Advantech (2395.TW), a global leader in the embedded market, is glad to introduce a new series of wireless products into its lineup.
EWM-C160
and
EWM-C163
both adopt the new M.2 3042 form factor LTE Cat 6 with high-speed downlink performance, which are fully compatible with Windows, Linux or Android OS platforms. These two models are ideal for IoT and high performance wireless applications such as mobile stations, tablets, surveillance, remote digital displays and more.
EWM-C160
and
EWM-C163
are planned for release in the China and EMEA markets respectively.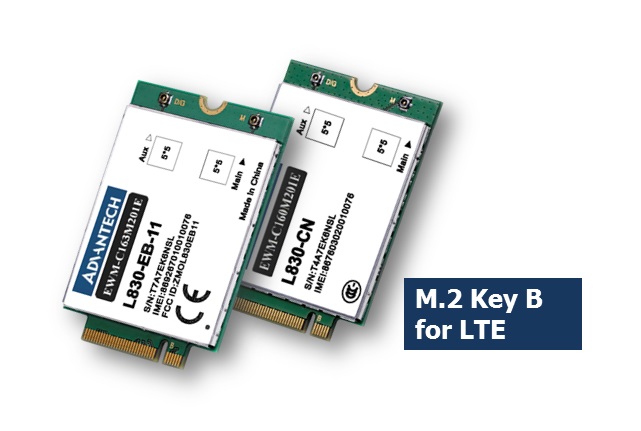 Outstanding Speed for IoT and High Performance Wireless Connection
Applications EWM-C160 and EWM-C163 offer outstanding speeds of 300 Mbps DL which represents a huge wireless performance improvement from previous versions. In addition, with efficient carrier aggregation to ensure high capacity bandwidth for real field wireless applications, the series perfectly meets heavy workload requirements for IoT and high performance computing or video streaming applications.
Designed with Intel Main LTE Chips
EWM-C160 and EWM-C163 are designed with original Intel LTE chips and are compatible with many different platforms. Designed to handle heavy workloads such as big data processing, analysis, and wireless video management, the series optimizes wireless platform performance for high throughput wireless applications.
New M.2 3042 Form Factor for Slim Designs
More and more system platforms will implement the new M.2 3042 key B for cellular solutions. With the M.2 3042 form factor, EWM-C160 and EWM-C163 can save system space and give better power consumption compared to original standard mini PCIe solutions. Therefore, EWM-C160 and EWM-C163 are ideal for slim type remote display and battery power wireless applications, and large size LED/e-paper displays or mobility control systems.
Wireless Design-in Services
Advantech also provides a wireless design-in service that includes RF and antenna design/parts selection services. We have a comprehensive antenna portfolio for different frequency band operation so customers can easily select the right antenna or part for their system. We also provide customized RF design including RF circuit matching, and antenna placement inside PIFA type antenna designs. Furthermore, Advantech IoT Connection Management software provides full connection between things and supports multiple vertical industry applications. Wireless platforms with connection management can integrate industry services, accelerate service rollout, and reduce integration costs. Advantech Wireless Design-In Service will provide customers with a total solution from the physical RF hardware through to antennas, to ensure impeccable wireless performance.
Advantech M.2 LTE EWM-C160 and EWM-C163 series are available in LTE CAT4/CAT6 capacities. EWM-C160 and EWM-C163 will be offered in the China and EMEA markets respectively. To obtain more information, please contact your local sales office or visit the Advantech website (www.advantech.com).
Advantech M.2 3042 LTE CAT6 Series Key Features
Extreme speed: LTE FDD 300Mbps (DL)/50Mbps (UL)
Compatible with Windows, Linux and Android Platforms
LTE inter-band CA
Standard M.2 3042
High quality Intel LTE chips
3.3V low power consumption with USB 2.0 bus.