Advantech and ClearMind Revolutionize Endoscopic Brain Surgery
6/14/2022
Despite all the advancements in minimally invasive brain surgery over the past 20 years, patients sometimes suffer from poor postoperative recovery due to a lack of intelligent and sophisticated surgical devices and instruments. To improve this situation, ClearMind Biomedical developed the innovative Axonpen System, integrating its Axonpen neuroendoscope with Advantech's medicalgrade tablets to provide an intelligent medical system for endoscopic surgery.
Reshaping how a neuroendoscope is used in surgery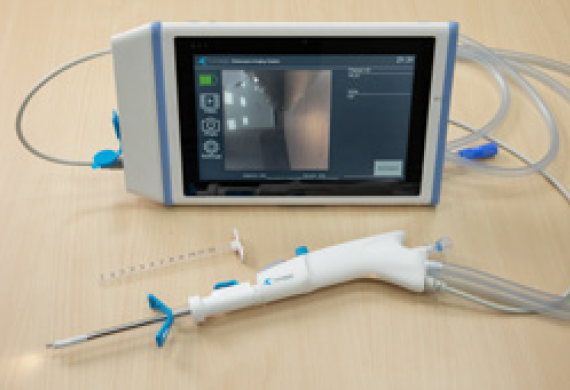 The Axonpen is a steerable and single-use neuroendoscope with an integrated camera and LED light that allows surgeons to view the surgical operation in great detail. It combines excellent tissue visualization, suction, and irrigation functions and has a working channel for use with surgical accessories.
To provide a portable solution that regional hospitals can easily adopt to enhance their brain surgery treatment right from the get go, ClearMind started to search for a powerful computing device with advanced mobility and reached out to Advantech. According to Carrey Yang, CEO of ClearMind, Advantech's in-depth cultivation of powerful medical-grade computers and smart healthcare division is the reason why ClearMind adopted Advantech's medical products into their product.
Advantech's medical-grade tablet is an exceptionally waterproof and drop-proof product and can display the location details and condition of a patient's intracerebral hemorrhage with crystal-clear images. Additionally, it is lightweight and portable and provide stable Wi-Fi connectivity for mobile applications, enabling rapid deployment in more hospitals.
Co-creating a solution with shared medical domain knowledge
The Axonpen System comprises a neuroendoscope (Axonpen) and a monitor (Axonmonitor). It provides illumination and visualization of intracranial tissue and fluids as well as the controlled aspiration of tissue and fluid during minimally invasive brain surgery. To integrate the Axonpen with Advantech's tablet, ClearMind developed the AxonBox, an accessory that acquires and transfers video feeds from the distal end of the Axonpen for visualization on the tablet.
Mr. Yang pointed out that the system works by capturing brain image signals with the Axonpen's sensors, which the AxonBox decodes for display on the Axonmonitor. To make this happen, corresponding firmware and software had to be developed to communicate seamlessly. During the design process, Advantech coordinated directly with ClearMind to help them whenever they encountered development concerns or challenges.
Thanks to the extensive knowledge, experience, and resources in medical certification, Advantech provided valuable insights and assistance into its design, OS, and related certification process. They successfully cooperated with ClearMind to complete this phase and accelerated its time to market. When ClearMind applied for FDA approval for the Axonpen System, cyber security risks arose and had to be addressed, so Advantech, aided by its broad knowledge of cyber security specifications, gave immediate assistance to swiftly solve ClearMind's problems.
The Axonpen System delivered outstanding clinical outcomes, the average stay in intensive care units before being released to general wards is now only 3 days, which is far superior to the standard 14-day period for traditional endoscopic brain surgeries.
raditional endoscopic brain surgeries. The portability, high computing power, stability, and scalability of Advantech's medical-grade tablet has helped many medical equipment manufacturers innovate better smart medical solutions. Consequently, ClearMind has already started working on a next-generation Axonpen System with Advantech, forming closer collaboration that benefits public health.