Advantech on AIoT enabling Intelligent Transportation at NVIDIA GTC 2022
14/03/2022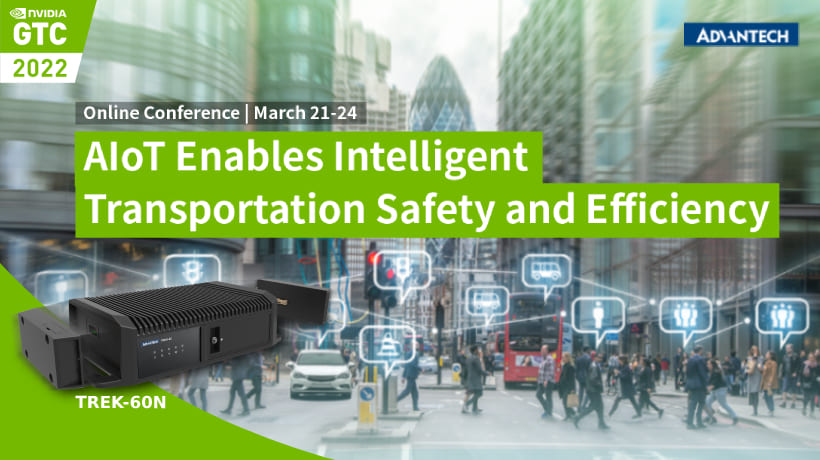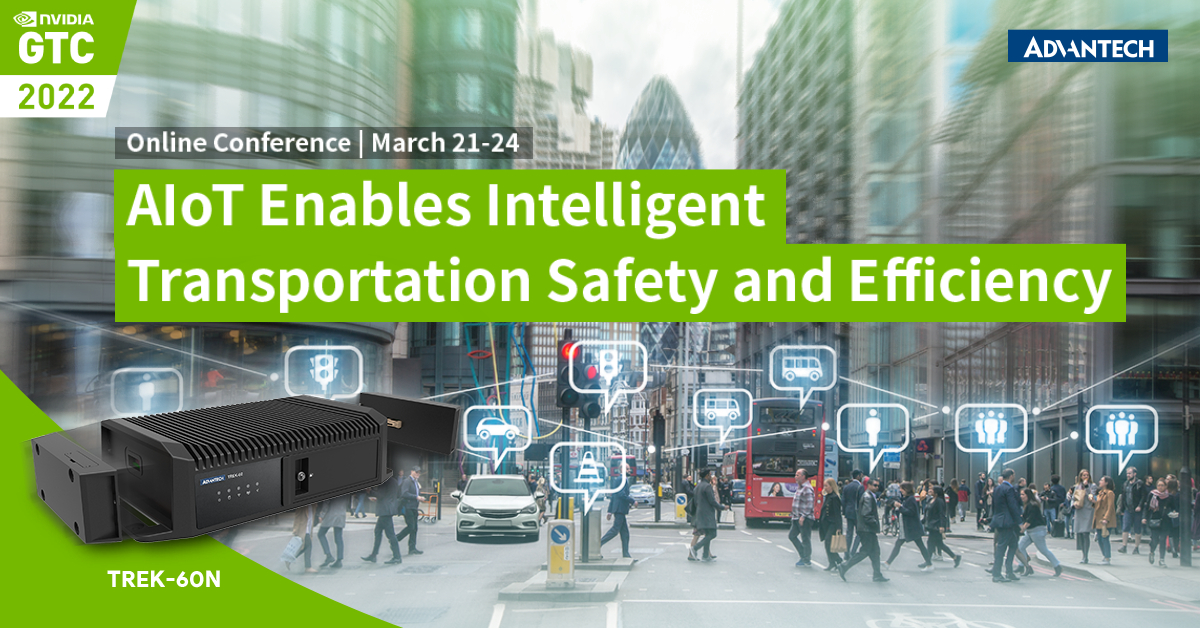 Taipei, Taiwan, March 2022 – Advantech, a leading provider of intelligent IoT solutions, is pleased to be presenting its latest solutions for intelligent transportation at NVIDIA's GTC 2022 online developer conference scheduled for March 21-24.
Advantech's participation will include leading a session entitled "AIoT Enables Intelligent Transportation Safety and Efficiency" (Session ID: S42690), together with partners Omnieyes and the Institute for Information Industry (III). This session will explore intelligent transportation, with a special focus on the AI technology trends set to transform the industry. Additionally, Advantech will present its latest solution offerings, including TREK in-vehicle computing platforms, Advanced Driver Assistance Systems (ADAS), as well as in-vehicle and roadside computing platforms powered by rugged edge AI technology.
This year's GTC conference will feature more than 900 sessions and 1,400 speakers, including the world's top developers, technologists, and experts in the fields of AI, deep learning, accelerated data science, digital twinning, quantum computing, and edge computing.
Powering Intelligent Transportation with Edge AI
Although transport is at the center of many economic and social development challenges, IoT technologies are bringing the transportation sector into the 21st century. Indeed, future industry trends are expected to leverage massive data computing, AI, and 5G technologies and enable a wide range of advanced applications, such as traffic flow analysis, smart traffic management, and violation detection. Good transportation networks not only improve traffic safety and boost local economies, but also benefit society by helping to improve public health and protect the environment.
However, to deal with the increasing complexity of transportation data and applications, more powerful edge AI platforms are required. For on-site installations, such edge AI platforms must also be capable of withstanding operation in harsh/industrial environments. To address these issues, Advantech produced its TREK-60N rugged edge AI platform integrated the NVIDIA® Jetson Xavier™ developer kit. This platform is built to provide real-time AI acceleration for transportation applications. To learn more about this innovative platform and explore what's driving transformation in your industry, join our session at GTC 2022.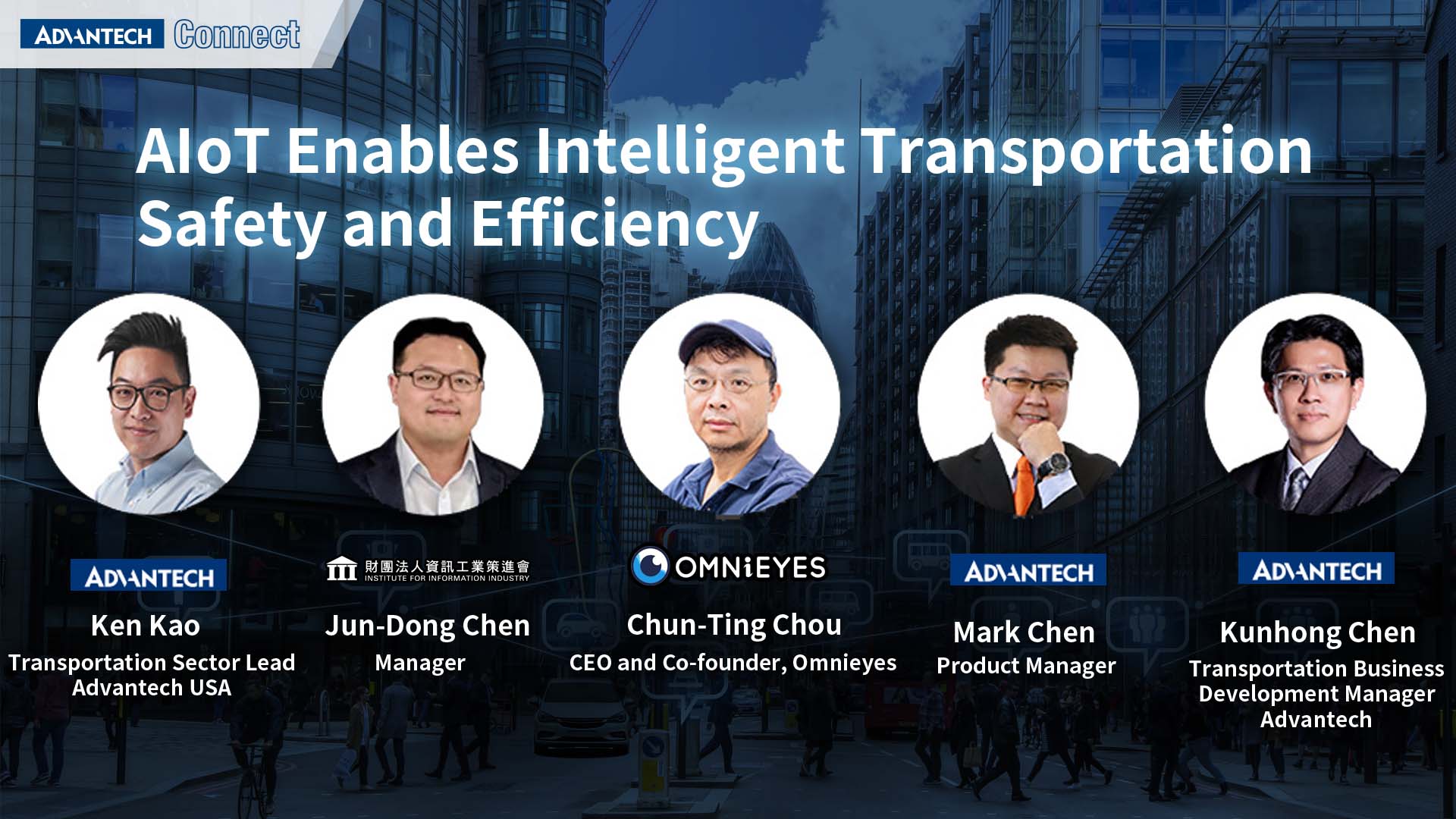 Session ID: S42690
AIoT Enables Intelligent Transportation Safety and Efficiency

Speakers
• Ken Kao, Transportation Sector Lead, Advantech USA
• Mark Chen, Product Manager, Advantech
• Chun-Dong Chen, Manager, Institute for Information Industry
• Chun-Ting Chou, CEO and Cofounder, Omnieyes
• Kunhong Chen, Transportation Business Development Manager, Advantech

Increased road safety and more efficient travel are the key benefits of intelligent transportation. In this session, we will explore recent industry developments and trends before introducing our latest intelligent transportation solutions. These innovative offerings include roadside units, in-vehicle AI technologies, and Advanced Driver Assistance Systems (ADAS) that can be integrated into intelligent transportation solution packages aimed at improving driving safety.

This session will be on-demand during 21st March to 24th March Pacific Daylight Time. To register for
this session
and browse
Advantech's FREE talks
, visit the GTC 2022 online conference website
here
.
Advantech's corporate vision is to enable an intelligent planet. The company is a global leader in the fields of IoT intelligent systems and embedded platforms. To embrace the trends of IoT, big data, and artificial intelligence, Advantech promotes IoT hardware and software solutions with the Edge Intelligence WISE-PaaS core to assist business partners and clients in connecting their industrial chains. Advantech is also working with business partners to co-create business ecosystems that accelerate the goal of industrial intelligence. (www.advantech.com)
Primary Media Contact
Advantech Corporation
Eva Wang
Tel: +886-2-2792-7818 ext. 9045
Mobile : 0919-993-152
Secondary Media Contact
Advantech Corporation
Ulrica Chiu
Tel: +886-2-2792-7818 ext. 9756
Mobile : 0912-459-759