AIMB-U233 with DeviceOn for AI-Enabled Kiosks
4/30/2020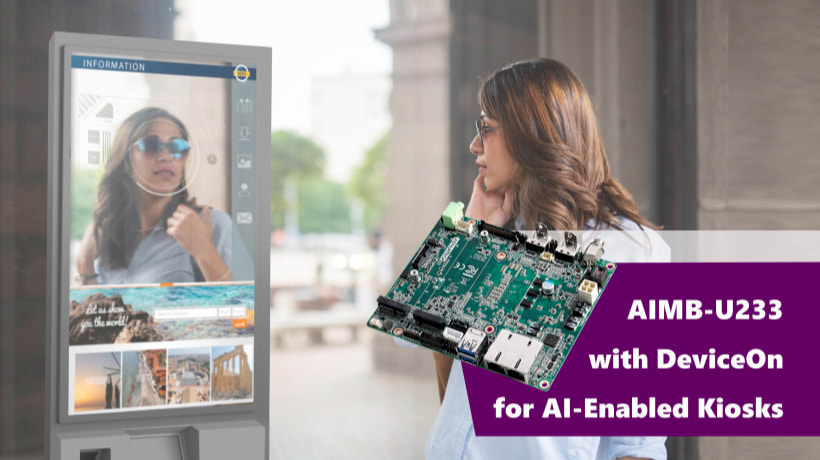 Kiosk terminals are increasing in popularity due to growing demand for self-service applications. Self-service Kiosks are increasingly common in retail stores, hospitals, and workplaces such as warehouses and factories. Kiosks are part of daily life.
Kiosk operators often face burdensome maintenance demands. Effectively reducing the total cost of ownership is crucial to business success. If maintenance tasks are not well managed, expenditure on qualified technicians can become prohibitive.
Advantech integrates industrial motherboards with our value-added software solutions to perform remote hardware and software monitoring that helps identify unusual activities in advance. OVA BIOS updates come with a backup recovery mechanism that greatly reduces the need for technician dispatches. The embedded USB control provides preliminary repair over glitches by discontinuing device power supply.
Over-the-air software updates enhance efficiency
Integrated BIOS recovery mechanism reduces technician dispatches
Unplug / Plug USB devices remotely restores functionality after glitches
Remote system management saves on labor costs
Intel Whisky Lake Core i3-8145UE / i5-8365UE / i7-8665UE
Supports 1 x DDR4-2400 SO-DIMM
Supports 1 x eDP (LVDS co-lay), 2 x HDMI, 3 Independent Displays
Supports 2 x LAN, 2 x USB3.1 Gen2 Type-A Ports, 4 COM Ports (RS-232/422/485, selected via BIOS)
Supports 1 x M.2 E-Key, 1 x M.2 B-Key, 1 x M.2 M-Key NVMe
Supports Intel vPro (For i5 and i7 CPU)