BPM on Microsoft Azure Streamlines IT Work and Strengthens Cybersecurity
11/17/2022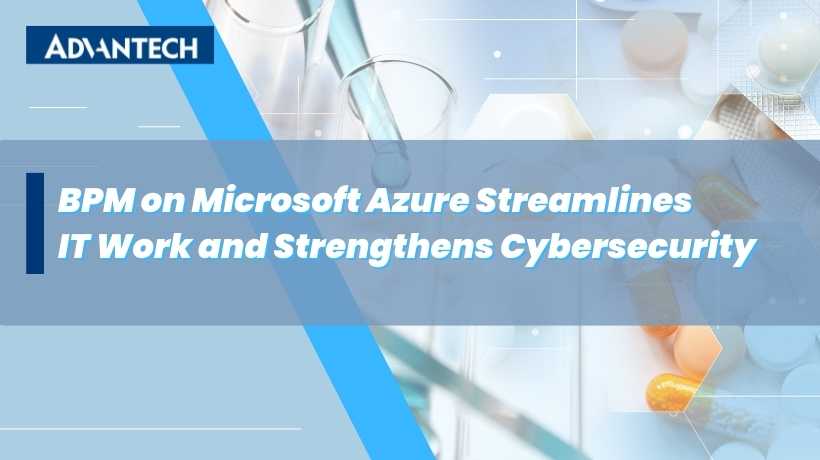 Apply Products on Azure
Virtual Machines
VPN gateway
Azure Backup

Network Security Group

Advantech Collaborates with a China-Based Pharmaceutical Company
The customer is specializes in generic pharmaceuticals and is dedicated to R&D and manufacturing. They seeks to deliver niche, complex-to-manufacture API/generic drugs alongside new drugs; e.g. drugs with new routes of administration, etc. to the US market.
【Challenges the customer faced】
Addressing Challenges in Changing Global Circumstances
The customer has recently encountered several challenges during operation. A combination of global supply chain issues and soaring material prices has influenced their production costs. These problems are compounded by the company's efforts to maintain equipment and ensure device security. When they decided to pursue digital transformation, their entire IT system — including business process management (BPM) — was hosted locally. The corresponding on-premises SQL server and OS licenses created further financial burdens. As a result, the customer decided to move IT to the cloud to improve BPM, reduce maintenance costs, save license fees, and strengthen cybersecurity.
Advantech and Azure Improved Productivity, Security, and Scalability
After identifying the risks and performance matrix with customer, Advantech's team worked closely with the customer to achieve the following:
The implementation of new BPM software on Azure
The deployment of over 1,200 Microsoft Exchange Online seats in one month, including overall validation alongside stress and mail delivery status testing.
The deployment of a VPN gateway that secures local-cloud connections. Now, employees can access Azure services using personal laptops inside or outside the office.
As the BPM system is on Azure, employees at different locations can access and manage operational flow (with permission) without hassle.

Microsoft enhances customer's security by offering a safe cloud with diverse security functionalities — including alarms, notifications, and remediation from Azure.

As BPM is on Azure, peak traffic no longer creates bottlenecks. Indeed, Azure Virtual Machine, Azure VPN Gateway, and Databases can be adjusted dynamically during peak traffic. This reduces IT engineer workloads and enables them to focus on their core business.

Advantech Lends Expertise to the Project
As a Microsoft cloud service provider, Advantech leverages its expertise in manufacturing, operational technologies, and edge-to-cloud automation to help customers undergo digital transformation. Our services cover cloud framework design, product recommendations, POCs, and technical support.
【Why customer choose Advantech?】
Advantech collaborated with Microsoft to design a superior framework and stable platform for customer.
Advantech deployed Azure services — such as VM and VPN gateway — and planned for higher availability and security.
Advantech conducted stress tests that identified potential issues before BPM and Exchange Online implementation.
Since applications are now on Azure, Microsoft provides most of the maintenance and data security. This substantially reduces customer's IT effort and enhances their security. Advantech's reputation, record of accomplishment, and a wide range of success stories in diverse industries also inspired customer's trust in our solutions.
Advantech were vital in helping us understand the Azure framework and BPM system migration process during the evaluation stage. Our supervisors and IT team had concerns concerning the scale of this project. Advantech focused on stress testing performance and fine-tuned our solutions using Azure specifications during the deployment phase. Indeed, they helped us discover the most cost-effective combination. We enjoyed working with Advantech and believe they helped us reduces costs. In addition, we feel that their solutions produced higher performance than comparable on-premises architecture.
- Project Team