Edge Intelligence Opens Up Robot AI Applications in Retail
6/11/2021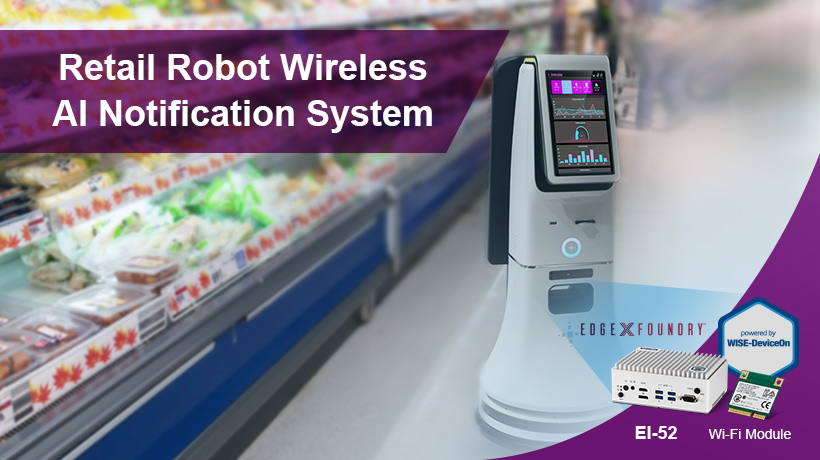 With ongoing advancements in such technologies as AI, visual recognition, and smart sensors, smart robotic applications have begun to appear in urban areas. Particularly in shopping malls and retail chain stores, people can often see robots act like staff in serving customers, such as providing suggestions or checking stock status. To embrace this trend, Advantech has launched the EI-52 Edge Intelligence System with a plug-and-play design and edge-to-cloud interconnectivity. This solution takes Advantech's compact edge computing systems, which are already widely implemented in retail and hospitality kiosks around the world, and integrates them with Edge X and WISE DeviceOn software, as well as VEGA AI and Wi-Fi modules. The EI-52 is used in the Retail Robot Wireless AI Notification System. System integrators or retail solution providers can easily install the system in robots for smart retail application deployment in their stores. Together, Advantech, system integrators, and retail solution providers have raised the bar on smart robotic solutions and are leading the retail and hospitality industries into an exciting new era.
Stocktaking Robots Save Human Resources, Optimize Services, and Improve Business Operations
Equipped with the EI-52, the Retail Robot Wireless AI Notification System is compact in size, easy to integrate, and has a comprehensive range of functions. It brings many new possibilities to smart retail applications. For example, a retailer in Southeast Asia introduced retail robots into their shops to assist everyday operations, saving human resources, enhancing service quality and responsiveness, and improving operational efficiency.
Inside the store, the robots patrol the aisles, scanning and identifying goods on the shelves, transmitting data to the backend system in real time. If a robot detects an abnormal event, such as an empty shelf, misplaced goods, or incorrect price tags, the system can immediately notify the staff to take action. This helps avoid potential complaints and improves the shopping experience for customers.
Additionally, by having robots instead of a human perform stocktaking, inventory can be checked more frequently and issues can be identified earlier, allowing staff to focus on serving customers and providing a more customized service. Ultimately, this generates higher profits and enhances overall operational efficiency.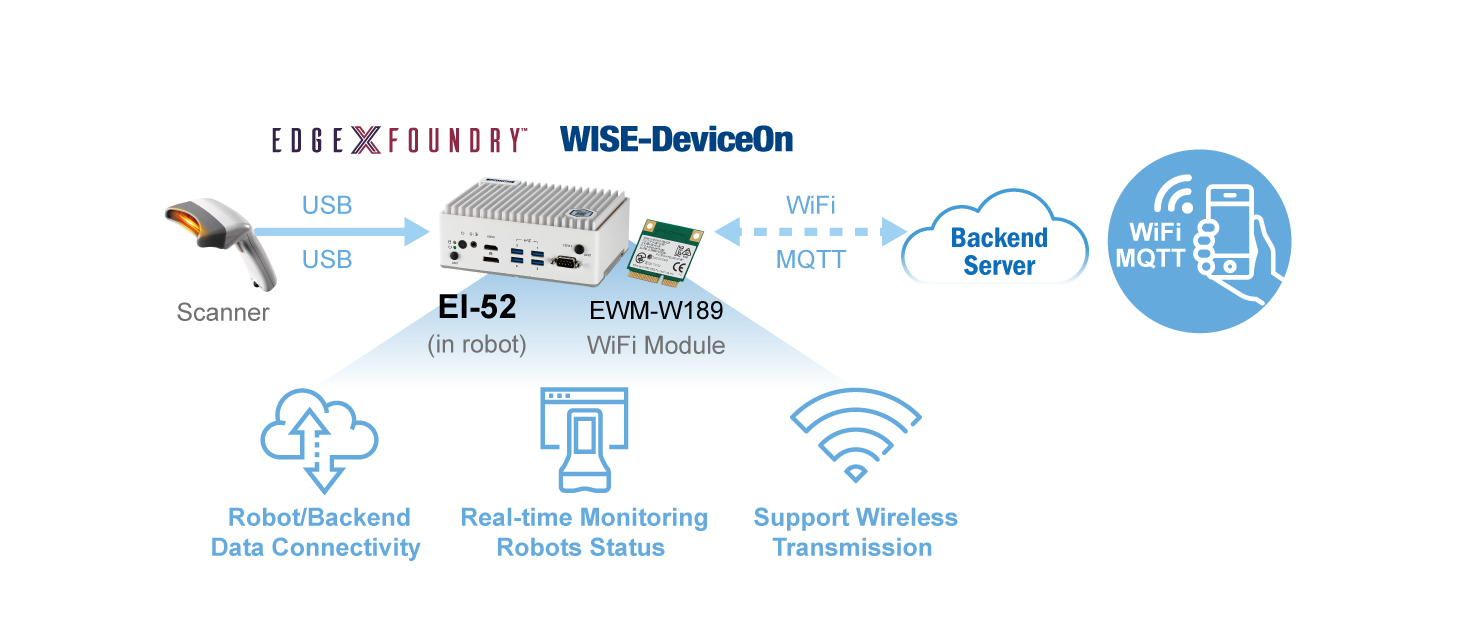 Four Benefits for Retailers Who Leverage the EI-52's Hardware and Software Functions
The EI-52 is lightweight and easy to install in many different types of equipment. Its wide-range operating temperature means it will function normally a temperatures ranging from -10 to 50°C. Plus, the unique die-cast top cover facilitates heat dissipation, which not only prevents system crashes due to overheating but also ensures system stability. With the powerful EI-52 and optional VEGA AI and Wi-Fi module expansions in addition to Edge X and WISE-DeviceOn software, the Retail Robot Wireless AI Notification System can bring the following four major benefits to retail applications:
1. Innovative and diversified services
The optional VEGA AI module is equipped with 11th Gen Intel® Core™ i5/i3/Celeron high computing power processors that drive AI functions at the edge. Retail stores can easily upload data from sensors and scanners on robots to backend systems with the pre-installed Edge X data acquisition API. The accumulated data can be analyzed using various tools to explore consumer behavior insights, such as purchasing preferences and patterns, visiting times, or co-purchased products. These insights can form the basis of future marketing and sales strategies. For example, if most customers often purchase particular products at the same time, the store can place these items together on the shelf, or can even do a bundle promotion to increase sales.
2. Rapid deployment of connected devices
To help retail stores speed up the deployment of innovative applications, the EI-52 comes with the Edge X data acquisition SDK pre-installed. Developed by Advantech and based on the open-source Edge X Foundry, users can leverage community innovations and seamlessly integrate them into their applications. Edge X also provides useful device APIs for developers to connect different devices and collect data to the EI-52 to accelerate application development.
3. Remote management and maintenance
EI-52 also has WISE-DeviceOn pre-installed, offering several useful functions, such as remote monitoring and access devices, remote power management, and data and device security. WISE-DeviceOn enables the centralized management of up to hundreds of retail robots in different locations. This means that the IT operations of global retailers with stores across different locations can monitor, manage, and maintain all retail robots remotely from a central control room.
4. Wireless communication
Smart retail robots are used in a wide range of innovative applications. With Advantech's EI-52, retailers can easily build their Retail Robot Wireless AI Notification System, and accelerate the development of connecting and collecting edge devices data for retail applications. Looking to the future, Advantech will continue to integrate its resources and cooperate with third-party partners, such as domain-focused system integrators and IoT device manufacturers, to develop more IoT solution packages that will help bring about a new era for the retail industry.