Embedded PC for High Precision Electron Microscope
6/3/2020
Electron microscopes are an indispensable technology used in numerous multi-industry applications. These advanced microscopes require powerful high-quality computers that support diverse I/O connections for peripheral devices. The combination of Electron Microscopes and high performance computers enables sophisticated operations in multiple applications, including agriculture, industry, and pharmaceutical production.
Electron microscopes are widely applied in medicine, biology, agriculture, material science, and chemistry; where they analyze the material composition, structure, and particle state of infinitesimal objects. This analysis is only possible via an embedded computer equipped with a high-performance CPU. However, the advanced computations performed by high-performance CPUs are energy intensive and generate electromagnetic fields which can interfere with neighboring electronic devices. Buttressing electromagnetic interference concerns are potential electrostatic discharges which can paralyze computing systems. Gathering accurate high-quality data with Electron microscopes and maintaining functional operations necessitates an electromagnetic-compatible system design.
Advantech's EPC-B2275 embedded computer is equipped with a 6th/7th Intel® desktop CPU platform—the last generation CORE-I to support legacy Windows OS. This CPU's robust mechanical design enables EPC-B2275 to perform high computing tasks in demanding electromagnetic environments. Advantech's design supports multiple I/O combinations using low-profile expansion slots. EPC-B2275's internal storage housing is designed to withstand vibrations that could damage storage drives with traditional hard disks.
Advantech plans to launch a fast configure-to-order service (CTOS) that utilizes their global manufacturing network and logistics support. The EPC-B2000 series will join CTOS and feature several comprehensive databases of compatible models and peripheral components. Users will have a choice of combinations—including different I/O ports, connectivity options, CPU platforms, and OS systems. Through utilizing CTOS, purpose-built EPC-B2000 computers will be efficiently customized to a myriad of applications.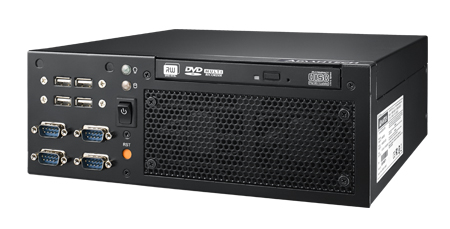 EPC-B2275
Intel® CORE-i high performance CPU
Plentiful diverse I/O for peripheral modules
One low profile PCIe expansion slot (low profile)