Empowering 3D Vision Guided Robots Using Advantech's Ultra-Compact Edge Industrial Computers
8/1/2020
Electric vehicle (EV) development has received much attention in recent years. These innovative products are proving increasingly popular options for those seeking new cars. However, due to charging concerns, some people are still hesitant to try one. EV owners face challenges created by access to charging facilities—their car might run out of power on the road, there may not be enough time to charge cars at home, and charging stations are sometimes hard to find. Drivers without a garage or designated parking spaces cannot utilize personal charging kiosks. Conversely, long electric cables inside houses creates inherent safety risks. Advantech's partner, an innovator dedicated to robotic solutions, decided to adopt Advantech's edge industrial computer to address these challenges. This compact highly-stable high-performance computer was used to create a 3D vision guided robot to aid in charging.
This 3D vision guided robot system is a cost effective flexible solution. It turns "cars looking for kiosks" into "kiosks looking for cars". Using this system, ordinary parking spaces can be converted into a charging kiosks. Drivers don't need to exit their vehicle when entering these unmanned charging stations. Instead, the robot's "eyes" locate a charging port and guide the plug to the car quickly and automatically. This robot automatically closes the charging cover when finished. The whole process takes a few minutes, enabling a high turnover rate. The 3D vision guided robot comprises several machine vision systems — AGV systems, drive motors, batteries, IPCs, 3D positioning sensors (binocular cameras), laser radars, switches, 4G/5G network modules, and speakers. The robot primarily utilizes USB 3.0 to connect key cameras that manage guidance and capture images. Therefore, having a lockable, small form-factor, high-performance, and a highly-reliable edge solution is important.
This 3D vision robot performs varied tasks — including autonomous identification (face recognition, behavior analysis), network communication, and visual positioning during unmanned driving. The network module is used to obtain precise locations and access maps when driving. Similarly, industrial cameras are used to gather environmental data. Laser radars measure distances, detect obstacles, and find charging ports when the robot approaches an electric vehicle. It also uses binocular cameras to accurately locate and control individual robots. Advantech's IPC-240 Compact Industrial Computer System features one panel with multiple I/O and PCIe/PCI card expansion slots. This computer integrates image acquisition (USB), communication (LAN), and fieldbus control into a single highly-adjustable solution. This industrial computer's compact size and stable industrial control design enables easy installation as a key controller on robots. PCIE-1154 features a 4-CH USB frame grabber card. It also utilizes an isolated USB 3.0 for independent bandwidth camera interfaces to ensure stable data transmission without dropping frames. PCIE-1154 has a lockable design to ensure reliable cable connections for robot vision applications. This system uses a PCE-GIGE4 expansion card with an Intel® Ethernet controller i210. This controller is connected to a laser radar which delivers fast data transmission. When combined with a PCI-1680U control card, it helps control the movement of the robot — by hitting brakes, changing directions, and accelerating. This system is connected to an external Advantech BB-SL300 series router that supports LTE full Netcom to deliver seamless industrial communication.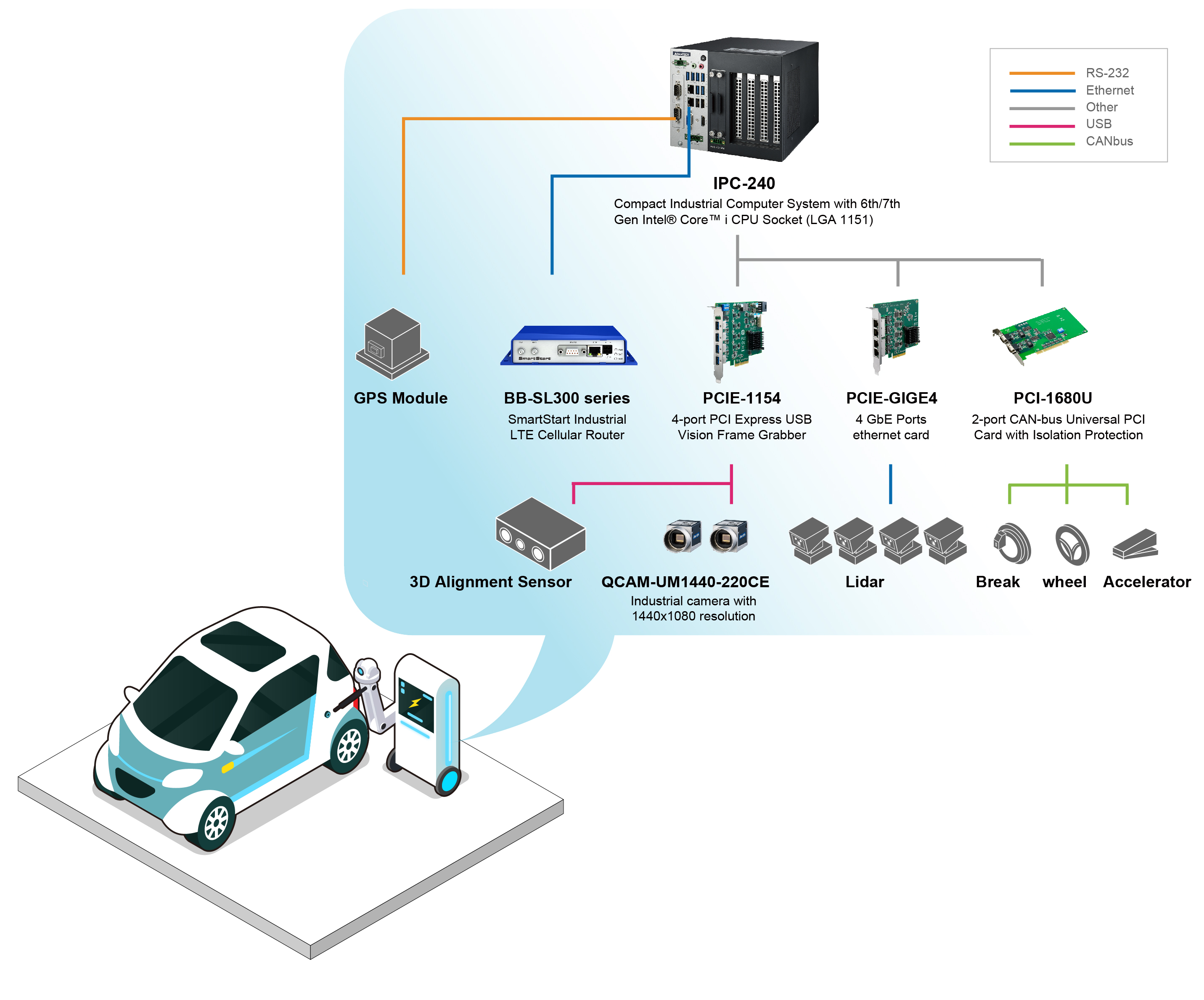 Advantech's complete product portfolio makes obtaining highly integrated solutions easy. The compact IPC-240 system with 7th Gen. Intel® Core™ i CPU provides the flexibility of multiple PCIe/PCI ports — delivering excellent performance in an ultra-compact package. The industrial input voltage design coupled with the Smart fan system ensures stable CPU operation in harsh environments. Advantech's global support stations provide repair and consulting services in a timely manner to increase solution stability. In sum, this solution's excellent capabilities won the trust of our customers.