EPC-T4286 – Optimal Design Compact Embedded PC Accommodates KIOSK Market
6/1/2020
Modern KIOSK terminals should fulfill multiple applications. Terminals require an embedded PC equipped with high performance CPUs for AI applications, and featuring diverse I/O for various peripheral modules. As the face of the entire service flow, Kiosks need to be more than a simple machine. They require a stylish design, and compact embedded PC adaptable to varying designs.
System integrators are facing growing demands for smarter KIOSKs with diverse functionality. Users need modern and stylish KIOSKs in a slim form factors. To this end, the constituent parts of KIOSKs, including the integral embedded PC, need to have a small footprint.
Computer hardware design is a balance between functionality and size. A small mechanical housing will limit possible functional requests. Due to a number of issues, creating a compact design that doesn't sacrifice functionality is a near impossible task.
Compiling numerous electronic components into a compact housing increases the likelihood of ESD, EMC, and other electronic disturbances. Similarly high functionality necessitates increased computing power. Dissipating the heat generated by this computing power is exceedingly challenging.
Advantech's EPC-T4286, the newest member of EPC-T family, will be the most competitive product in the self-service KIOSK market. EPC-T4286 features a modern compact chassis. With dimensions of only 188 x 188 x 44 mm (7.4 x 7.4 x 1.73 in), this product is 33% smaller than previous EPC-T series products. This reduction in size enables approximately 33% more cargo capacity in a single shipment without sacrificing desirable functionality. Likewise, its 1U height small footprint housing facilitates easy integration within slim-design KIOSK terminals.
EPC-T4286 does not sacrifice any functionality for compactness. This design accommodates a 65W 8th Gen i7 CPU capable of performing AI algorithm, machine learning, and other high computing tasks. Featuring 6 COM ports, 6 USB ports, and 3 LAN ports, EPC-T4286 is adaptable to most peripheral modules used in KIOSKs. More importantly, EPC-T4286's heat dissipation system enables system operation in environments up to 50 °C (122 °F). The featured electronic components, cables, and housing are designed to meet high ESD and EMC requirements.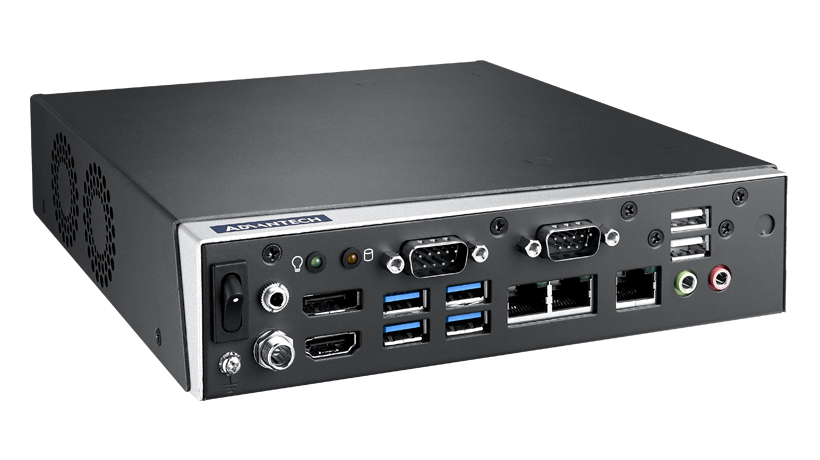 EPC-T4286
Compact Design (188 x 188 x 44.2 mm/7.4 x 7.4 x 1.73 in)
8th / 9th Gen Intel® CPU up to i7 65W
Diverse I/O including 6 COM, 6 USB, and 3 LAN