Advantech Builds a Global Water Treatment Ecosystem around WISE-PaaS 4.0
12/21/2020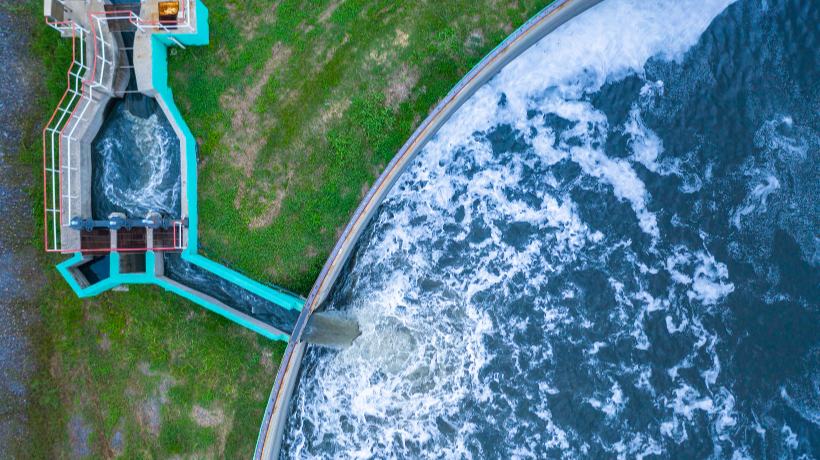 Having gradually built up an intelligent services ecosystem for water treatment, Advantech collaborated with domain-focused solution integrators (DFSI) to co-create industrial app (I.App) solutions that help accelerate the implementation of intelligent water treatment services in Taiwanese, Southeast Asian, and Indian markets. Advantech utilized the WISE-PaaS 4.0 industrial IoT cloud software platform and WISE-Marketplace I.App store to jointly develop I.Apps with DFSIs. These I.Apps were offered to all partners to encourage the growth of IoT solutions and services.
In 2020, Advantech has connected with DFSIs to develop an ecosystem of industrial apps using the WISE-PaaS 4.0 open cloud-native platform. A new strategy is at the core of this initiative: one focus, two directions, three market entry strategies. This strategy is aimed at accelerating the implementation of smart applications in global vertical industries. In quantifying this strategy, LF Jacky Chang, Product Manager of Advantech's Energy and Environment Department stated, "One focus means concentrating on sectors with high-growth applications. The idea of two directions in this sense is aimed at helping industries promote both digital optimization and digital transformation. Finally, three market entry strategies refers to the implementation of three market entry strategies of: 1) utilizing the WISE-PaaS platform, 2) connecting global DFSIs and software developers, and 3)developing smart applications in at least two markets to prove that solutions are transferable.
The energy and environment sector covers a wide range of fields and applications with immense environmental differences within each industry's domain — therein lies the challenge when it comes to developing and promoting smart applications. Because of the dissimilarity and complexity of each energy sector, Advantech focuses on high-growth sectors, including water resources and treatment, energy storage, and solar power generation. Among these, Advantech has adopted three market entry strategies in the water resources and water treatment sector to help treatment plants optimize their operations and encourage DFSIs to promote digital transformation.
Accelerating the development of water treatment I.App products and solutions
In terms of the promotion of smart applications in water treatment, Mr. Chang used wastewater as an example. He pointed out that wastewater treatment includes three major processes: biological treatment,coagulation sedimentation, and membrane filtration.In the past, when building an intelligent waste water treatment system, system integrators (SIs) would develop solutions specifically for these three processes. However, because the equipment used and the environments of the wastewater treatment plants differ from site to site,solutions for one wastewater treatment plant might not be applicable to other plants. This significantly hinders the ability to transfer and promote intelligent waste water treatment solutions.
To overcome this, Advantech uses its WISE-PaaS platform as a basis to promote strategies of collaboration and co-creation. Mr. Chang further explained that Advantech initially used Cloud Foundry as the framework for WISE-PaaS 3.0, to provide DFSIs with a Platform as a Service (PaaS) solution. Later on, the company changed to Kubernetes (K8s) to develop the WISE-PaaS 4.0 cloud native platform, which provided three critical application framework services based on flexible container technology, namely visualization (WISE-IoTSuite/Dashboard and WISE-PaaS/SaaS Composer), asset performance management (WISE-PaaS/InsightAPM), and artificial intelligence framework services (WISE-PaaS/AIFS).This process enables DFSIs to use these three critical framework services directly to combine with Advantech's Industrial IoT real-time management cloud platform DeviceOn/BI and develop common I.App products (for fast deployment or direct device access) or domain I.App products (for optimized operations management).
Mr. Chang further used the biological treatment process in the wastewater treatment as an example to explain that biological treatment mainly takes place in an anaerobic, anoxic, and aerobic tanks. This treatment process is primarily intended to remove nitrogen and phosphorus content in order to improve water quality.This comprises various detailed operations, such as aeration, sludge recirculation, and nitrified liquid recirculation. Because of the complex processes it proved difficult to develop a solution that could be transferred and applied elsewhere. Currently, by utilizing the WISE-PaaS 4.0 platform, Advantech can decouple biological treatment solutions previously developed for water treatment plants and focus on the three aforementioned processes to repurpose I.App products and then launch them on the WISE-Marketplace for others to use. As a result, DFSIs with development capabilities can purchase multiple I.App products directly from the WISE-Marketplace to develop biological treatment solutions for unique individual scenarios according to individual domain-specific needs. Moreover, DFSIs who lack this development capability can still collaborate with Advantech to co-create solutions.
Connecting with local SIs to expand the global market
While using WISE-PaaS 4.0 to encourage DFSI partners in accelerating the development of I.App products and solutions, the K8s-based WISE-PaaS 4.0 can also be used to provide services with different IaaS solutions, such as Global Azure, Alibaba Cloud, and Inspur Cloud. This achieves I.App interoperability and mobility. Mr. Chang emphasized that the mainstream cloud platform used in each regional market varies from market to market. Therefore, the fact that WISE-PaaS 4.0 can operate on multiple cloud platforms brings significant convenience for collaboration in different regional markets. This helps promote Advantech's I.App products in different global markets and makes driving SI's I.App innovation more feasible.
Additionally, Advantech has further tightened its collaborative relationships with DFSI partners through joint ventures. For example, Advantech and GSD Technologies Co., Ltd. have established GSD Environmental Technology in a joint venture partnership,combining both companies' resources to develop an intelligent water treatment equipment management system. Advantech also found a DFSI specialized in the water treatment sector to setup a co-creation joint venture (CCJV) with the Industrial Technology Research Institute (ITRI), combining WISE-PaaS 4.0 platform with ITRI's water treatment technology in the development of smart water treatment services. Currently, this DFSI has developed various I.App products for waste water treatment solutions at various industrial parks and Taiwan Water Corporation's water treatment and purification center. This has allowed the DFSI to pick suitable I.App products according to various domain specific needs and pack them into a complete solution for that domain, further accelerating the implementation of smart applications in specific sectors.
According to Mr. Chang, with this CCJV DFSI's successful implementation experience in domestic sectors, Advantech is accelerating the expansion of smart water treatment services in the global market by connecting SI partners in markets in Thailand, Malaysia, India, and across Asia. For example, Advantech signed a Memorandum of Understanding with an SI partner in India in October 2020, while actively searching for collaborative DFSI partners in Thailand and Malaysia to implement smart water treatment applications in several regions.
Mutual benefits for water treatment plants, DFSIs,and Advantech
Mr. Chang concluded that through Advantech's co-creation model with WISE-PaaS 4.0 as the core, DFSIs can quickly replicate applications from one sector to another,while transforming service providers from a purely SI role to one of operations and maintenance services. While accelerating the digital optimization of water treatment plants, DFSIs can also develop an innovative business model through digital transformation, thus creating new opportunities for exponential growth and profit. Advantech will continue promoting the development of smart water treatment solutions, co-creating with partners to our mutual benefit to achieve low carbon emissions in wastewater treatment. This will reinforce the regional services of DFSI, all of Advantech's regionaloperations, and protect the environment for futuregenerations.
The WISE-PaaS data application platform end-to-cloud architecture provides a comprehensive development environment for data collection, analysis, management, and applications, while promoting interoperability between I.Apps via the WISE-Marketplace and accelerating the development of industrial solutions.
Explore more about how water treatment I.App using the WISE-PaaS 4.0 platform to optimize your operation and maintenance management.