Advantech Builds IIoT Cloud Platform to Integrate Cloud-Edge-End Technology to Accelerate the Development of IIoT Applications and Microservices
11/8/2021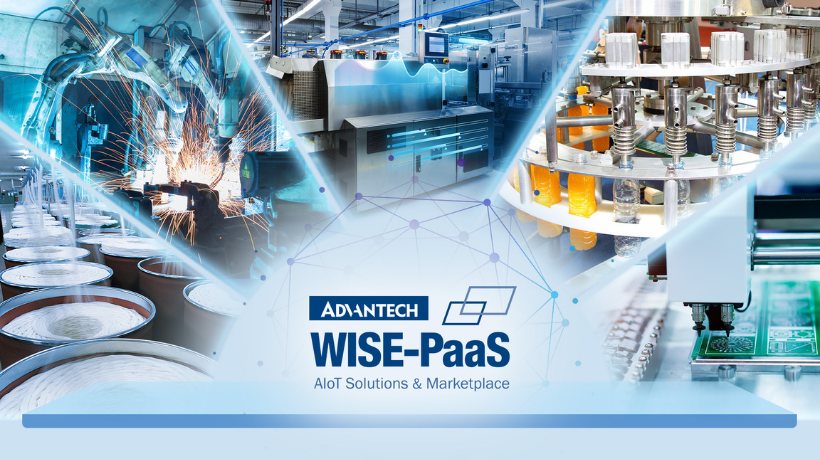 With the emergence of smart applications in the post-pandemic era, demand for digital transformation has skyrocketed in the manufacturing industry. Coupled with the expansion of new infrastructure investment in major countries such as the United States and China, business opportunities in IIoT have been driven to new heights.To accommodate this trend, Advantech is actively deploying IIoT systems, integrating the five core components of its WISE-PaaS platform to form a complete industrial cloud architecture. This can aid ecosystem partners, such as domain-focused system integrators and independent software vendors, with accelerating the development of their own industrial applications and microservices.
The five core components of an industrial cloud architecture
According to Ning Kang, WISE-PaaS Product Director at Advantech: The WISE- PaaS IIoT platform offers a diverse range of core advantages. First is the decoupling of software and hardware. In traditional automated equipment, the software is always customized to fit certain hardware. Now, software and hardware are completely decoupled. Second is empowerment. The WISE-PaaS platform provides a low-code development architecture that allows for the easy deployment of AIoT solutions for use across different industries. This framework includes five core components: WISE-IoTSuite, WISE-DataInsight, WISE-EnSaaS, WISE-InsightAPM, and WISE-AIFS. These components facilitate industrial IoT intelligent perception, big data analysis, industrial data visualization, digital twinning, and AI industrialization.
The third advantage is edge-to-cloud seamlessness. Advantech provides complete edge-to-cloud solutions, including those for edge data acquisition, de-duplication, cleaning, filtering, statistics, and analysis. Combined with the low-code development framework of the WISE-PaaS platform, users can seamlessly construct various industrial application solutions in one go. The fourth advantage is the open ecosystem. Advantech emphasizes working with partners to accelerate the expansion of AIoT business opportunities. As such, the company is committed to ongoing collaboration with partners to build an ecosystem around WISE-PaaS.
WISE-IoTSuite provides a cross-cloud, cross-domain unified management system, allowing industrial apps to be deployed efficiently within public clouds, private clouds like WISE- STACK, WISE-STACK Edge Intelligent all-in- one computers, and other environments without changing a single line of code. This helps in realizing the goal of one-time development and various deployments at multiple ends in one unified operation. WISE-IoTSuite also provides visualization services for clearly presenting large volumes of heterogeneous data in a 2D or 3D dashboard.
WISE-DataInsight provides a one-stop service that satisfies data storage, development, management, and analysis needs. It also supports multiple databases and helps realize diverse data integration and application. WISE-EnSaaS is an enterprise-level cloud native PaaS, mainly provides application and data management.
WISE-InsightAPM is a digital twin low-code platform that supports one-stop integrated ser v ices such as equipment monitoring, production management, predictive diagnosis, equipment alarm notifications, and operation and maintenance management to assist in asset performance management and optimization.
Additionally, WISE-AIFS is an AI industrialization platform that helps to reduce the threshold of AI modeling in various application fields while improving the efficiency of AI program implementation.
Leveraging various packages to activate smart development
"Based on WISE-PaaS, Advantech can create various solution suites for different smart factory application scenarios, making tools in the industrial cloud architecture more versatile and localized," said Willie Lin, iFactory Solution Associate Manager at Advantech. Industrial manufacturing processes are generally divided into process manufacturing and discrete manufacturing, and Advantech actively seeks out similarities between the two and utilizes IoT Suite tools to package them so that they can be quickly adopted by users.
Smart Manufacturing Startup Suite
First, the Smart Manufacturing Startup Suite is a quick-starter package that focuses on environmental, and equipment monitoring with smartphone notifications and a dashboard command center, allowing users to quickly adopt and understand smart manufacturing. It is ideal for both large enterprises and small- and medium-sized businesses.
Productivity Optimization Suite
The second package is the Productivity Optimization Suite. As many factories urgently need to monitor the operating status of equipment to ensure smooth production, this package focuses on solving various people-related issues and supports operation controls, such as worker dispatching, shop floor management, "andon" calling systems, repairs, and maintenance.
Energy Sustainability Management Suite
Third is the Energy Sustainability Management Suite, which provides factories with assistance in adopting ESG management to establish sustain- able value.
Machinery Health Management Suite
The fourth package is the Machinery Health Management Suite. To avoid unplanned equipment downtime, improve equipment operation and maintenance capabilities, and ensure high-quality after sales service, this package leverages digital technology and equipment networking technology to provide prompt information on repairs and maintenance, KPI and health prediction, and other functions. It monitors the health status of equipment in real time, connecting equipment vendors, customers, and equipment to reduce maintenance costs while improving equipment safety and availability.
This gives equipment manufacturers greater confidence to globally control the operation, maintenance, and sale of their equipment. Looking forward, Advantech will continue to utilize WISE-PaaS platform as its core IIoT platform to collaborate with partners from the IIoT ecosystem to co-create data-driven smart industrial apps for various industries and easily upgrading their systems in the shift toward smarter manufacturing.
WISE-PaaS Application Cases
Regardless of the industrial cloud platform or smart manufacturing application package used, there are many real-world application cases for WISE-PaaS. For example, a renowned shoe manufacturer in Taiwan utilized the Smart Manufacturing Startup Suite to manage vital chemical processes—specifically, the formula management for its shoe sole production. This package not only provided equipment monitoring capability; i t also monitors consistency in work quality between day and night shifts. Another example is a major SMT equipment manufacturer implemented Advantech's SKY-6400 server and deployed IoTSuite and AIFS to meet their needs for PCB soldering defect detection. It improved their AOI detection efficiency, optimized inspection quality and stability, and reduced the detection error rate, demonstrating outstanding results and benefits.
The WISE-PaaS Industrial IoT Platform end-to-cloud architecture provides a comprehensive development environment for data collection, analysis, management, and applications, while promoting interoperability between I.Apps via the WISE-Marketplace and accelerating the development of industrial solutions.
iFactory Solution Suite can help factories improve OEE, reliability, energy efficiency, productivity and safety, while reducing emissions and maintenance costs. Accelerate your deployment of intelligent management and data-driven digital transformation in process and discrete manufacturing.