Advantech announces grand launch of three new NVIDIA-powered MXM GPU Modules
12/16/2022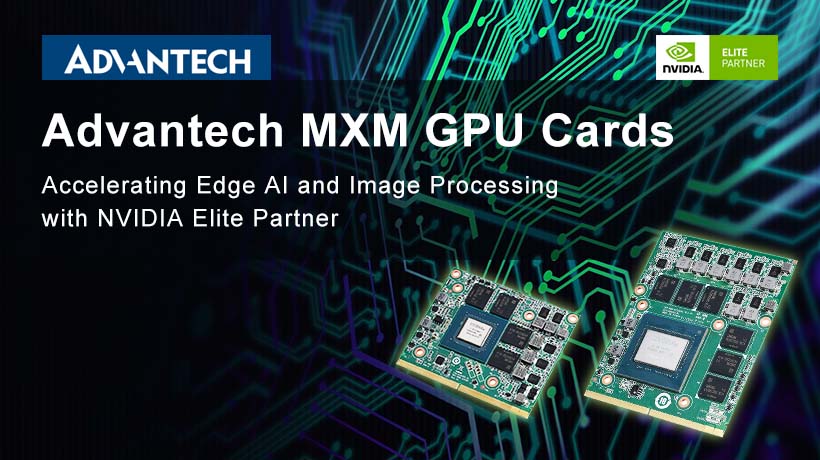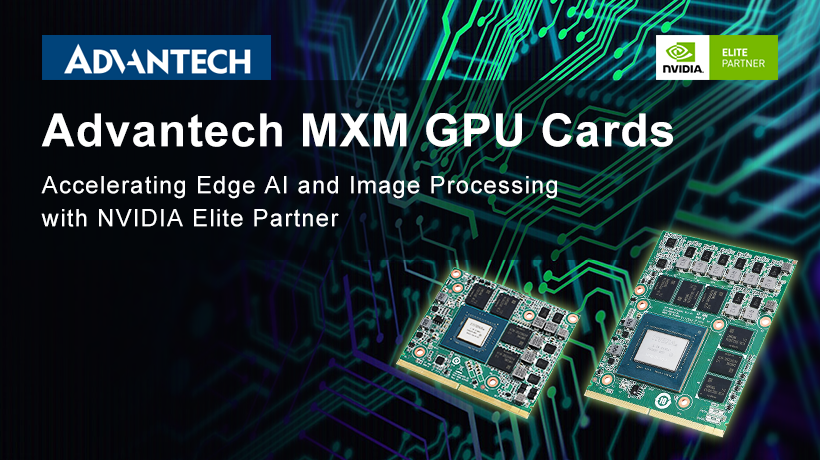 Breda, Netherlands – November 2, 2022: Advantech, a leading provider of industrial edge computing platforms, announced the grand launch of a new family of embedded computing modules. These modules, called SKY-MXM-T1000, SKY-MXM-A2000 and SKY-MXM-RTX3000, are all powered by the latest NVIDIA GPUs and built on the NVIDIA® Turing and Ampere GPU architecture to provide industry-leading performance in compact form factors.
The new MXM GPU modules feature real-time ray tracing, AI acceleration, advanced image construction and high-performance big data analytics that are key requirements for industrial deployment. Supporting CUDA, RT and Tensor Cores for graphics along with compute-intensive tasks, these MXM GPU modules from Advantech are equipped with GDDR6 memory for high-speed frame buffering and storing AI models.
The SKY-MXM-T1000 module uses RTX T1000 GPU with 896 CUDA cores. SKY-MXM-A2000, for its part, uses RTX A2000 GPU with 2560 CUDA cores, 20 RT cores and 80 Tensor cores – in addition to featuring error correction code (ECC) for error-free computing. As for SKY-MXM-RTX3000, it uses RTX 3000 GPU with 1920 CUDA cores, 30 RT cores and 240 Tensor cores.
All modules deliver excellent computing power for image or data processing and AI model inference. They also drive performance of machine vision, big data analysis and image constriction to a new high level, especially in industrial applications such as automatic optical inspection, vision-guided robot, SLAM AMR navigation, medical imaging and 3D gaming or simulation.
SKY-MXM-T1000 and SKY-MXM-A2000 are based on MXM Type A with a dimension of 82 (W) x 70 (D) mm2. SKY-MXM-RTX3000 is based on MXM Type B with a dimension of 82 (W) x 105 (D) mm2. The small form factors facilitate their integration into any embedded systems. The thermal design powers of SKY-MXM-T1000, SKY-MXM-A2000 and SKY-MXM-RTX3000 are 50W, 60W and 80W respectively. All three modules can be fully cooled by passive heatsink and, with proper design, are suitable for applications located in a large variety of harsh environments.
All three MXM GPU modules are designed and manufactured by Advantech, resulting in high-quality technical and after-sales support. The products come with up to five-year warranty and boast a five-year lifecycle with strict revision control; this not only facilitates IEM/SI's equipment maintenance but also protects the overall H/W and S/W investment.
Key features of each module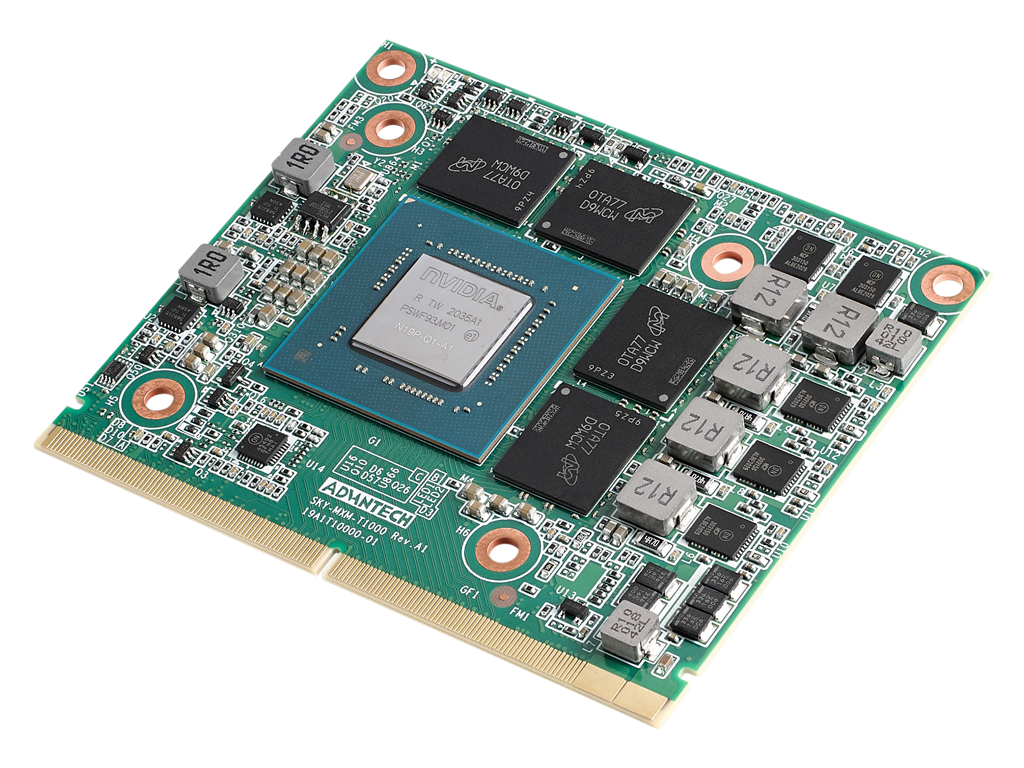 MXM 3.1 Type A form factor
896 CUDA cores
4GB ECC GDDR6 with192GB/s bandwidth
2.70 TFLOPS FP32
4x DP 1.4a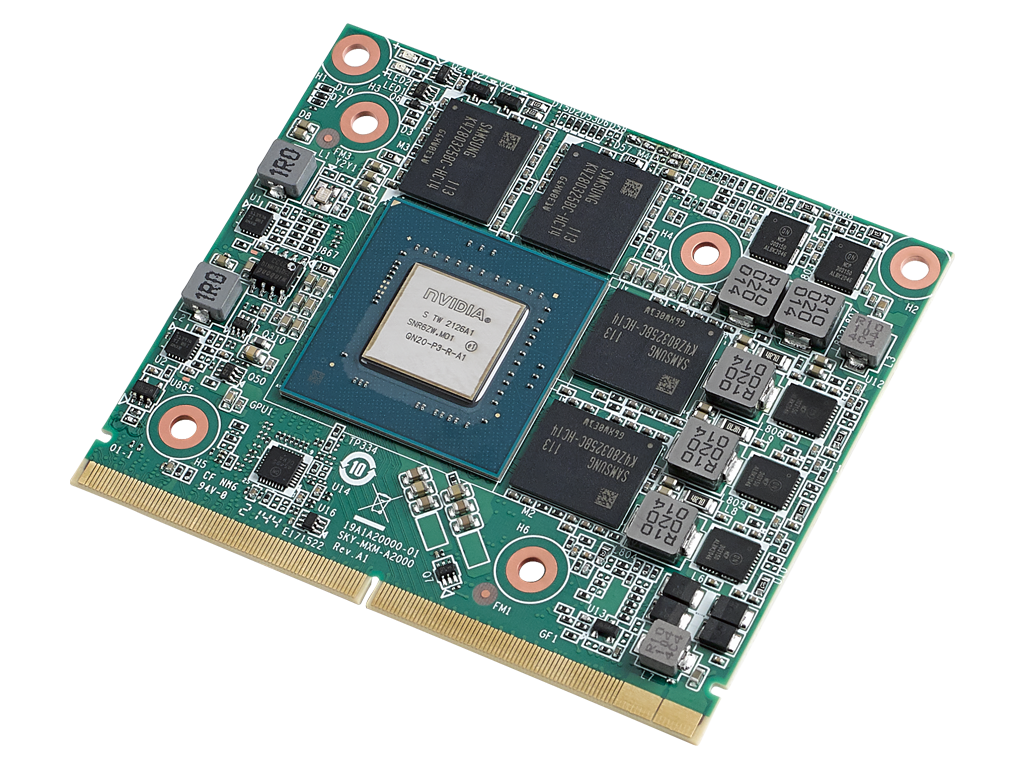 MXM 3.1 Type A form factor
2560 CUDA cores, 20 RT Cores, 80 Tensor Cores
4GB/8GB ECC GDDR6 with 192GB/s bandwidth
8.64 TFLOPS FP32
4x DP 1.4a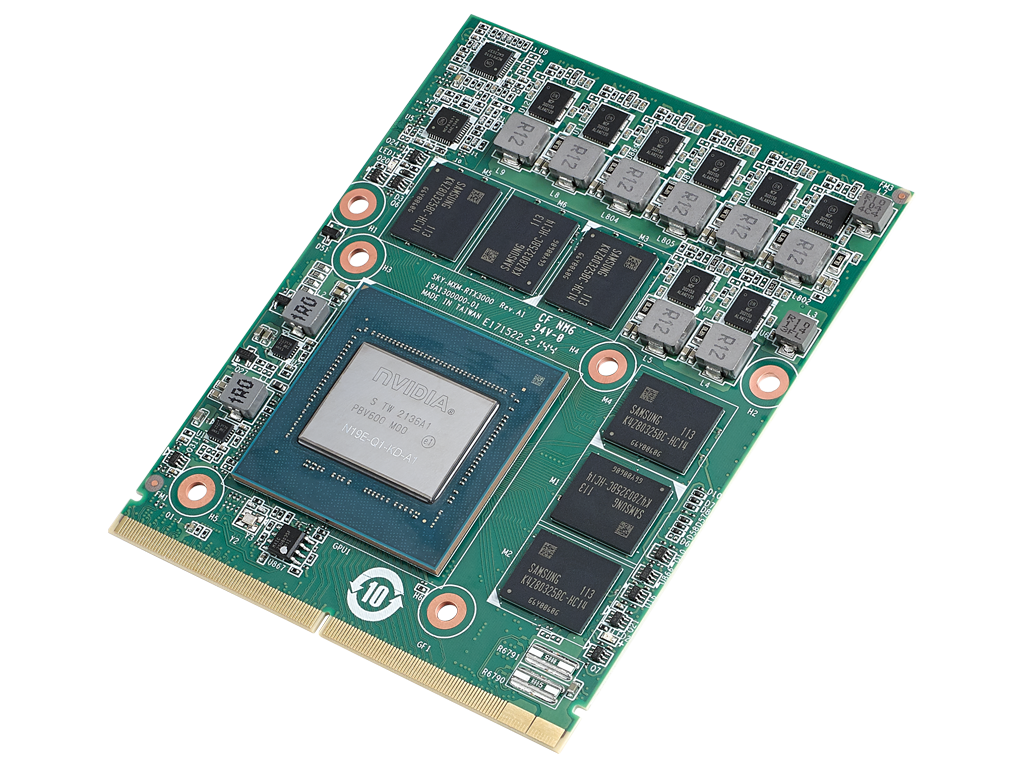 MXM 3.1 Type B form factor

1920 CUDA cores, 30 RT Cores, 240 Tensor Cores
6GB ECC GDDR6 with 336 GB/s bandwidth
5.30 TFLOPS FP32
4x DP 1.4a
Advantech also offers a range of edge platforms to support these new MXM GPU modules. The MIC-770 system with MIC-75GF10 modular IPC features a compact size, high compute power and passive cooling. It is aimed at quality inspection and robot guidance applications. The ITA-460G rugged box PC features an IP65 rating, M12 connectors, eMark and 5M3 compliance. It addresses applications such as outdoor autonomous vehicle control. The MIC-330 CPCI-S CPU card with MXM carrier board features ultra-ruggedness and high speed I/O, ideal for railway and military applications. The ITA-5231G, a fanless EN 50155 certified 2U IPC is designed for rolling stock applications. The ITA-3650G fanless IPC with rich I/O is intended for intelligent surveillance applications. The POC-824/821 is a medical grade panel PC featuring IP65 rating and IEC-60601 compliance for dental or laboratory applications. The small form-factor AIMB-288 min-ITX motherboard boasts high performance and rich I/O, fitting any high-performance embedded systems.
Advantech is an Elite Partner in the NVIDIA Partner Network, and the company provides edge systems and solutions applied in the fields of industrial, manufacturing and robotics. Advantech is dedicated to developing cutting-edge platforms and GPUs. For more information regarding Advantech GPUs or other products and services, simply contact your local sales support team or visit www.advantech.com/en-eu.
Established in 1983, Advantech is a leading provider of trusted innovative products, services, and solutions. Advantech offers comprehensive system integration, hardware, software, customer-centric design services, embedded systems, automation products, and global logistics support. We cooperate closely with our partners to provide complete solutions for a wide range of applications in diverse industries. Our mission is to enable an intelligent planet by developing automated and embedded computing products and solutions that facilitate smarter working and living. The number of applications and innovations made possible using Advantech products is unlimited. (Corporate website: www.advantech.com/en-eu)