Advantech Announces Q4 Release of MIC-733 and MIC-737 NVIDIA Jetson AGX Orin-Based AI Computing and AI NVR Systems
3/23/2022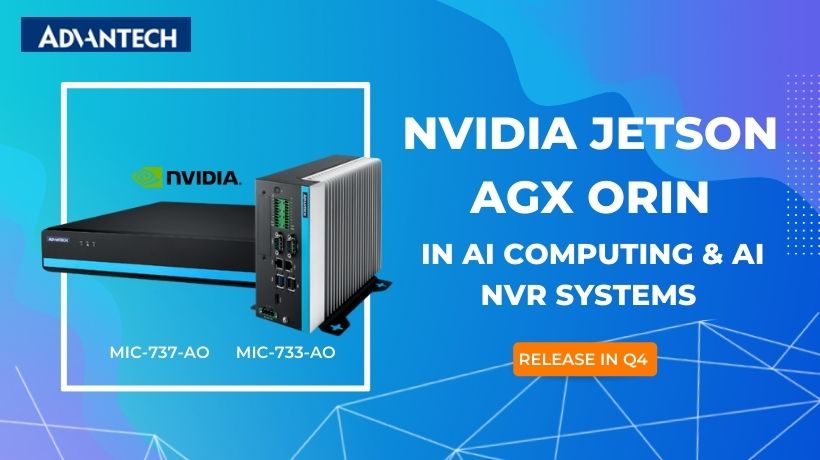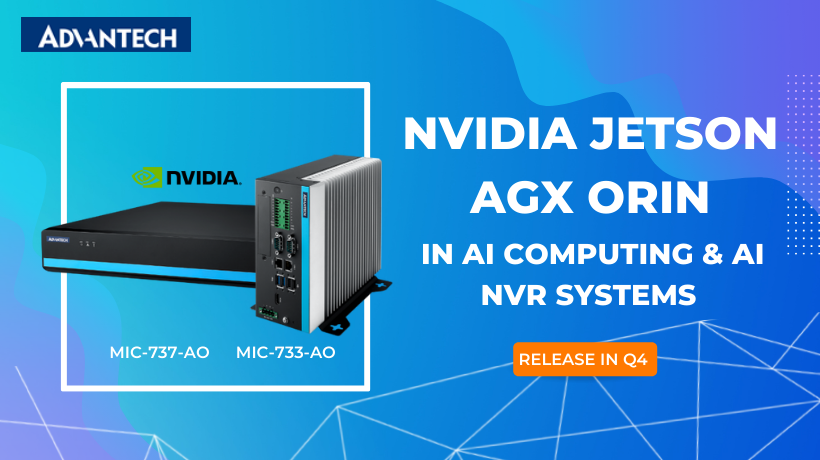 Advantech, a leading industrial edge AI solution provider, has announced a release plan for the MIC-733 and MIC-737 NVIDIA® Jetson AGX Orin™-based AI systems. Aimed at helping AI developers in manufacturing and smart city industries, these upcoming solutions comprise a compact fanless computing system and a network video recorder (NVR) with diverse I/O and peripherals. Buttressed by 24/7 remote management support and accommodation for board support packages (BSP), MIC-733 and MIC-737 are designed to deliver excellent flexibility and computing performance to future AI+5G applications.
The Latest NVIDIA Jetson AGX Orin System for Edge AI
The Advantech MIC-733-AO computing system and MIC-737-AO AI NVR leverage powerful NVIDIA Jetson AGX Orin module AI computers that empower energy-efficient autonomous machines. These solutions accelerate NVIDIA AI software stacks with 4x the CUDA cores and up to 8x the performance of the NVIDIA Jetson AGX Xavier module. In addition, these solutions support multiple sensors and the latest high-speed interfaces.
MIC-733-AO Edge AI Computing System Delivers Excellent Wireless Capabilities
Advantech's MIC-733-AO is a compact fanless (192 x 230 x 87 mm; 7.5 x 9 x 3.4 in) solution uniquely suited to edge AI computing-intensive applications. MIC-733-AO delivers flexible expansion slots and multiple I/O; including 4 x USB 3.0, 2 x PCIEx8, and 2 x M.2 to AI developers. In addition, the iDoor/iModule expansion and support for diverse peripherals enables I/O module customization through the Mini PCIe interface. This includes the use/modification of CANBus controllers, CoaXPress frame grabbers, or PoE modules for IP cameras. Likewise, in order to accommodate growing AI+5G demands, MIC-733-AO's features 2 x 10 GigE ports for high-speed data transmission. MIC-733-AO leverages powerful AGX Orin AI computing and advanced 5G low-latency capabilities to empower edge AI applications.
MIC-733-AO is capable of enduring the wide range of temperatures found in outdoor/harsh environment operation. In addition, the higher computing power of NVIDIA Jetson AGX Orin modules combined with superior wireless communication produces a solution capable of empowering autonomous robots in fulfillment centers.
Highly Powerful MIC-737-AO Edge AI NVR System
MIC-737-AO is designed for intelligent video analytics and the NVR market. It leverages NVIDIA Jetson AGX Orin's powerful performance to provide a powerful AI NVR solution for a wide range of smart city applications. MIC-737-AO's provides 8-channel 1080p30 decoding, encoding, and AI inference. Likewise, the 8 x PoE LAN ports empower easy IP camera deployment. In addition, this solution has sufficient storage space for 24/7 video recording from up to 8 channels for 30 days.
Advantech's MIC-737-AO AI NVR enables users of safety and security applications to adjust video monitoring from post-reaction support to reaction on the edge modalities. Jetson AGX Orin's outstanding AI computing performance empowers complex, precise AI models capable of simultaneous inference via a single system to improve AI metadata accuracy. Likewise, AI searches for recorded videos in NVR can be implemented without sacrificing performance.
MIC-733-AO and MIC-737-AO solutions are CCC-, CE-, and FCC-certified and provide excellent longevity support. Advantech delivers dedicated BSP support for MIC-733-AO and MIC-737-AO, enabling users to integrate hardware and software with ease.
Advantech's MIC-733-AO and MIC-737-AO will be ready in the fourth quarter of 2022 (Q4). For more information about this and other AI solutions, please contact your regional sales team or visit www.advantech.com