Advantech Edge Cloud Solution Simplifies Multi-cloud Integration for Centralized Data and Device Management
5/20/2022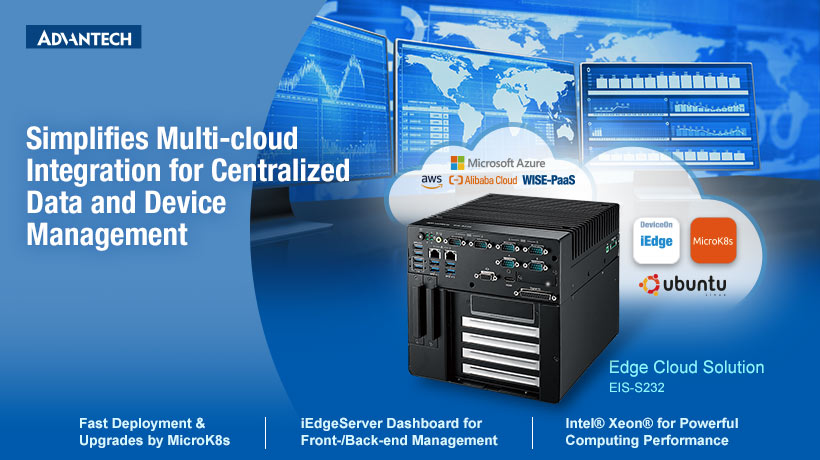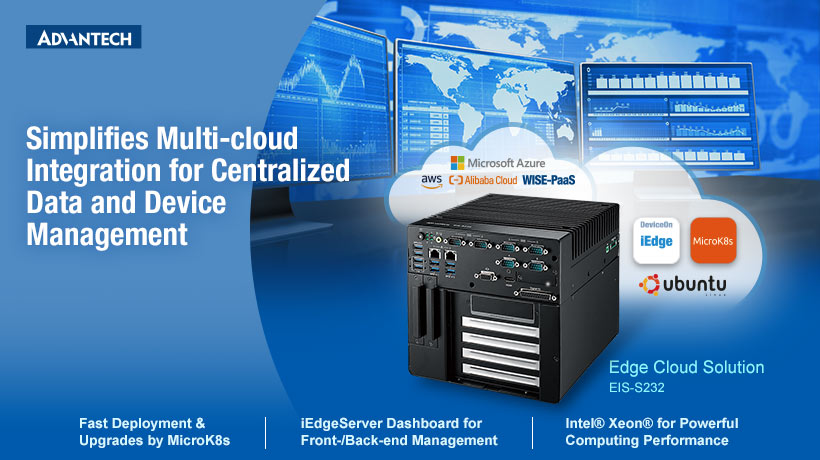 March 18, 2022, Taipei, Taiwan - Advantech, a leading provider of AIoT platforms and services, is pleased to release its newest edge cloud solution — the EIS-S232. With the growing use of IoT applications, edge gateways are increasingly connected to the network for machinery interaction. Despite this, edge gateways often lack adequate storage, network capacity, and supporting infrastructure. Likewise, powerful management solutions are usually needed when handling cloud computing and other advanced processing tasks. Advantech has released EIS-S232 in an effort to address these challenges.
EIS-S232 is an excellent edge cloud solution for managing multiple distributed edge nodes as it is capable of serving as an edge cloud server that saves data. It is applicable to large industrial IoT environments with thousands of distributed nodes. Likewise, it accommodates environments with numerous, disparately deployed devices that are otherwise hard to manage concisely.
EIS-S232 combines advanced cloud storage capacity with edge computing's data gathering potential. Indeed, this solution enables a portion of both the data storage and processing to be accomplished on edge clouds while running important processes at the edge. This format mitigates issues related to the unavailability of real-time data while accommodating broader data needs. Furthermore, EIS-S232 comes integrated with Advantech DeviceOn/iEdge. DeviceOn/iEdge enables data collected on the cloud to be used in the improvement of data analytics and research.
Easy Deployment with MicroK8s and Built-in Micro-service Structure
EIS-S232 supports the use of Ubuntu and Kubernetes. This enables apps to be deployed and upgraded promptly without interfering with running tasks. In particular, MicroK8s provides a smaller footprint that can scale from a single node to a high-availability production cluster. Contained within a convenient design, these features empower the use of multi-cloud integration in micro-services.
Pre-integrated with Azure and AWS Cloud Services for Big Data Analysis
EIS-S232 is also pre-integrated with Azure and AWS cloud services. This integration provides the flexibility needed to painlessly interchange between edge and public clouds, and makes future upgrade and maintenance more flexible.
Advantech's EIS-S232 will be available in June. For more information regarding EIS-S232 or other Advantech products and services, please contact your local sales support team or visit our website at www.advantech.com.
High performance edge cloud server with Intel® Xeon® W-1290TE and 10 cores up to 4.5Ghz
Open and standard structure: Kubernetes (MicroK8S) built-in, multiple DB connections, and on-demand micro-services
Integrated IoT software for private cloud deployment, platform management, and application integration
Sustainable management — condition monitoring, load balancing, and self-healing
Integrated iEdge Server dashboard for front-/back-end management